Body work
The existing body work is all fibreglass with steel inserts for fixings. All the steel inserts for the canopy hinges etc have rusted and 'blown' with age making the fibre glass bulge.
I have had stainless steel plates made up to replace all of them. Every existing hole for rear lights, gauges, stereo, speakers etc have been filled in with fibre glass to give it a blank canvas for upgrades.
Huge chunks had to cut from the existing shell to accommodate the larger engine.
Wheel arches had to be cut out to suit the change from 10 inch to 15 inch rear wheels and the wider stance on the new axle.
The gear knob and hand brake lever have been taken out as they are now electronically operated. The only lever in the cabin will be the Quaife reversing gear box.
Huge amounts more work to be done yet.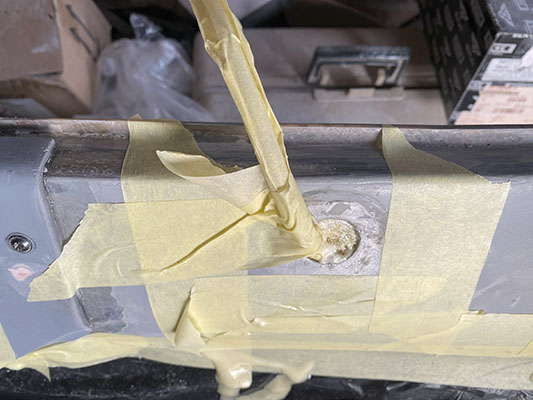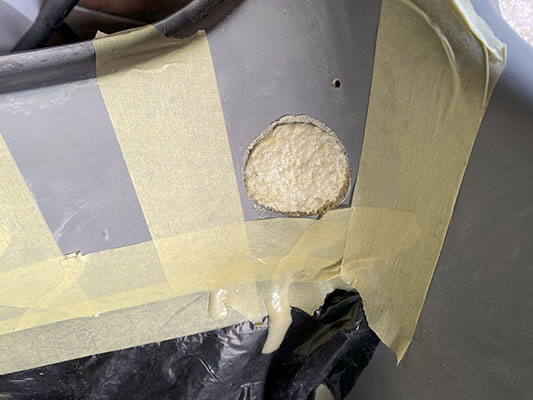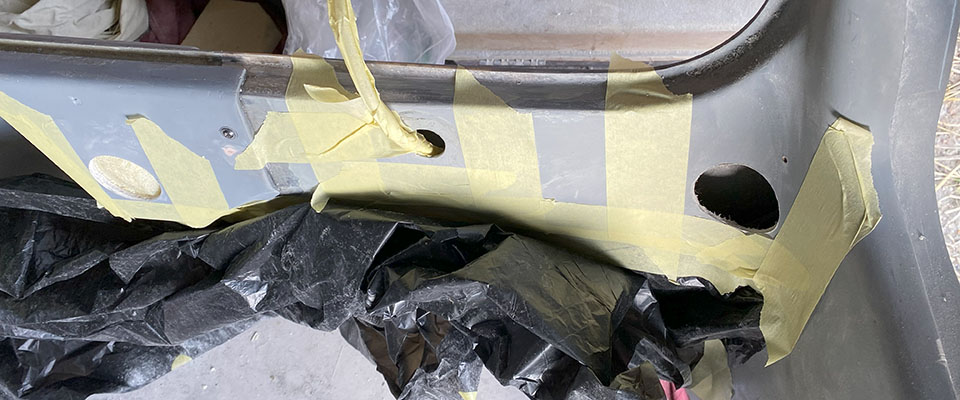 Super strong canopy now - filled with expanding foam from top to bottom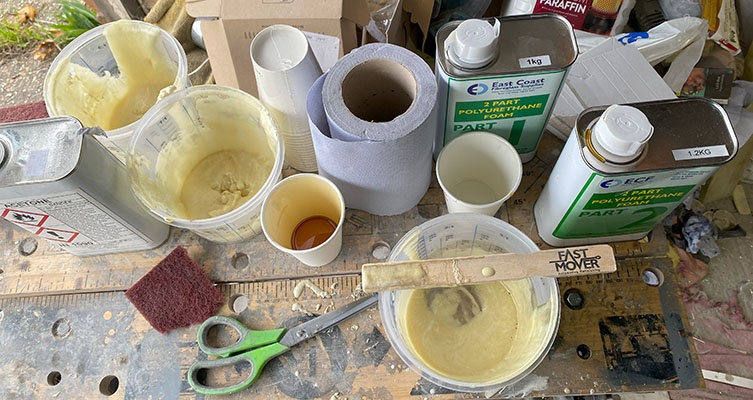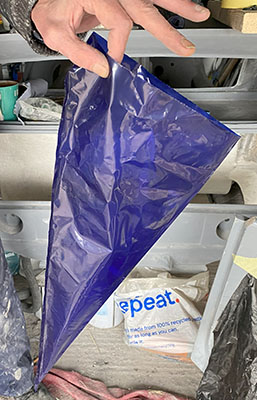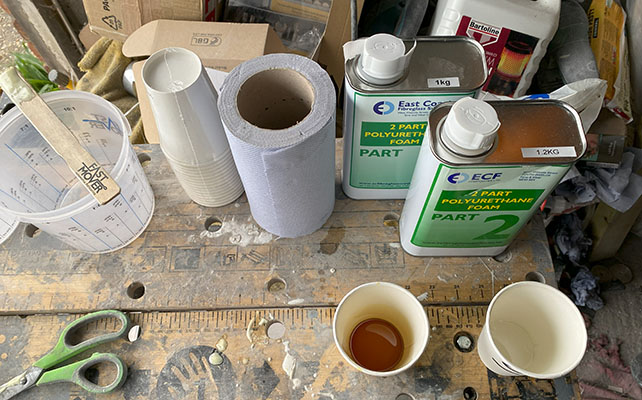 Two part liquid foam used with a plastic icing cake bag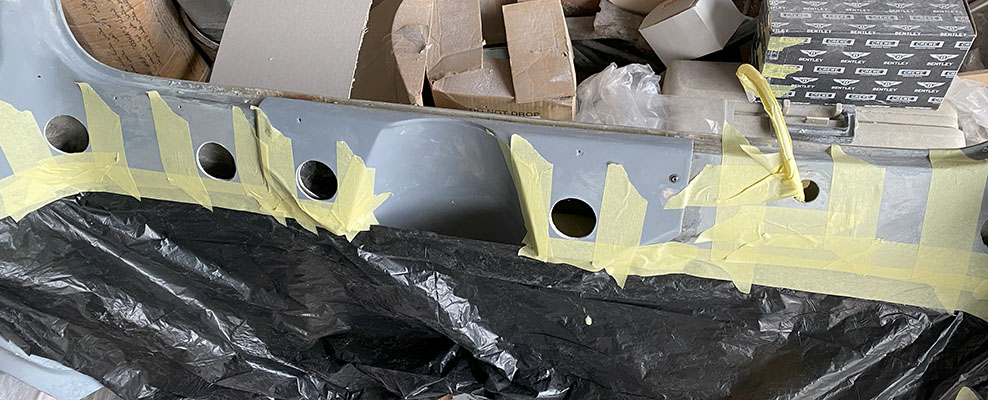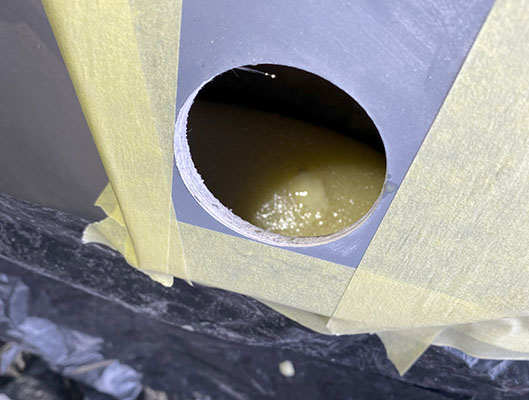 Access holes drilled into underside of canopy for foam filling.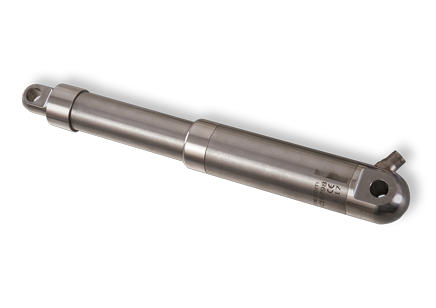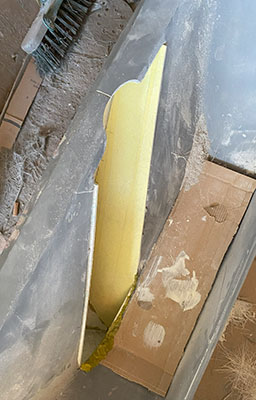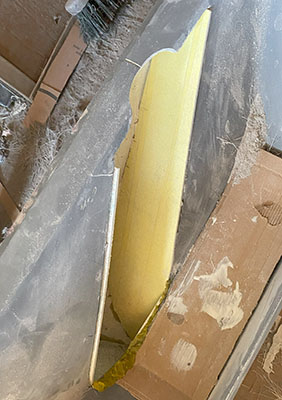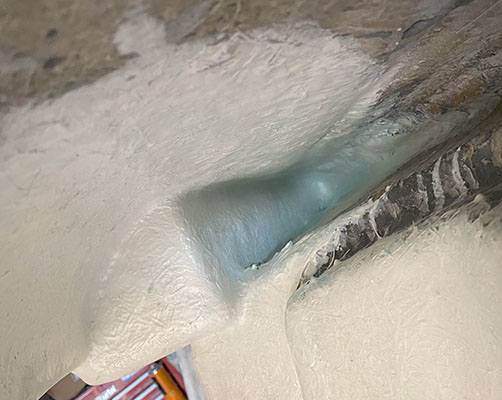 Inner actuator boxing being glassed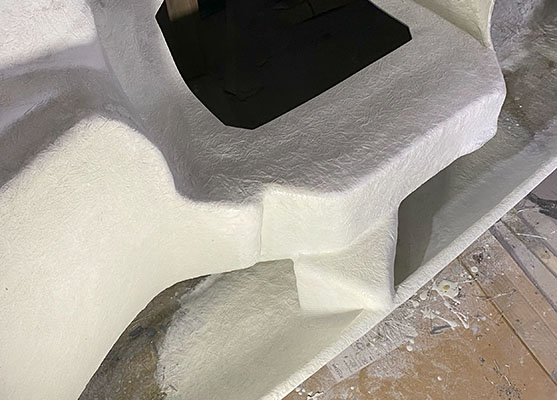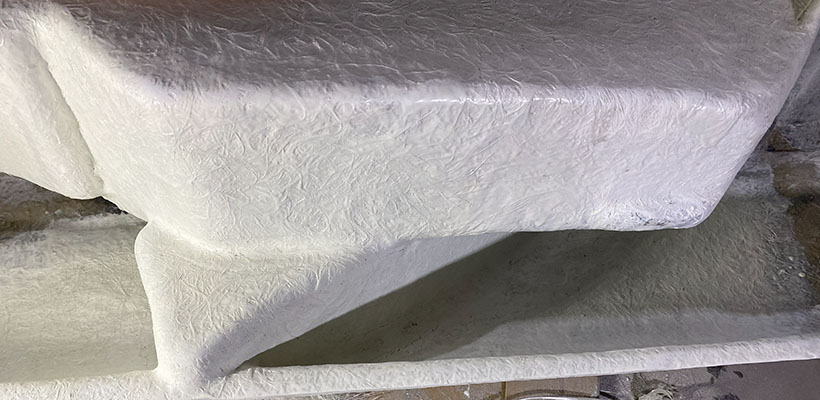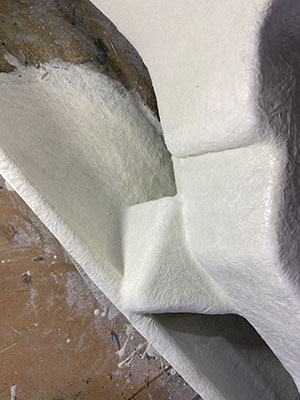 Massively strong actuator bottom mount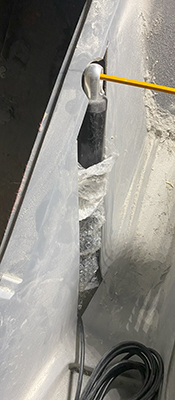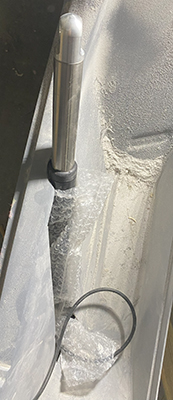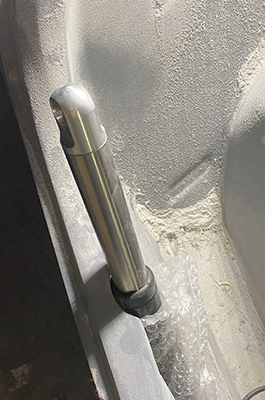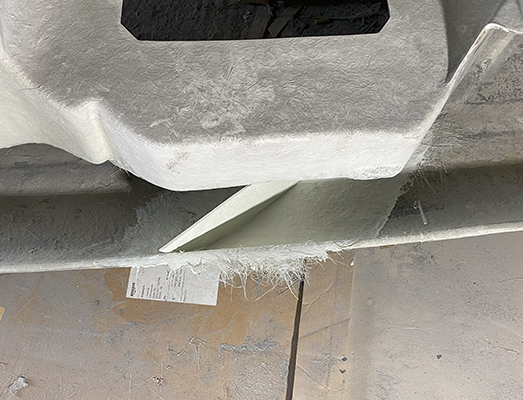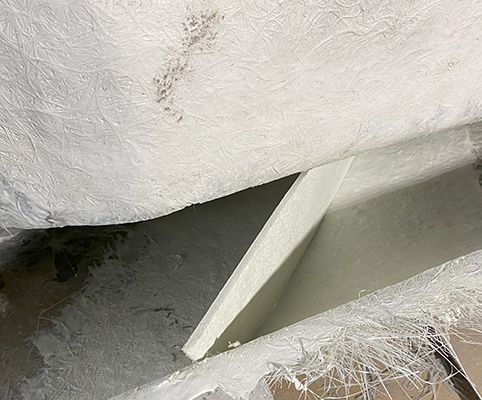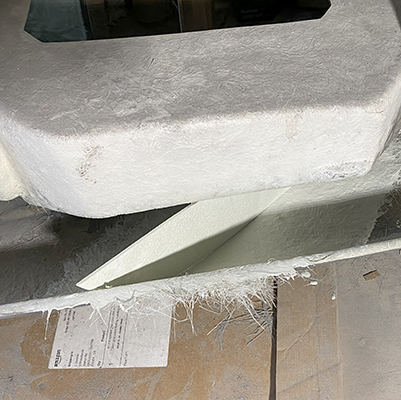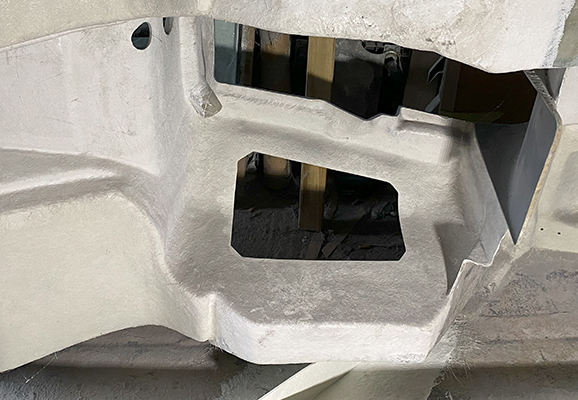 New dual canopy lifting actuators supports being fibre glassed into place. Inner super strng box being formed inside the wing for the metal mounting pivots.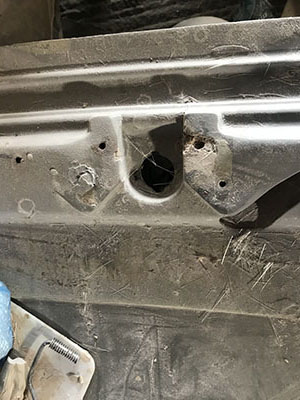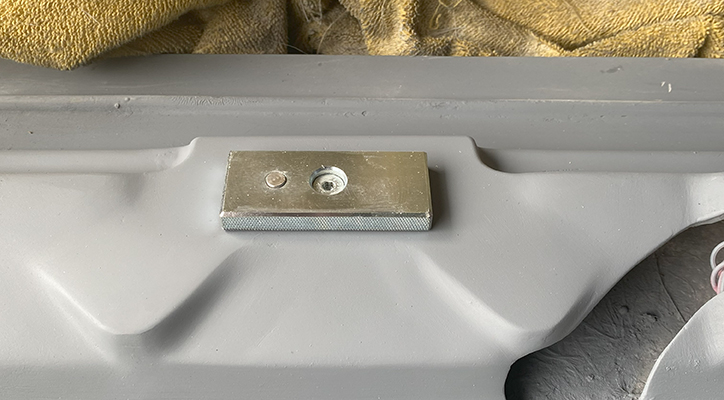 Magnetic Canopy lock plate fitted to heavily reinforced original lock position - this has to be mega strong to take the pull of the magnetic lock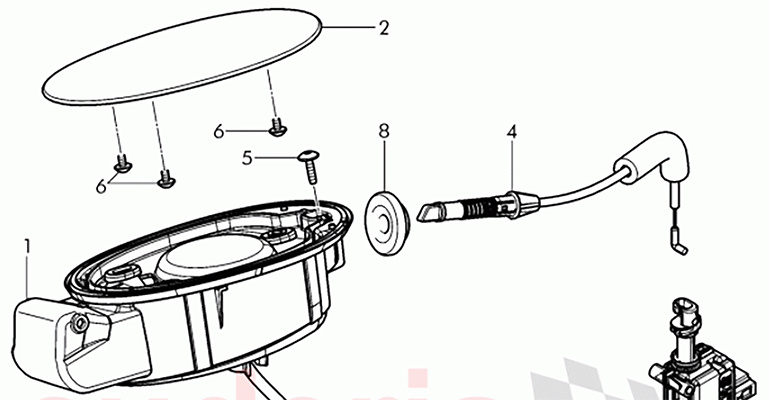 Electric fuel flap operator cable and gromet arrived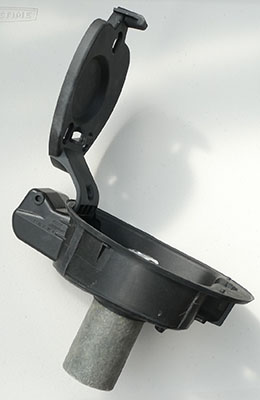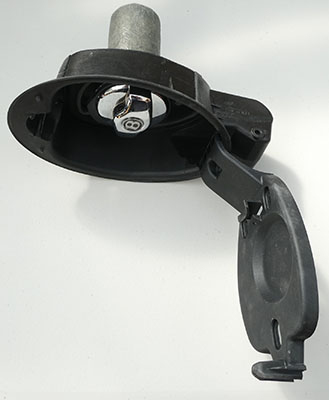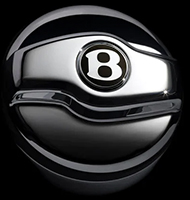 Bentley fuel flap with custom made neck and jewel cap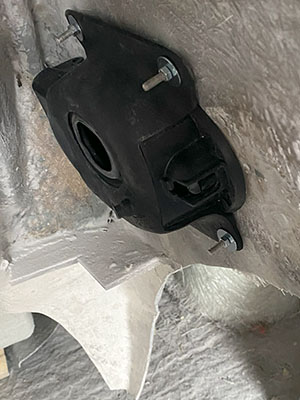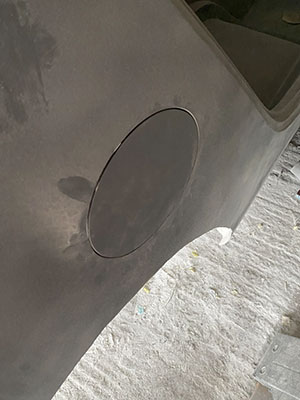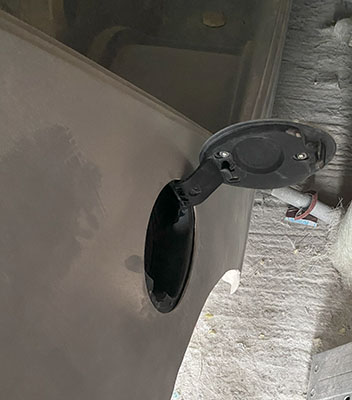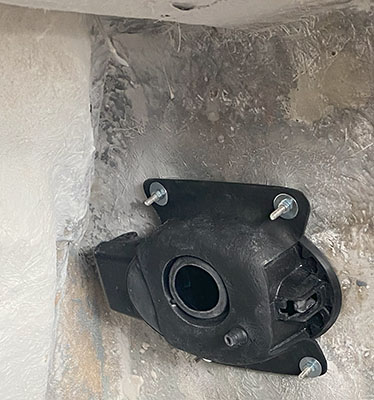 Inner mount now fitted - big head fittings use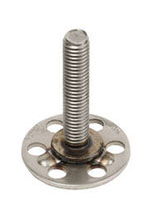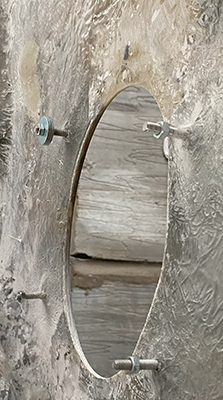 Big head fittings fibre glassed in for mounts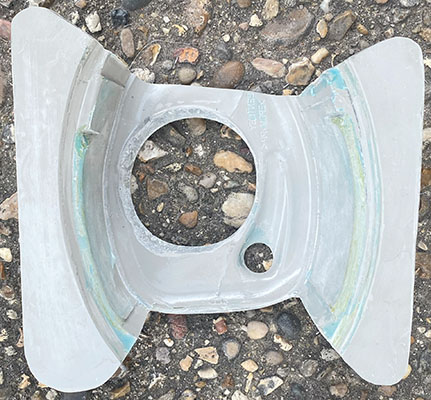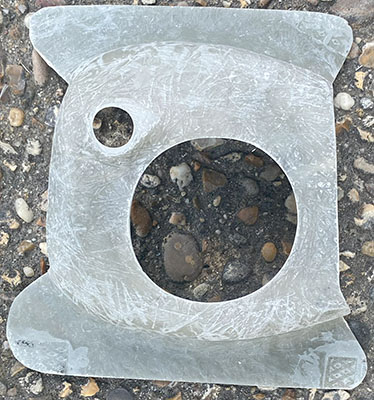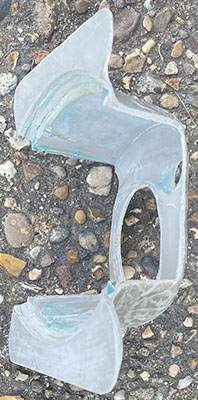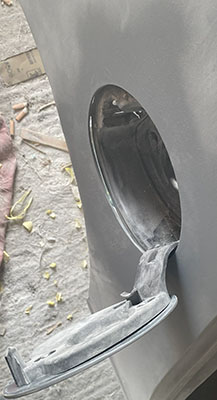 New fuel filler inner mount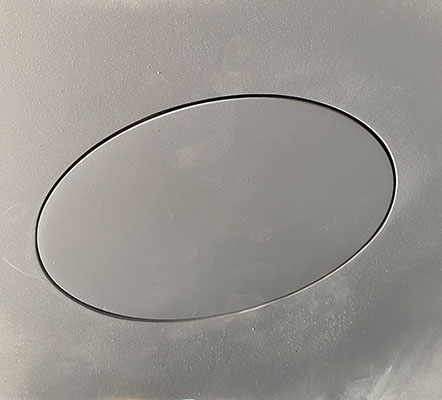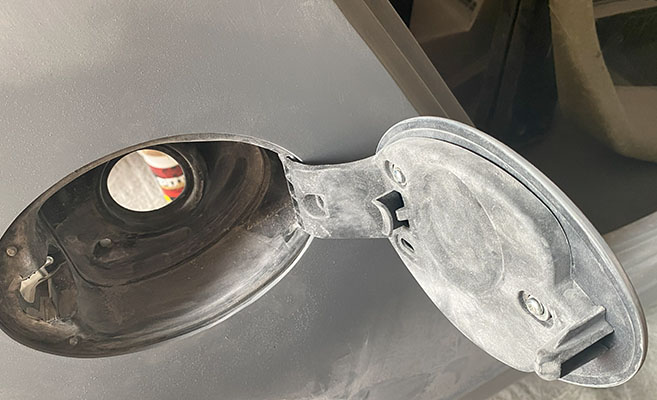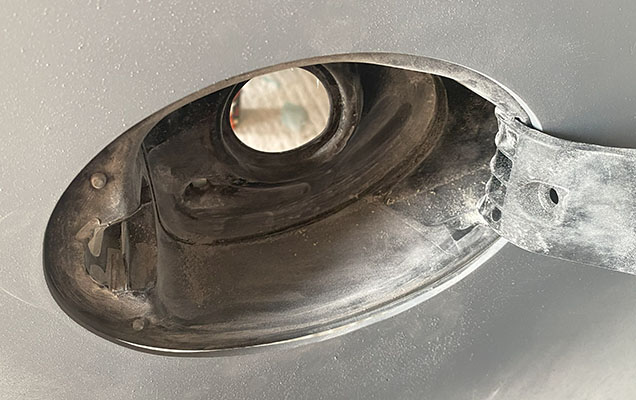 Bentley Continental flush fuel filler door fitted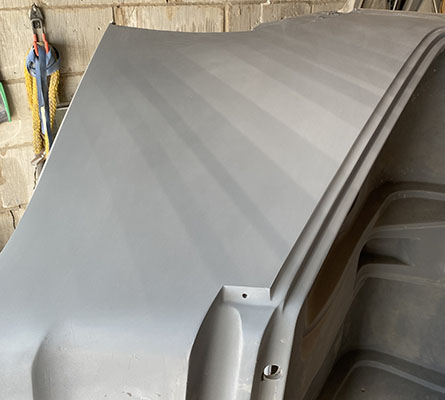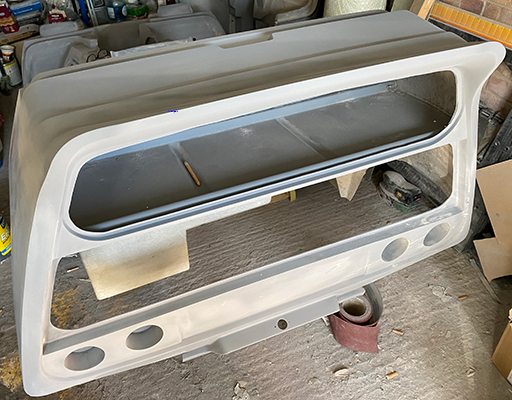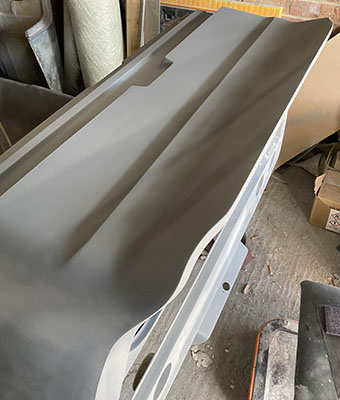 More detailing work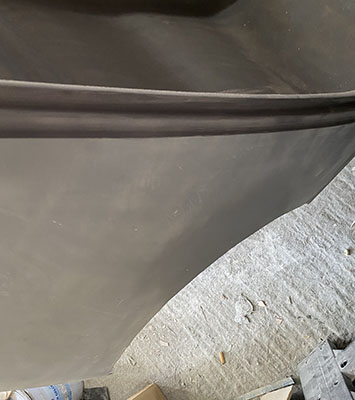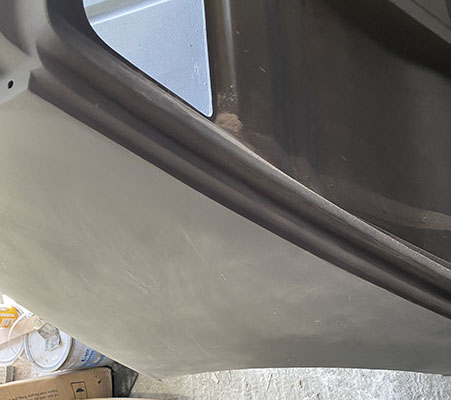 Side detailing finished- fuel hole finished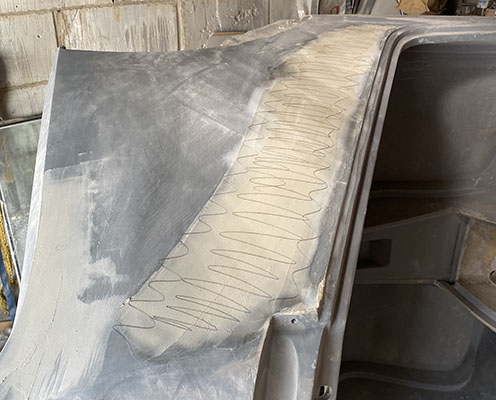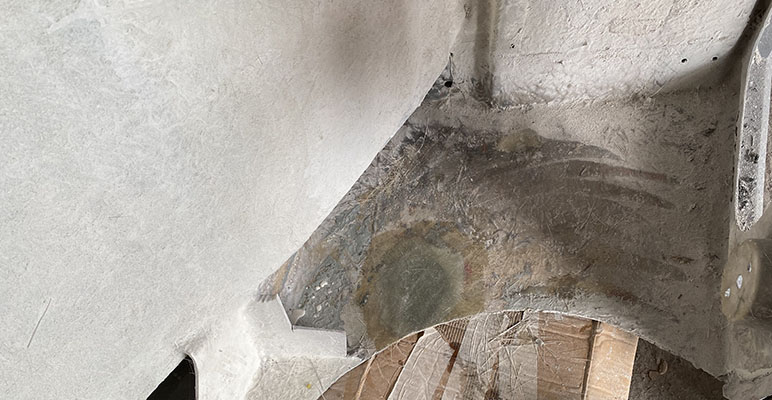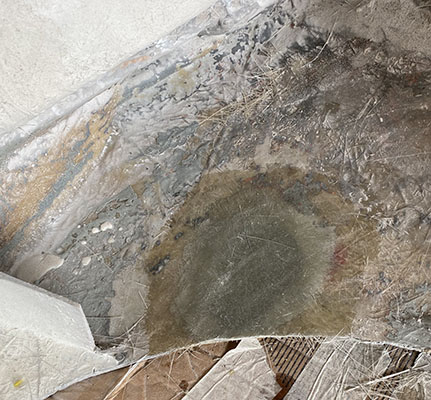 Flattening out side panel for detailing and fuel filler hole now fibre glassed in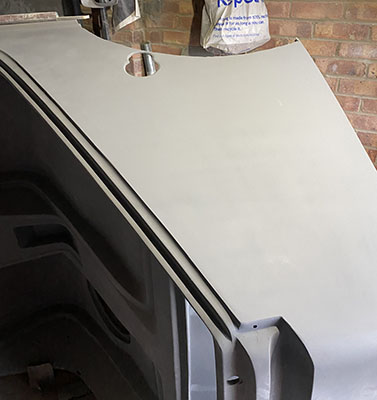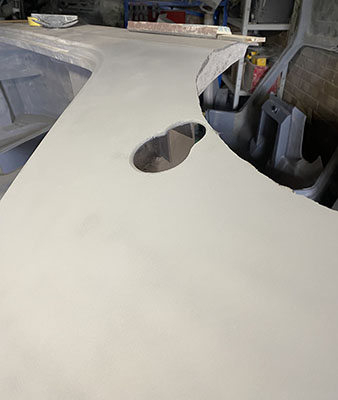 More side detailing work - grinding out star cracks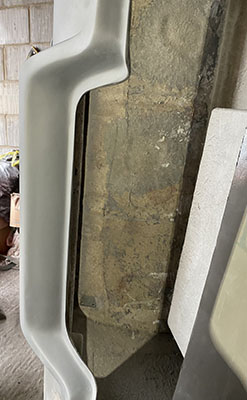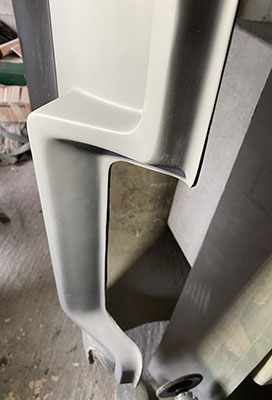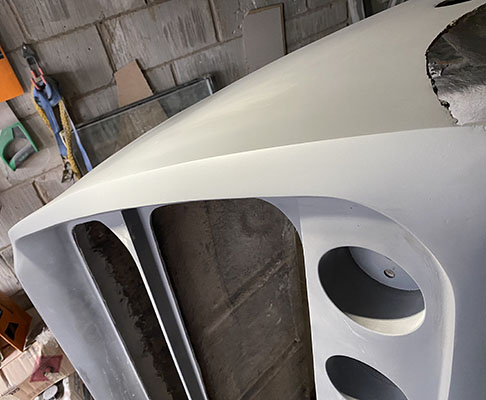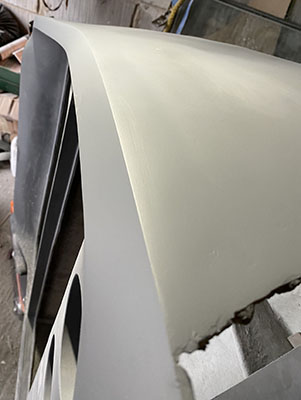 More edge detailing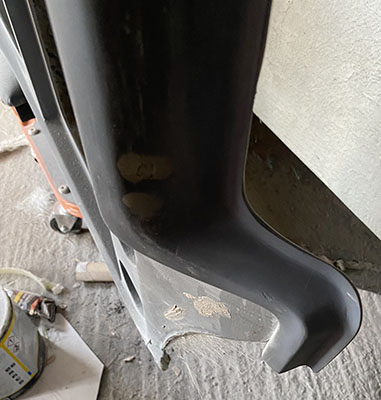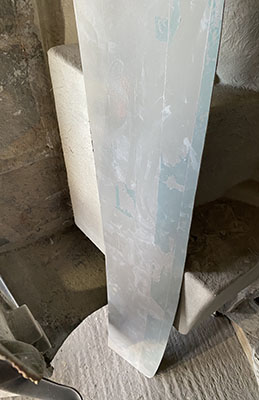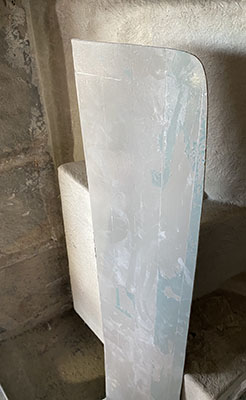 Detailing of rear body edges, new boot floor ready to go in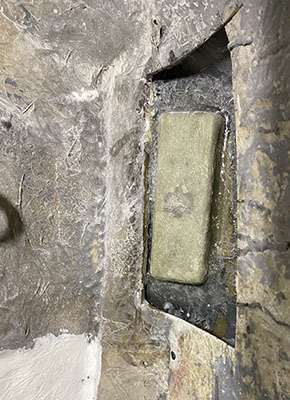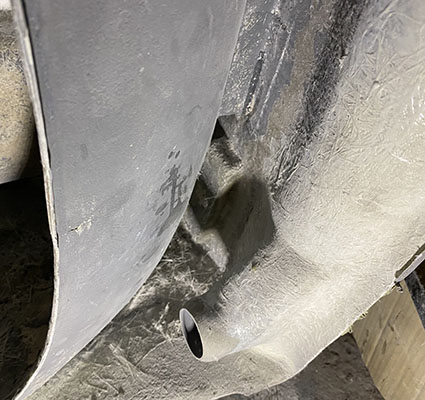 New front indicator recesses fibre galssed in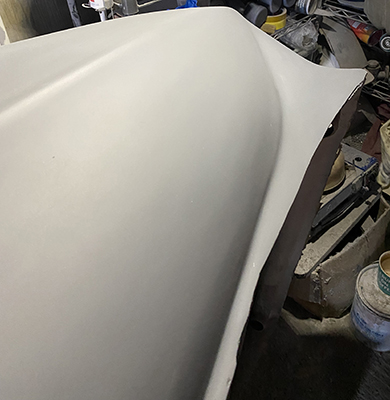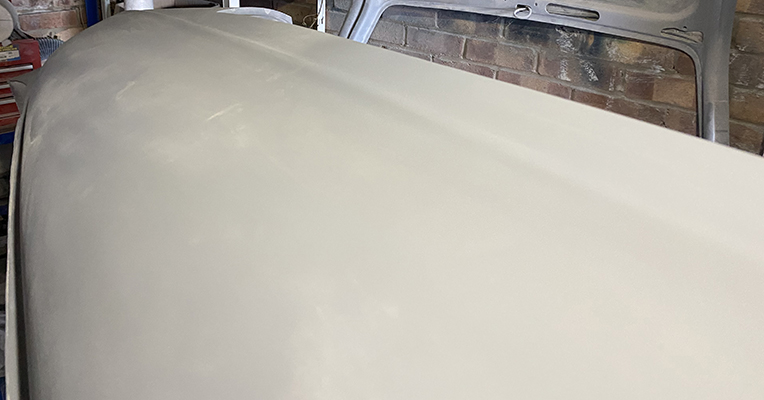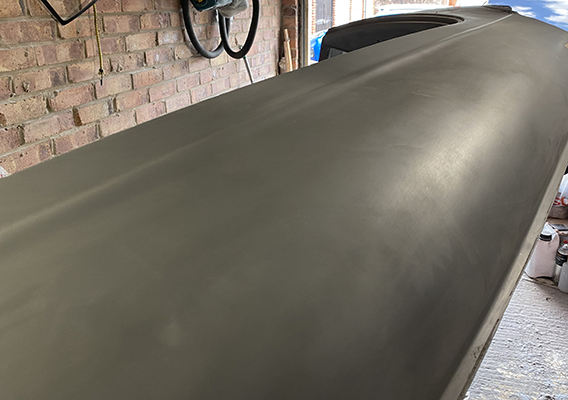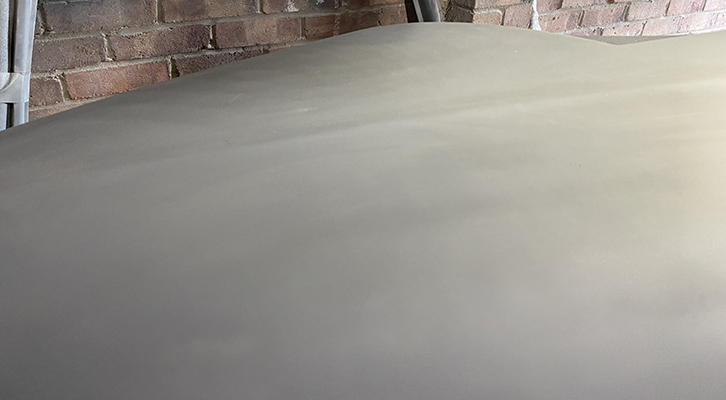 Swage lines detailed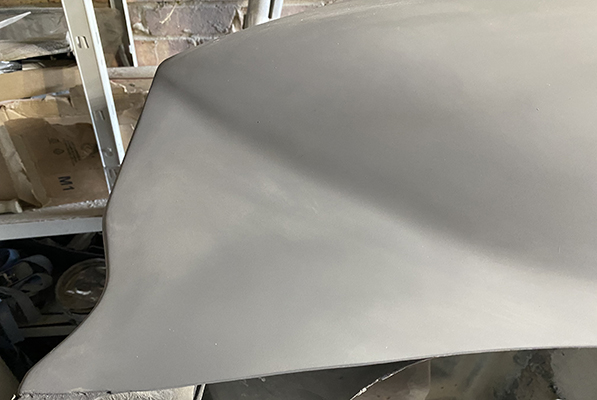 Front spoiler detailed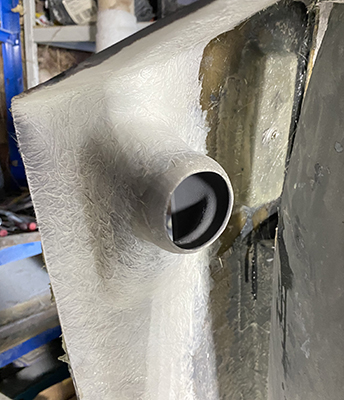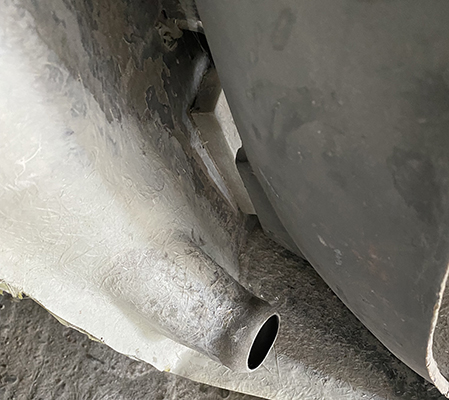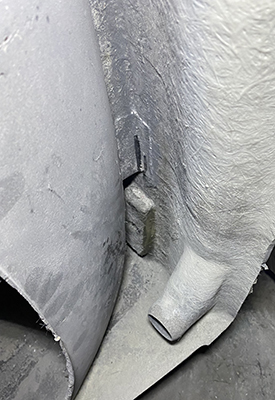 Inner air scoop and indicators fibre glassed in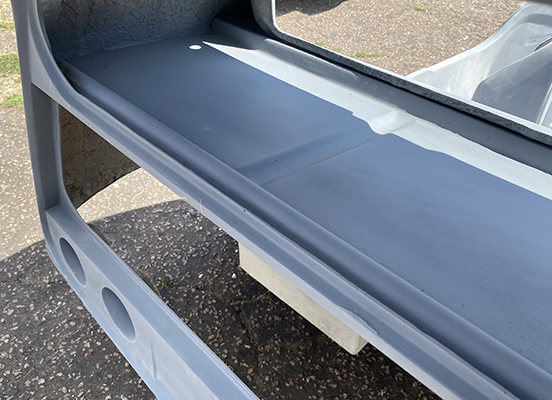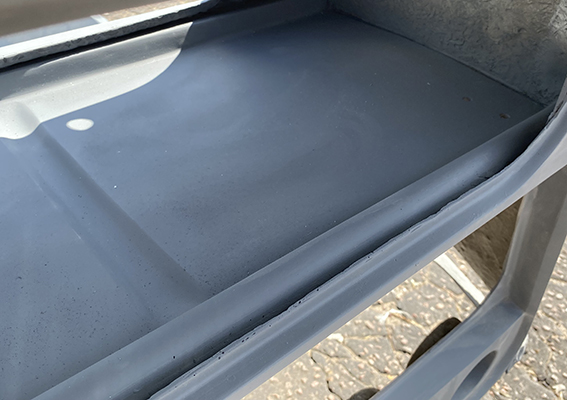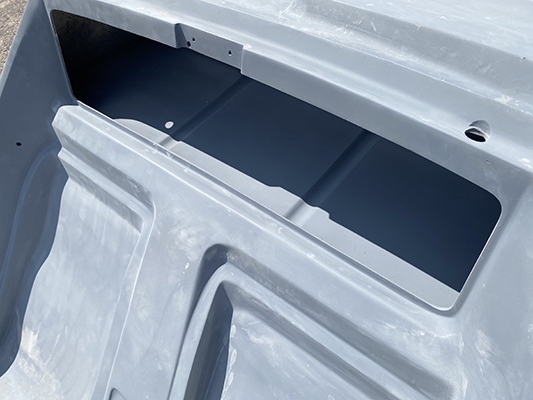 Parcel shelf now detailed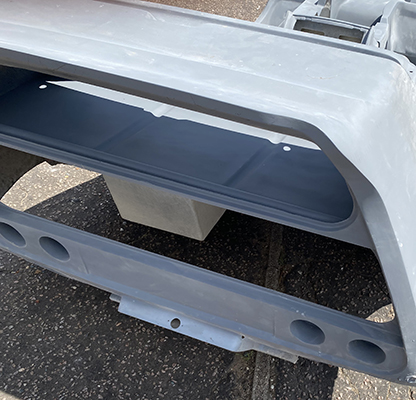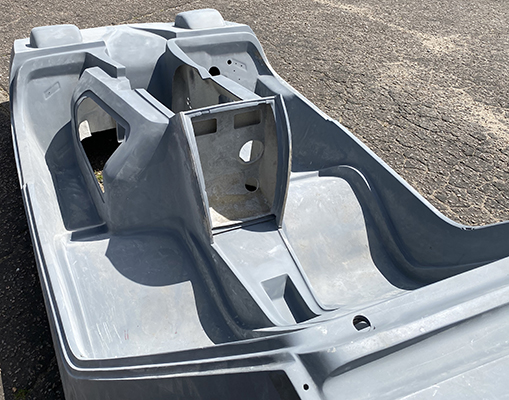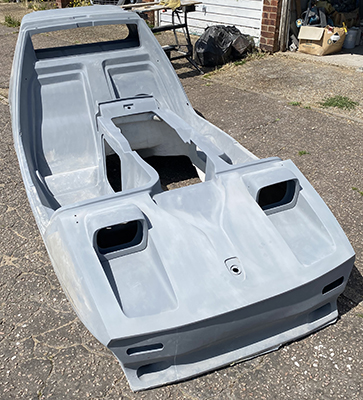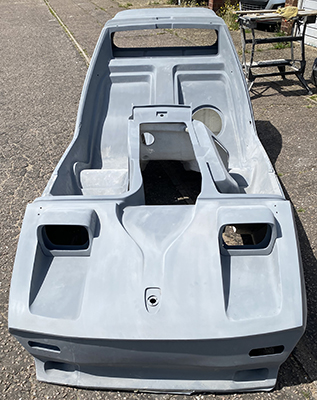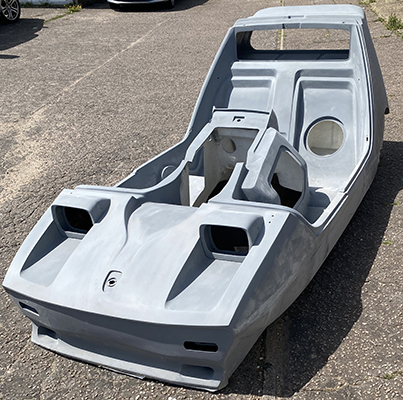 Bug out ready to flipped onto its side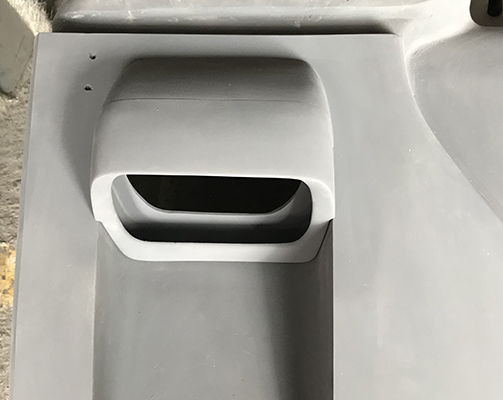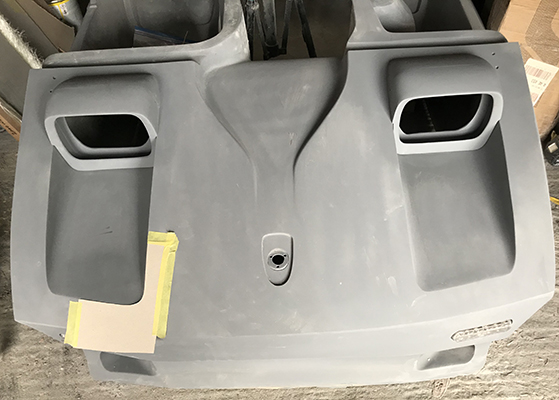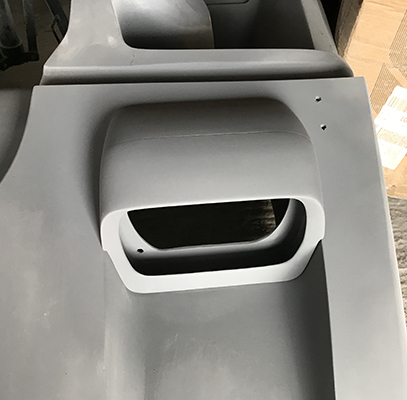 Headlight cowellings detailed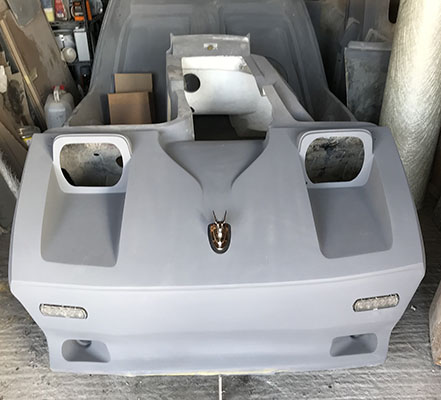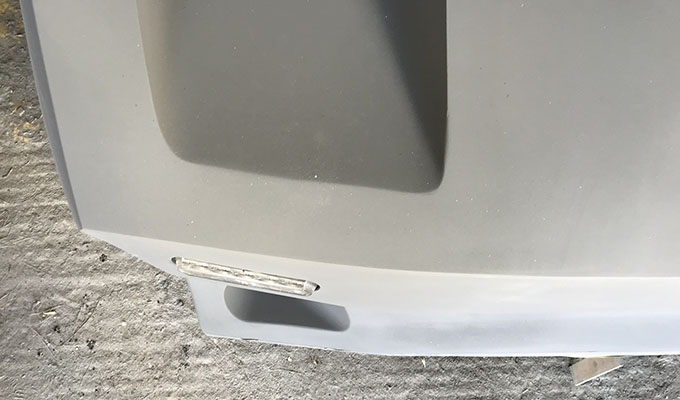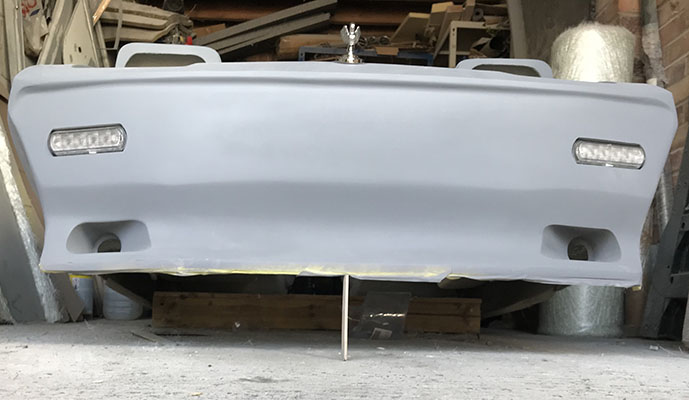 Front indicators and air scoops fitted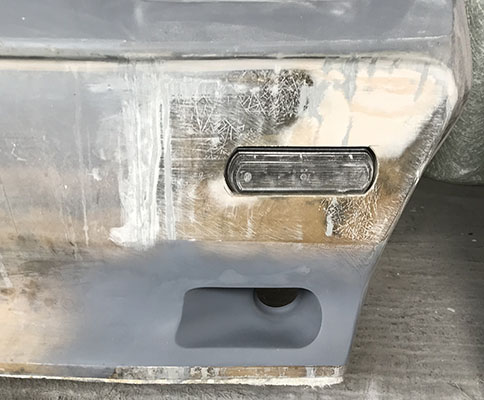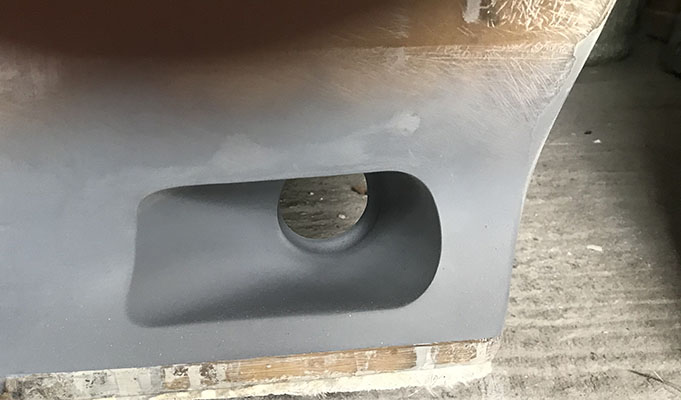 New air scoop now moulded into the spoiler - new indicator recessed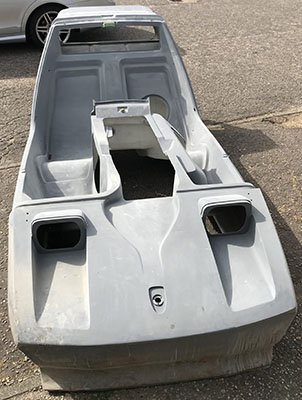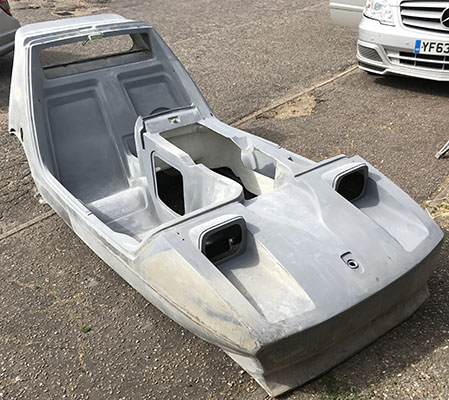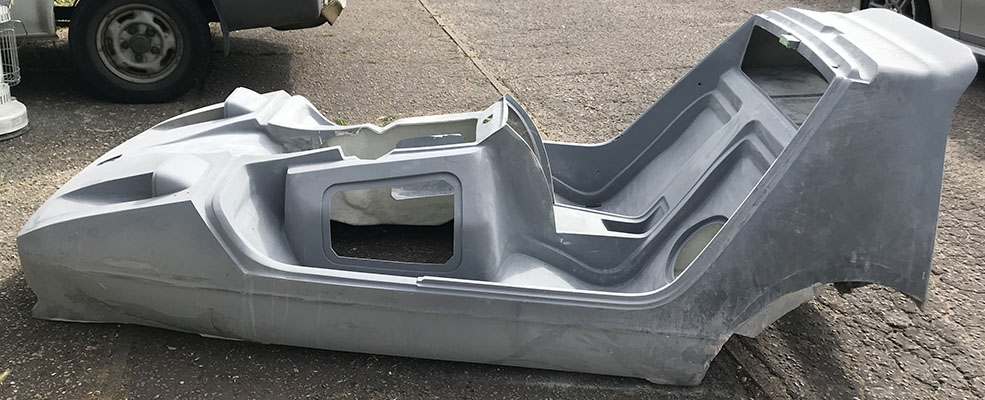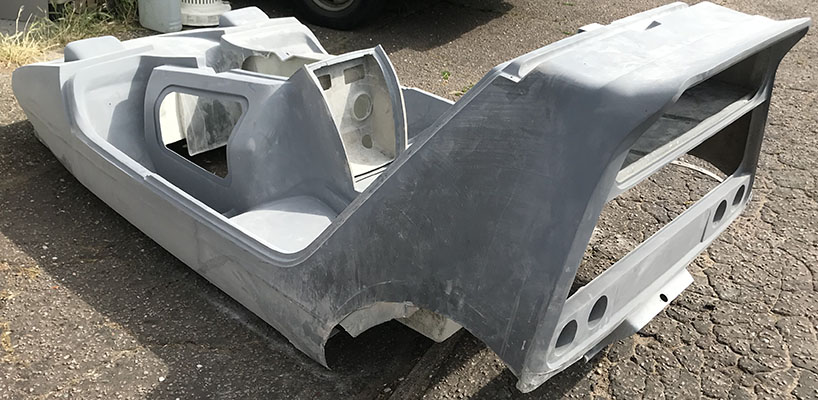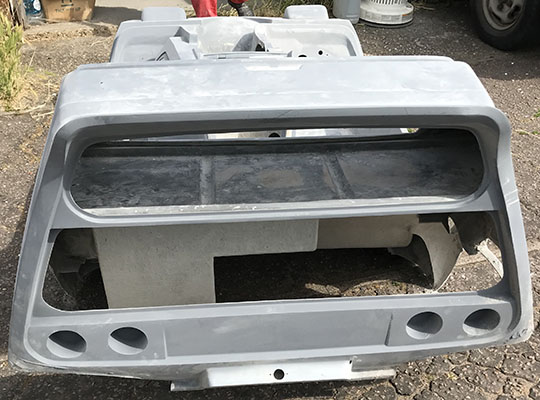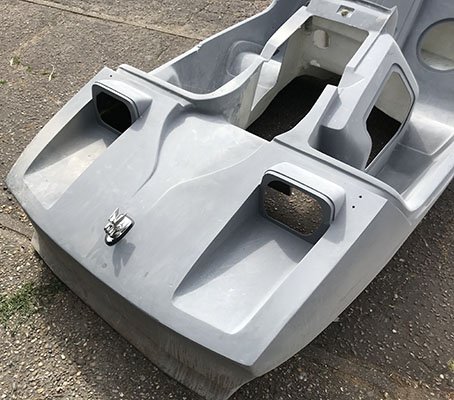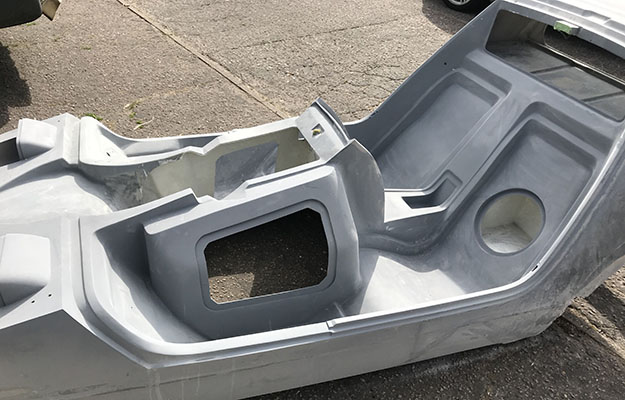 Slowly getting there with the mods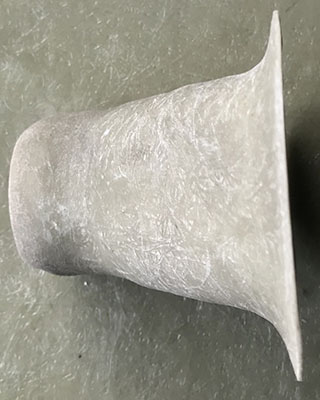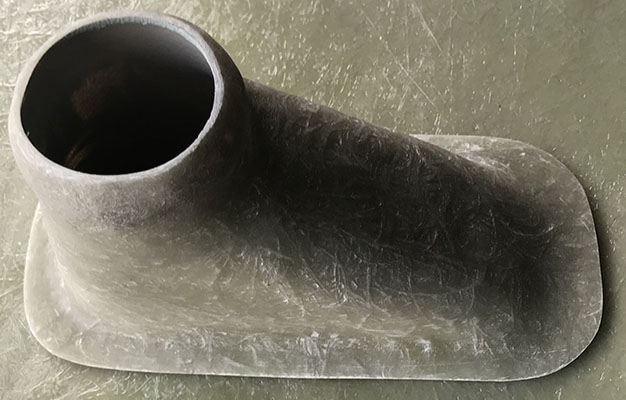 Two new fresh air intakes remade in fibreglass - fitted into front spoiler with ducting for fresh air intake into cabin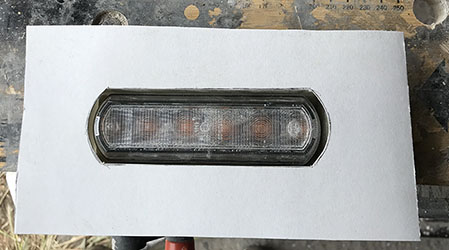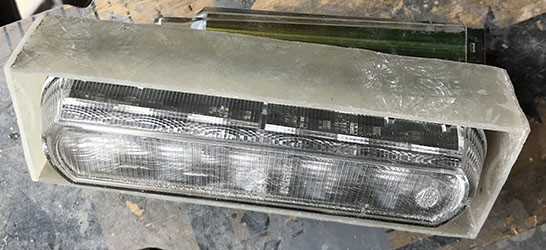 Front indicator lenses being recessed into front spoiler - fibre glassed box being made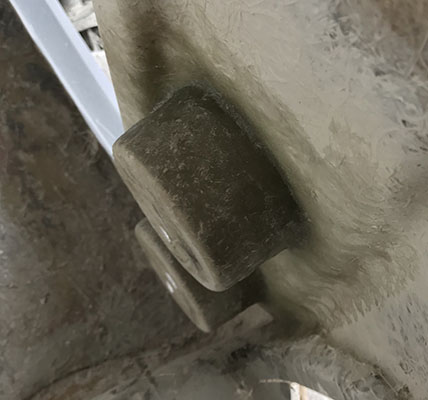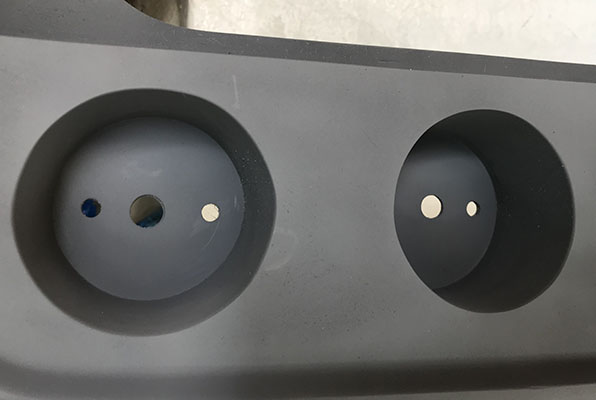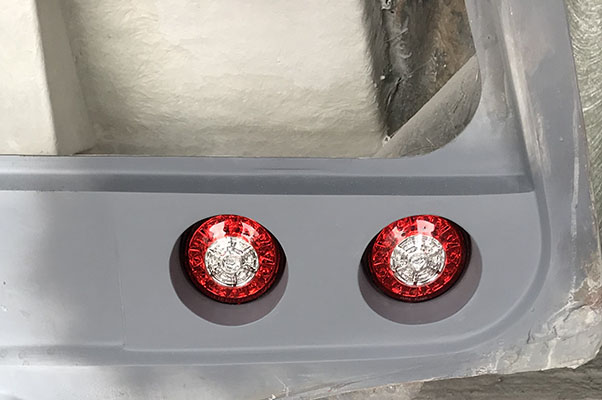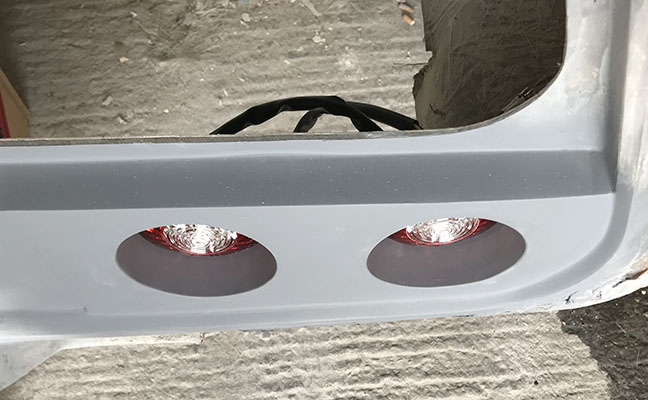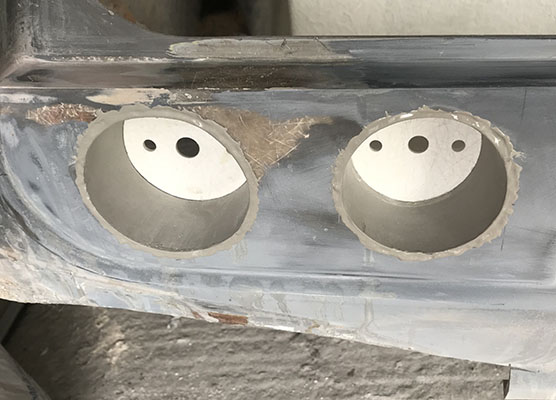 Light pods moulded in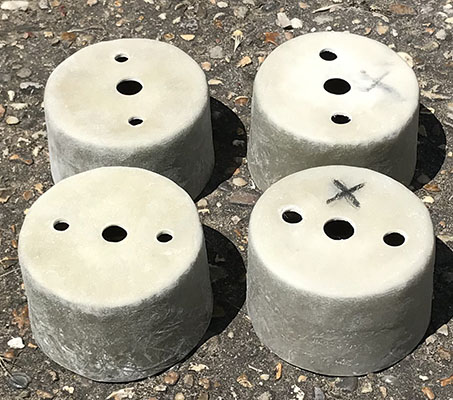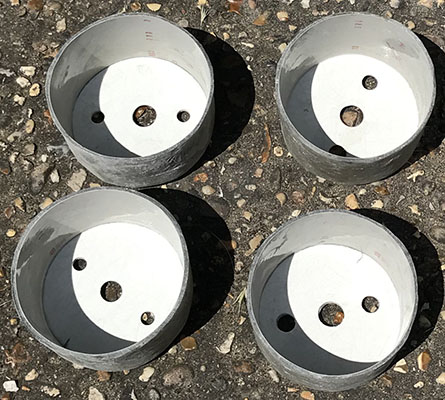 Four new light pods finished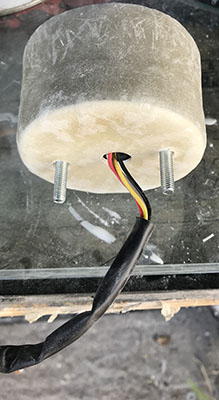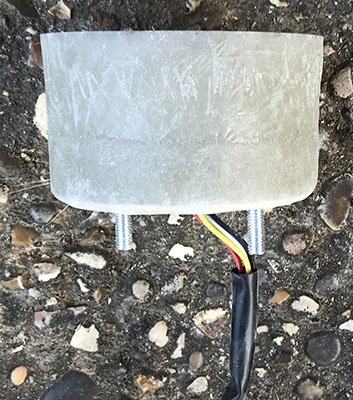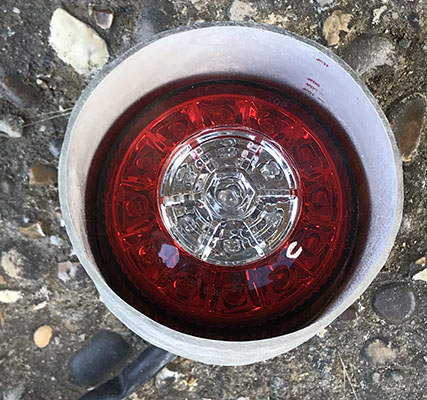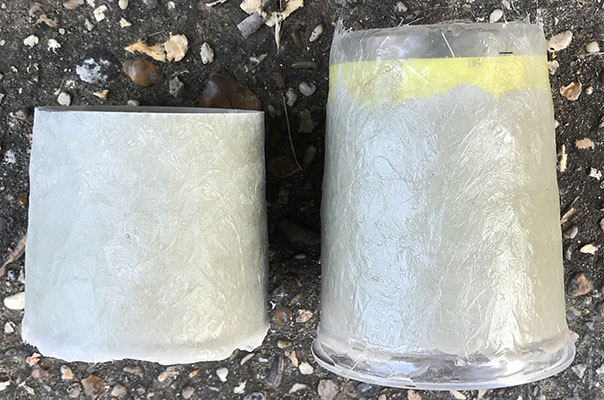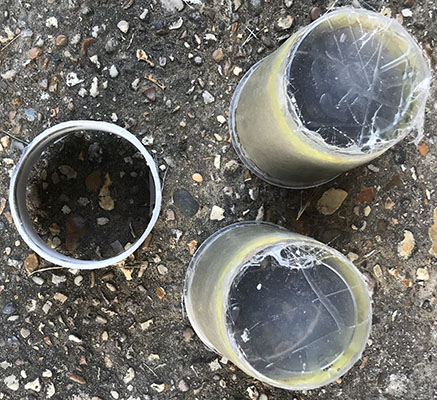 Rear light pods being constructed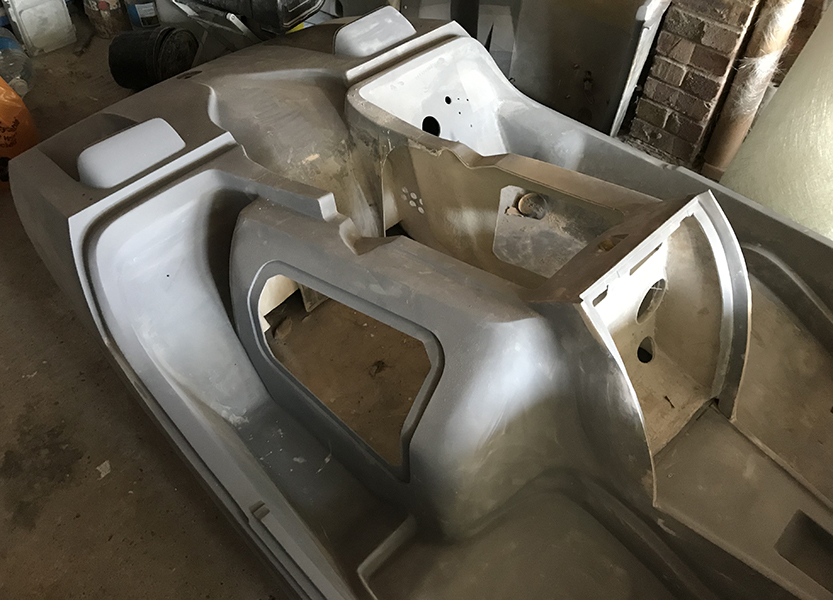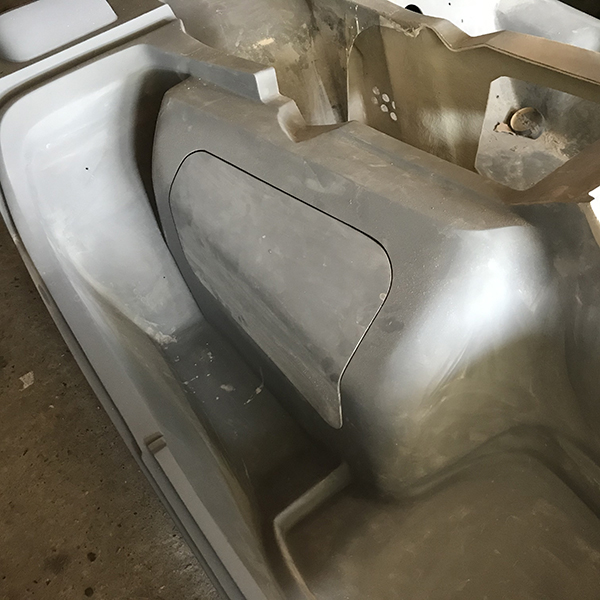 Engine side flaps finished - Using DZUS fasteners to secure panels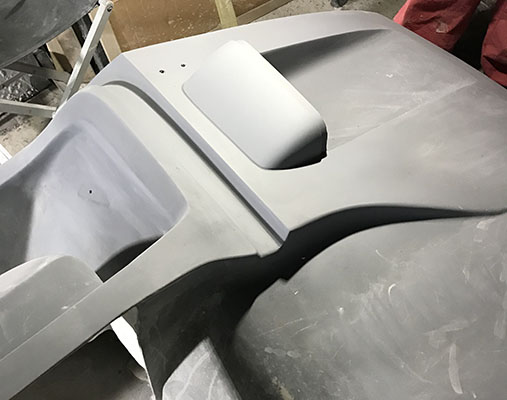 Detailing head light and bonnet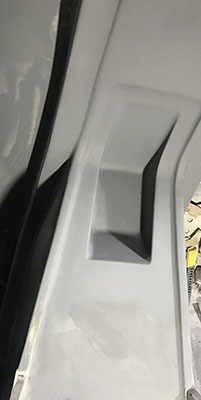 Detailed central console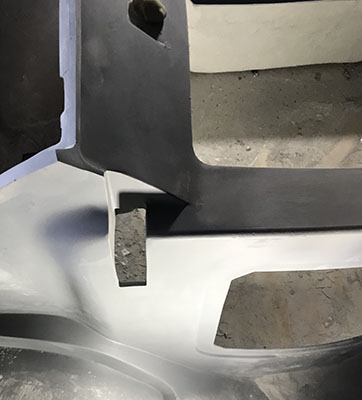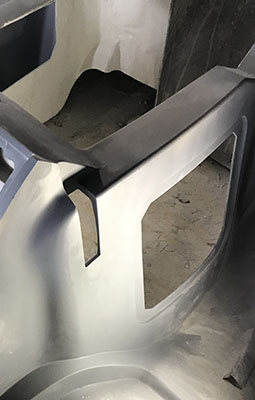 Steering column recess finished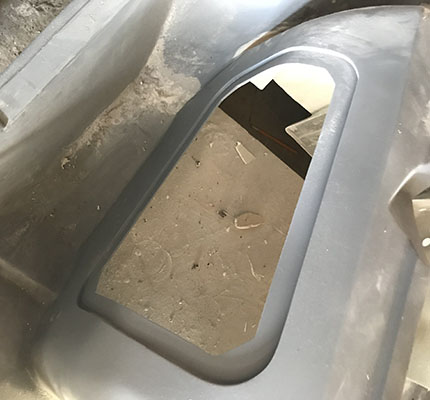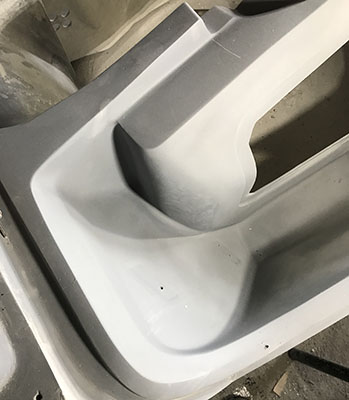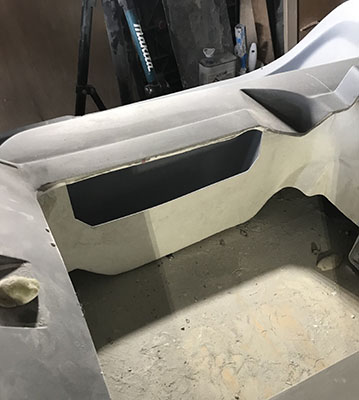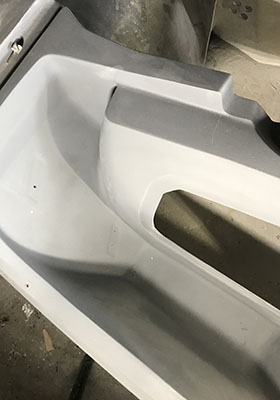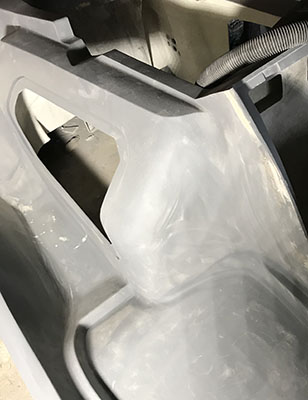 Engine passenger side access panel finished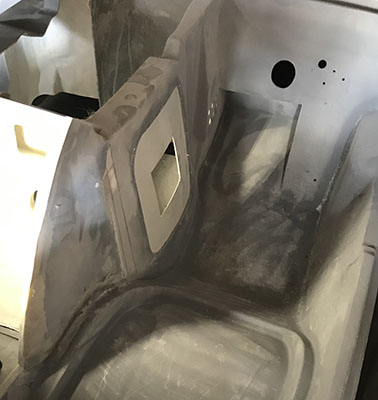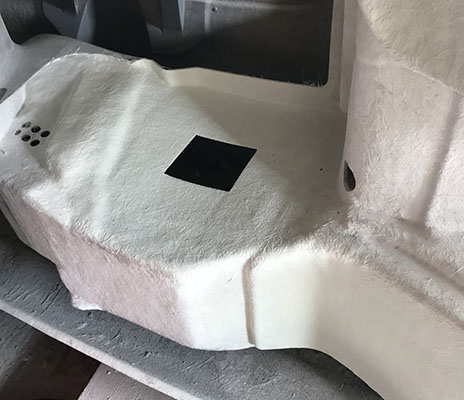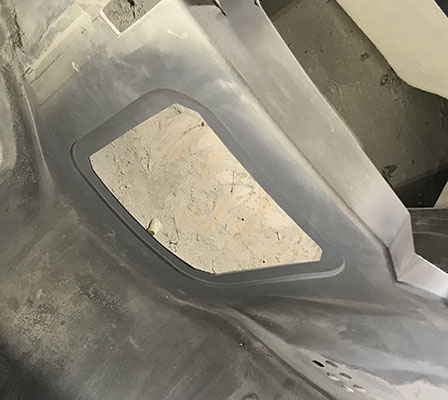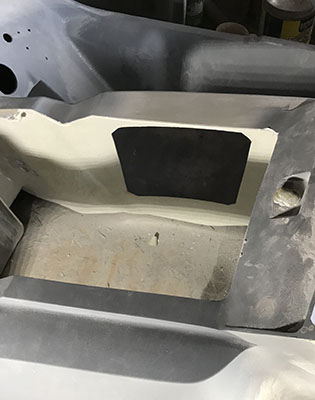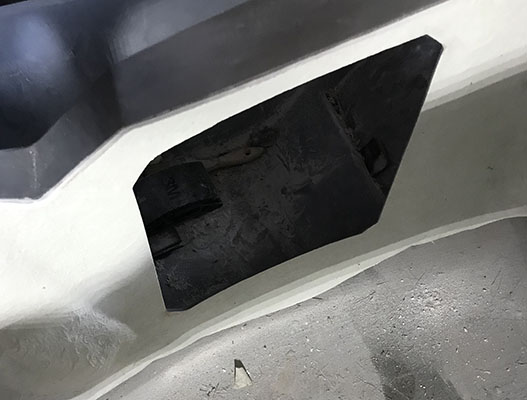 Engine driver side access panel finished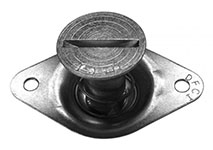 Engine side cover recess formed- Using DZUS fasteners to secure panels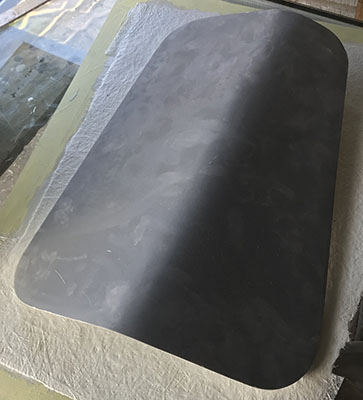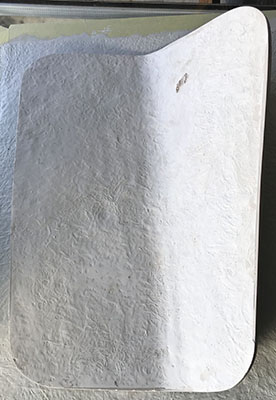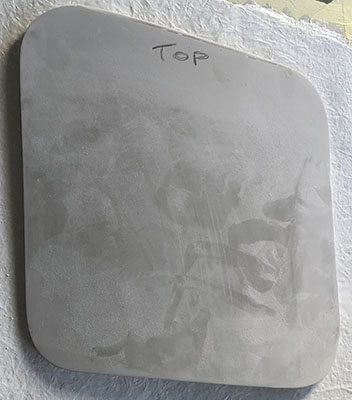 Engine side covers - using DZUS fasteners to secure.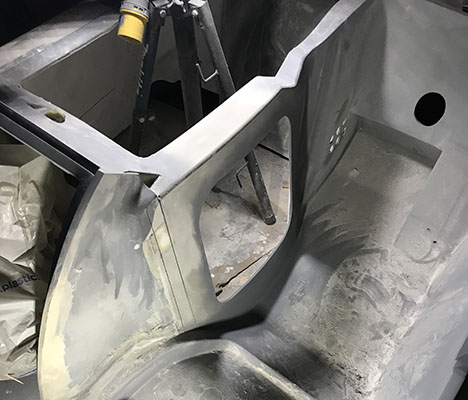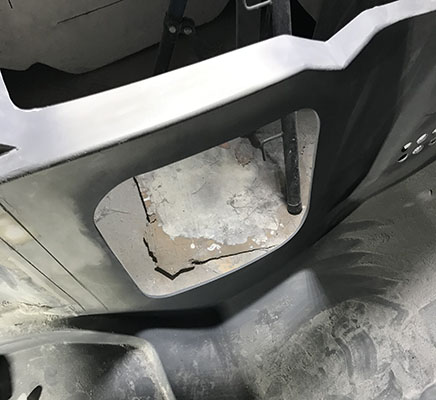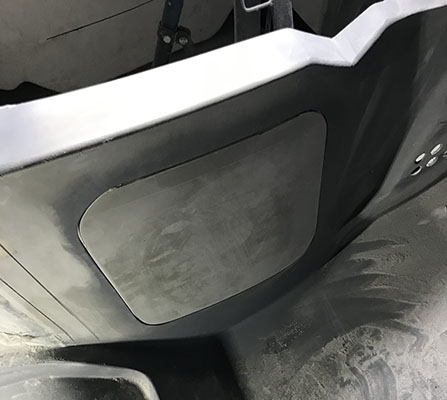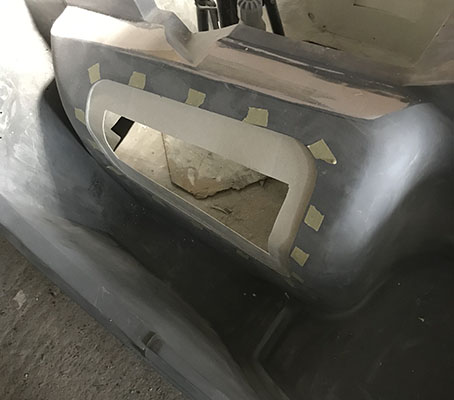 New engine side access covers cut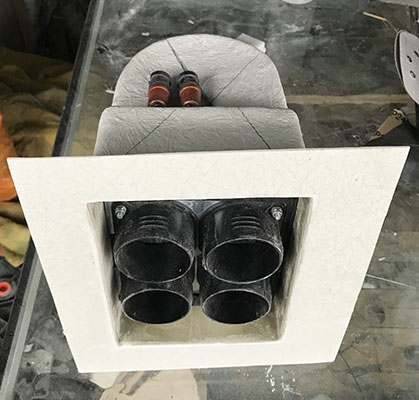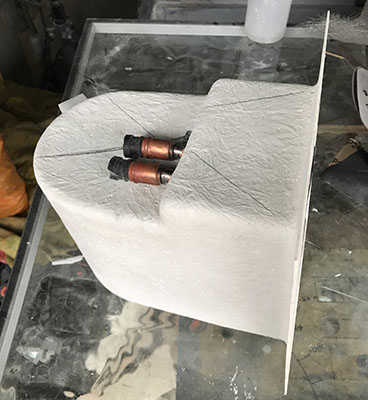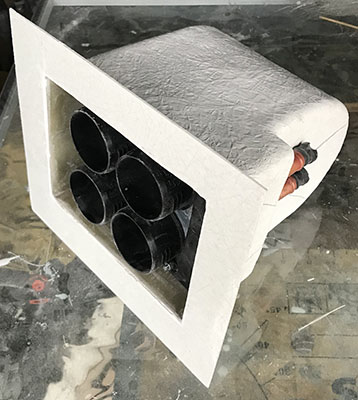 Heater box finished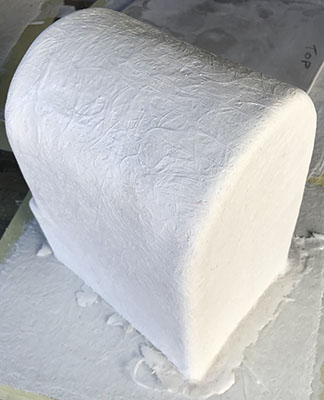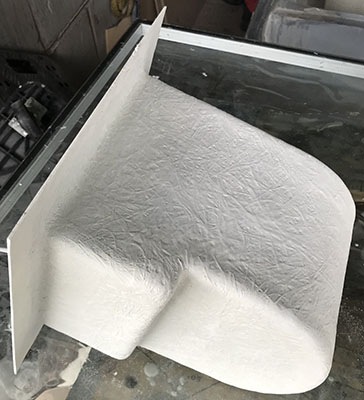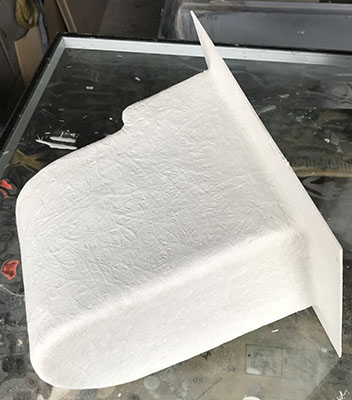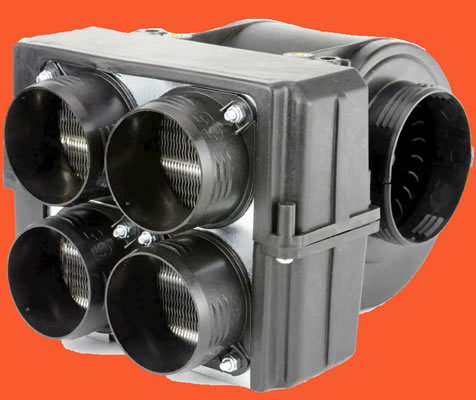 Compact hot water fed heater- triple speed fan
Max air flow 170m3/hour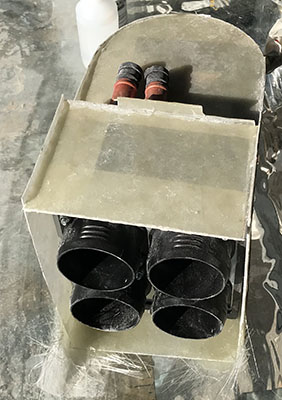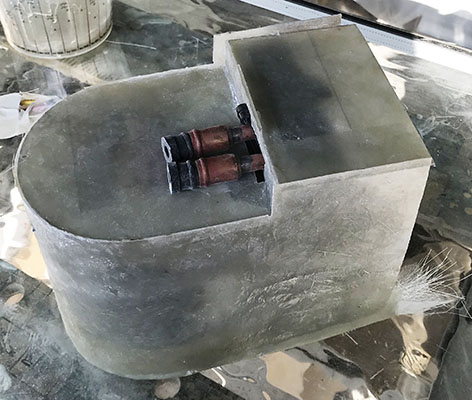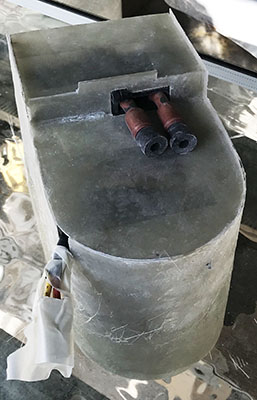 New fibre glass heater box under construction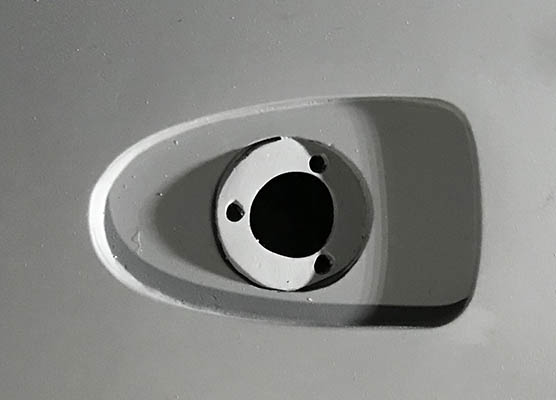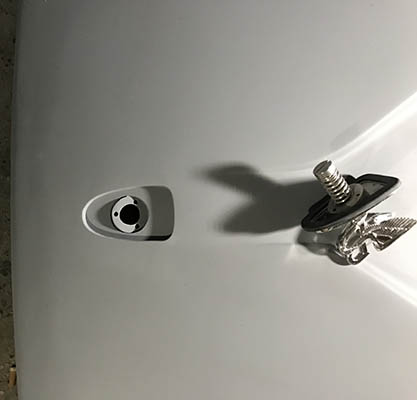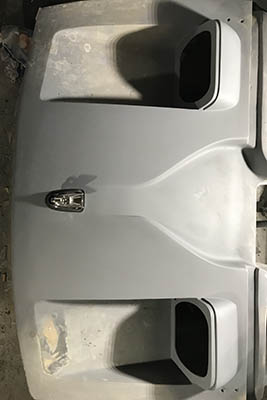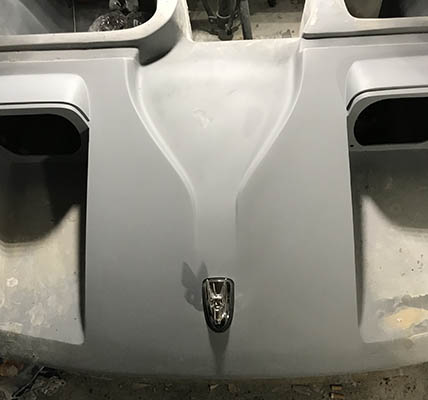 Bentley badge bonnet fitting completed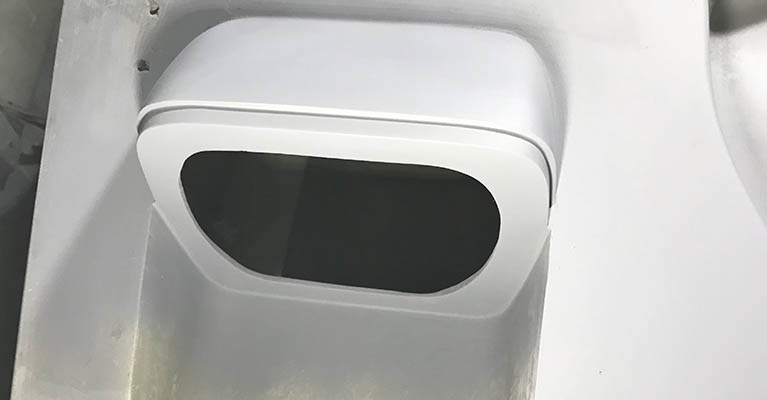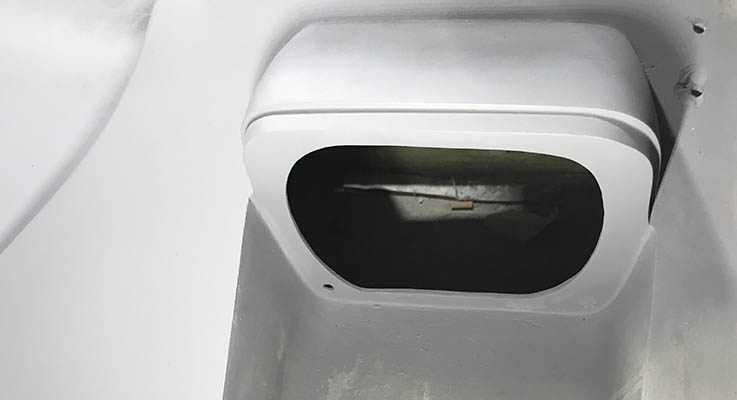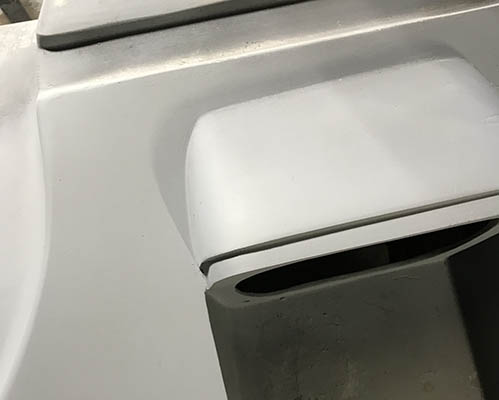 Headlamps repaired and detailed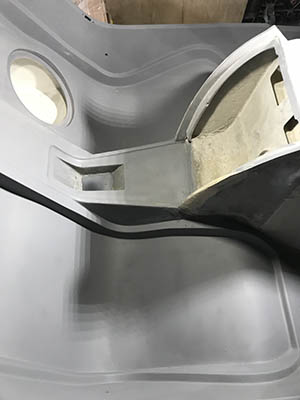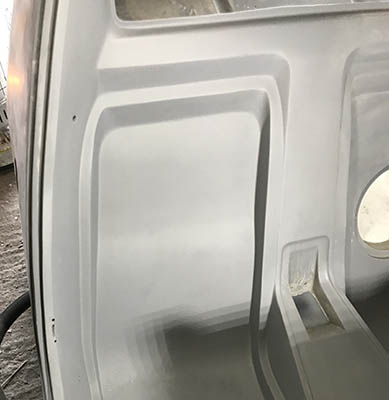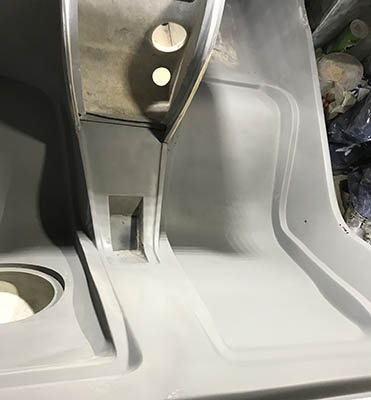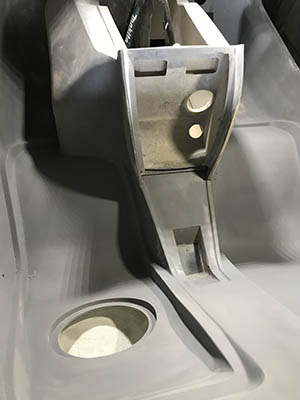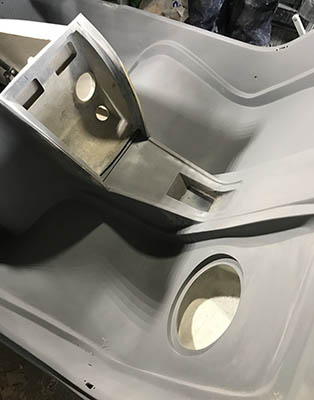 Interior detailing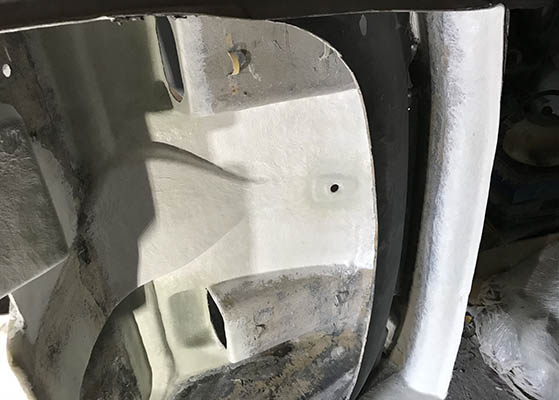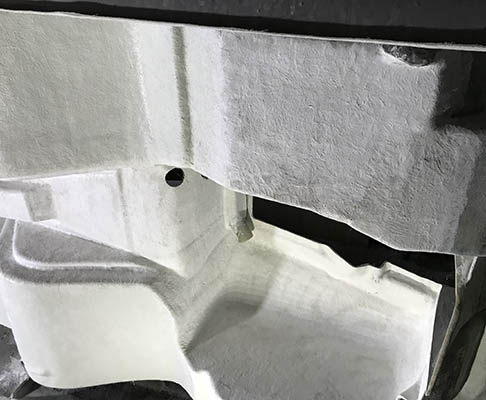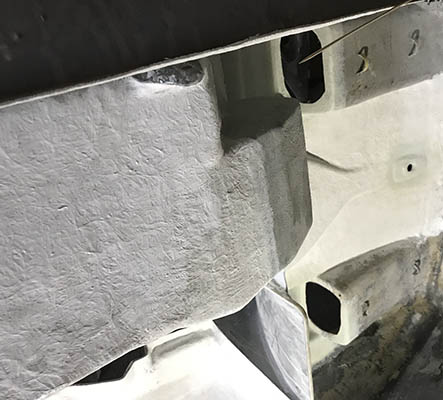 Front spoiler and light fittings repaired and strengthening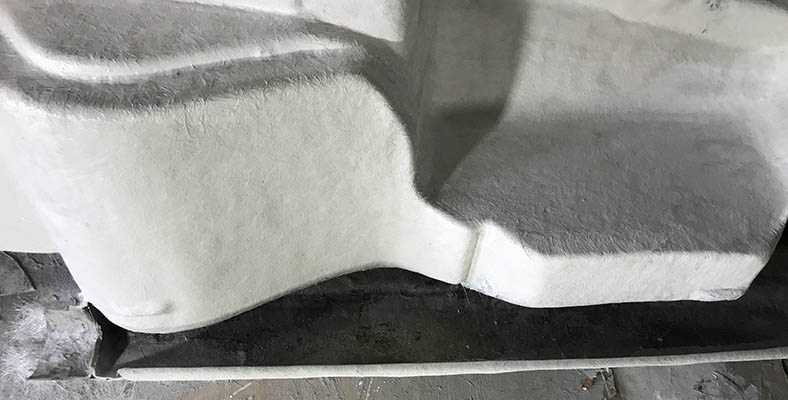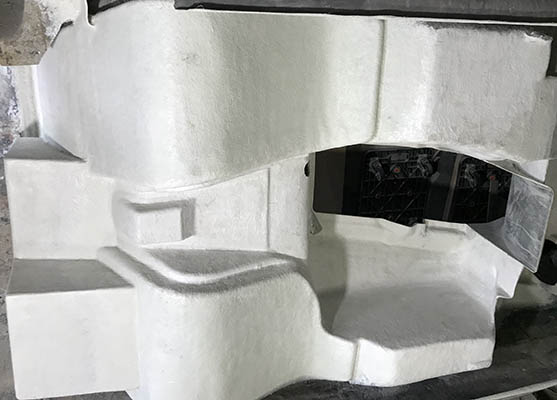 Body side skirts repaired and reinforced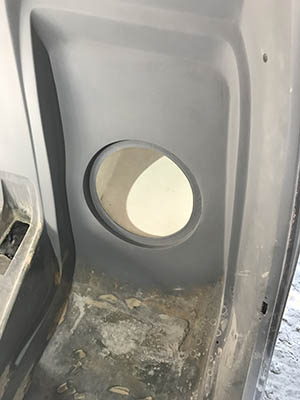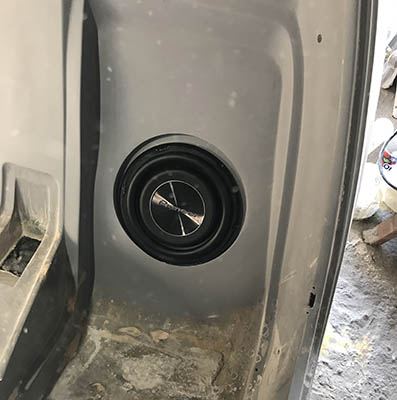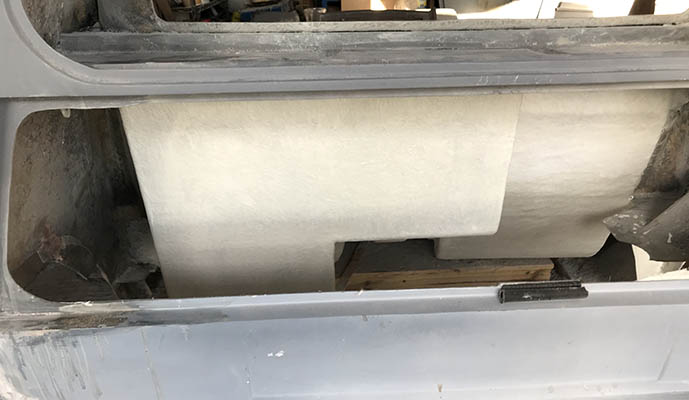 Sub woofer hole and speaker box fitted behind passenger seat finished - sub speaker loosely placed into hole
Correct cubic feet size for sub woofer box calculated for the tricky final shape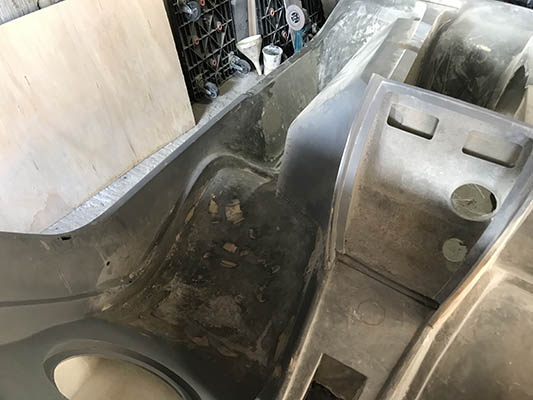 Original side speakers holes filled in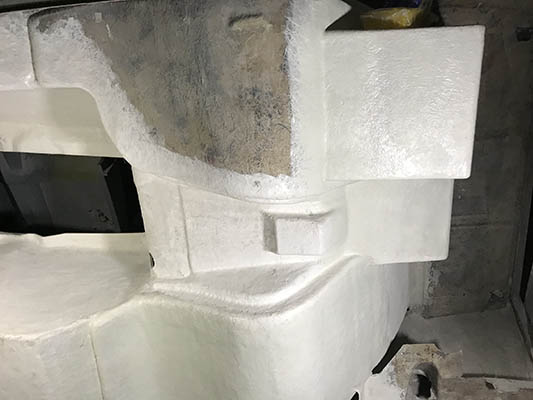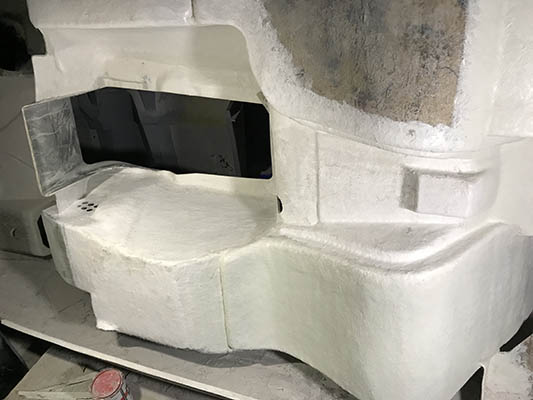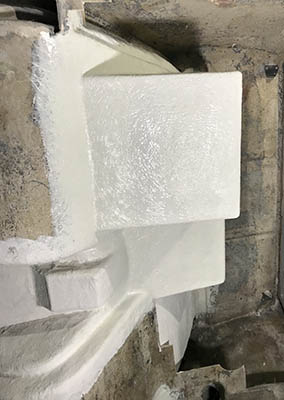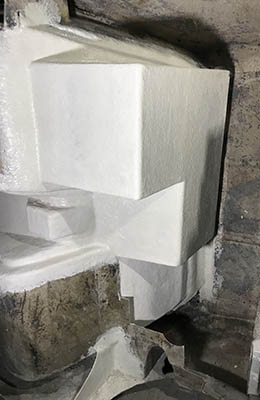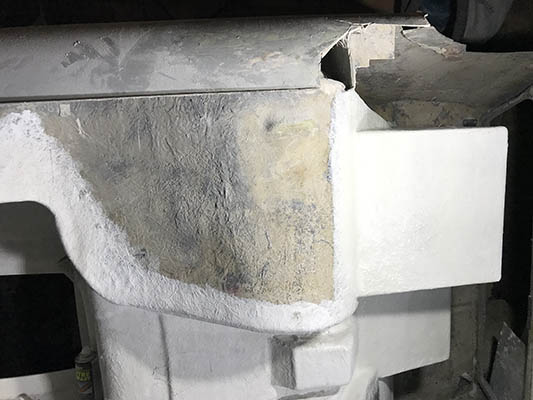 New sub woofer box now fibre glassed into place behind passenger seat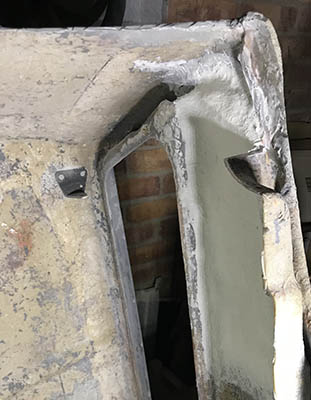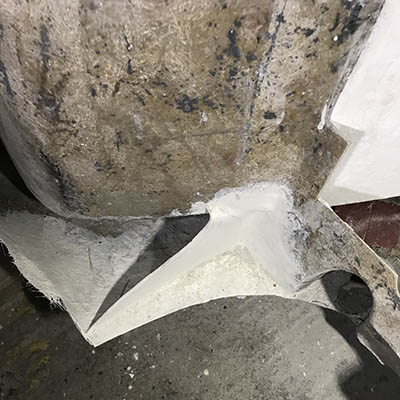 Under body work repairs and body edge strengthening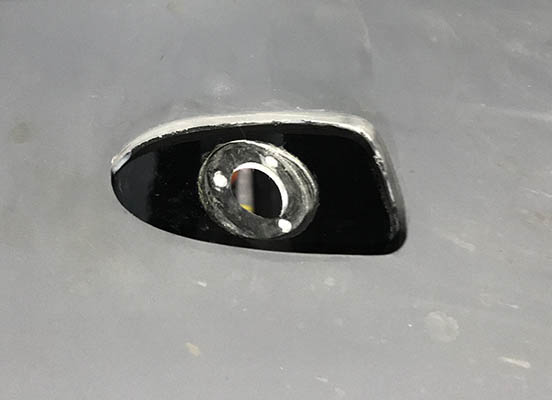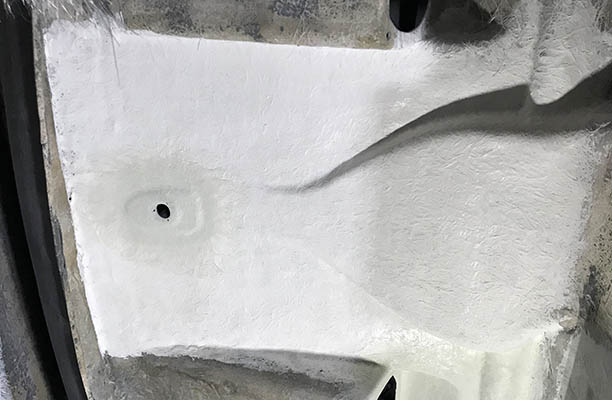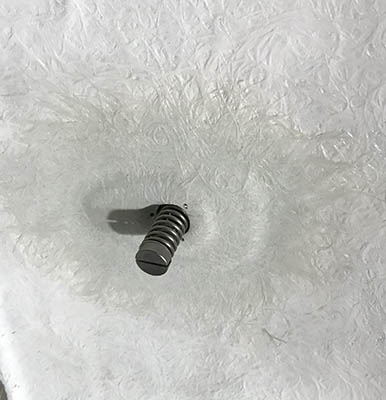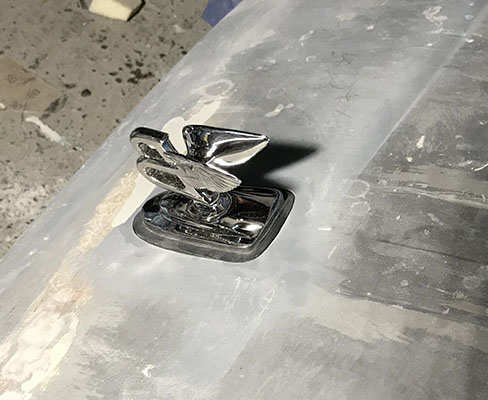 Bond badge mounting support completed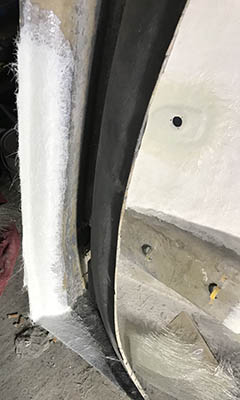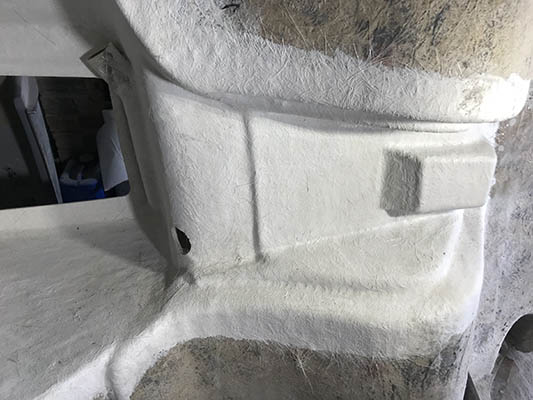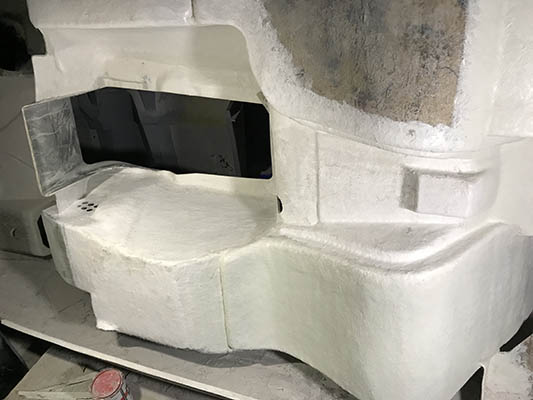 Under body strengthening and centre console/air con duct fitted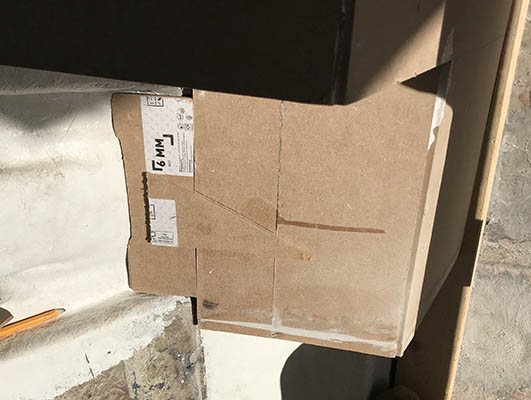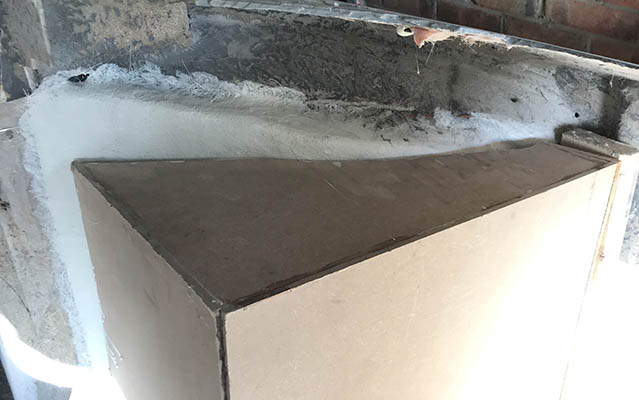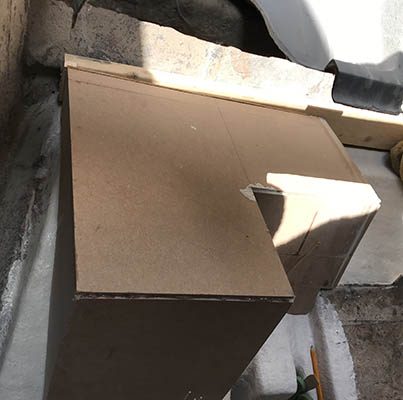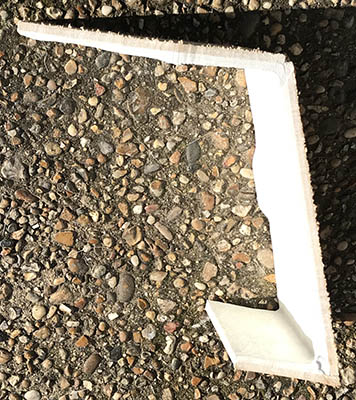 New sub woofer box ready for fiberglassing to boot area - excess to get the correct cubic area for the 10 inch sub woofer trimmed off - Note the thickness of the sub woofer box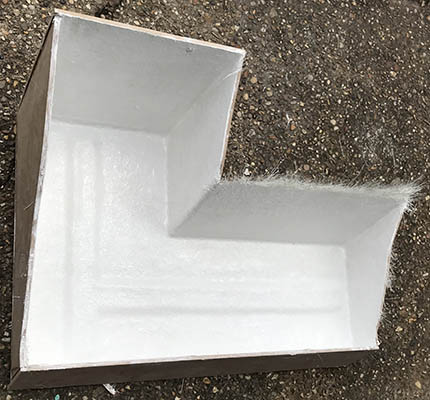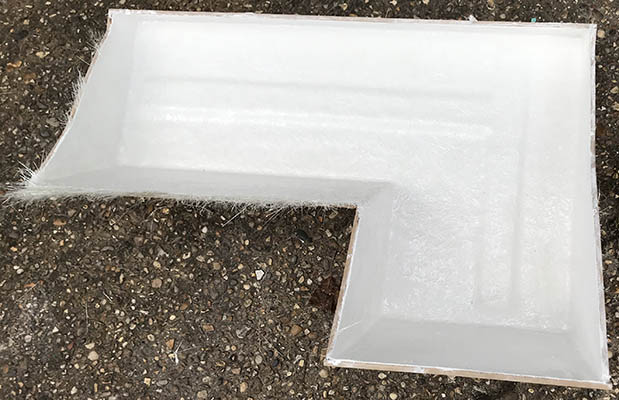 Fibre glassing sub woofer box - added strengthening ribs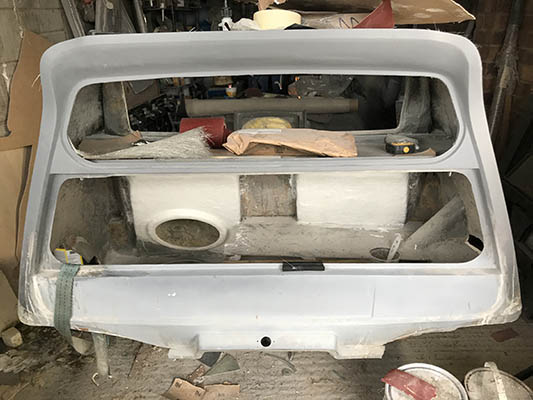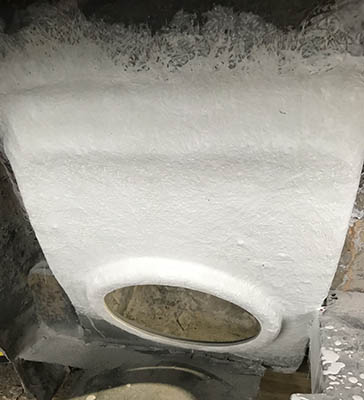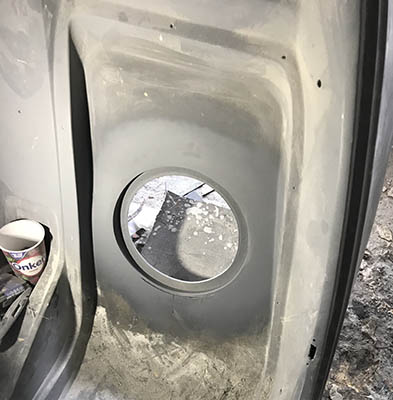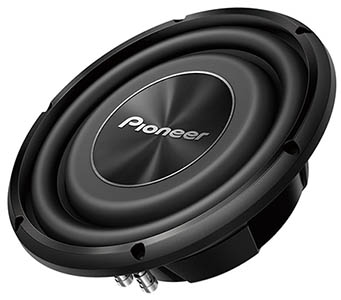 Sub woofer speaker mounting recessed into back of passenger seat. Seat backs are stiffened with 3 layers of fibre glass.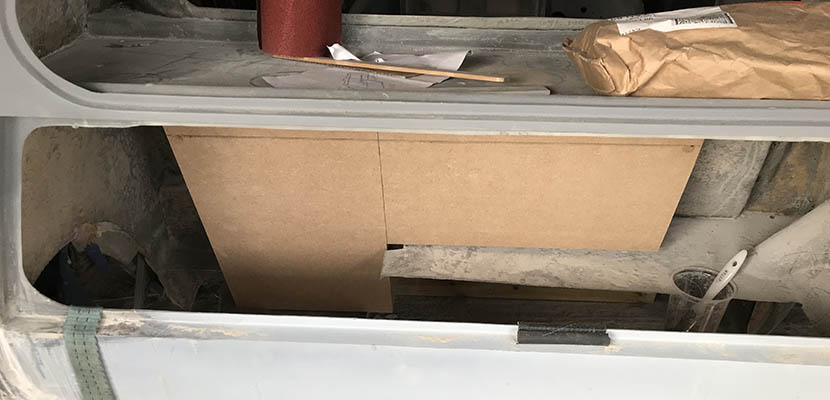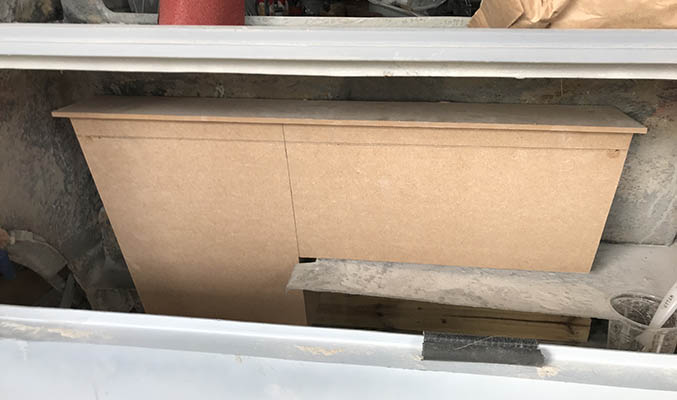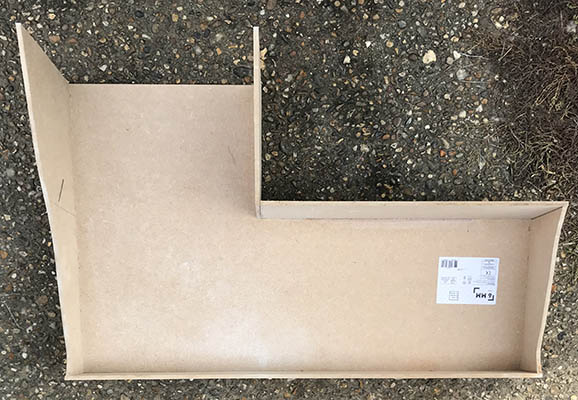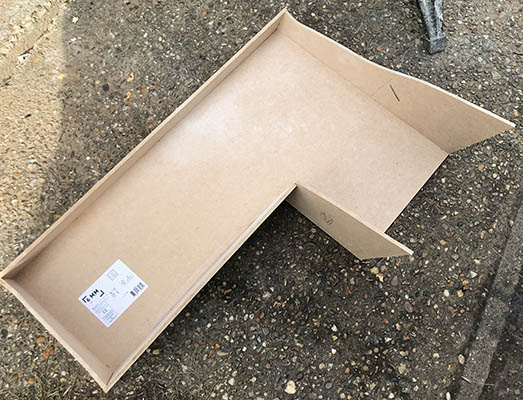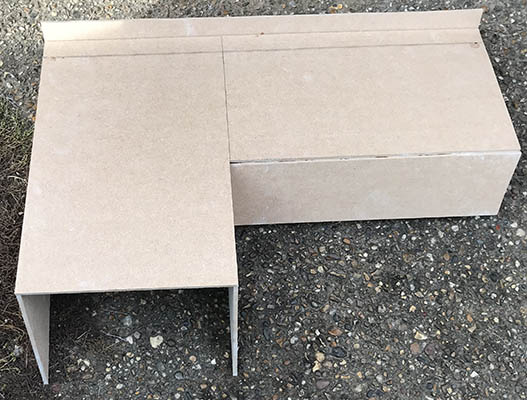 New MDF sub woofer box - correct cubic meter size for sub - ready for fibreglassing to make it more rigid - sub woofer speaker goes in recessed to the back of the passenger seat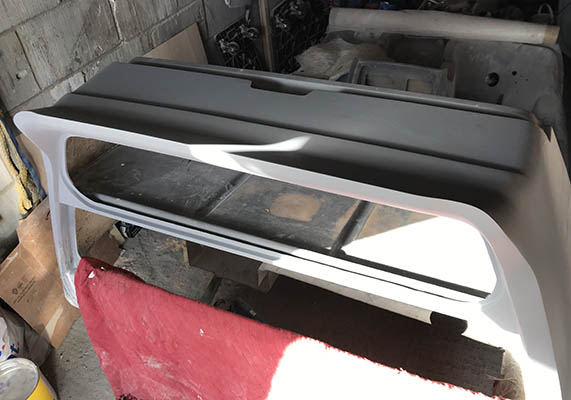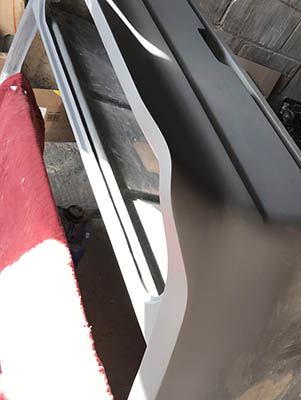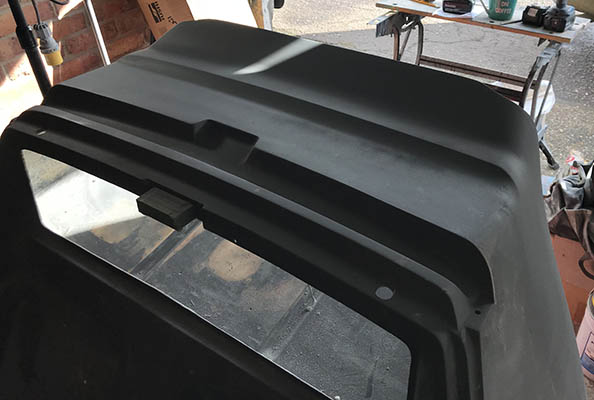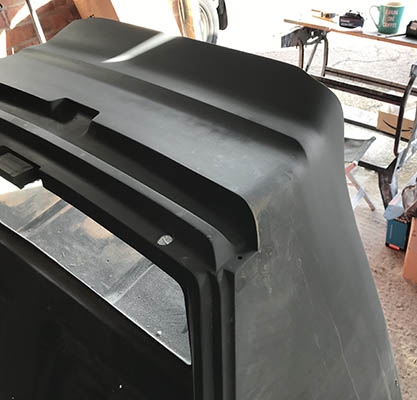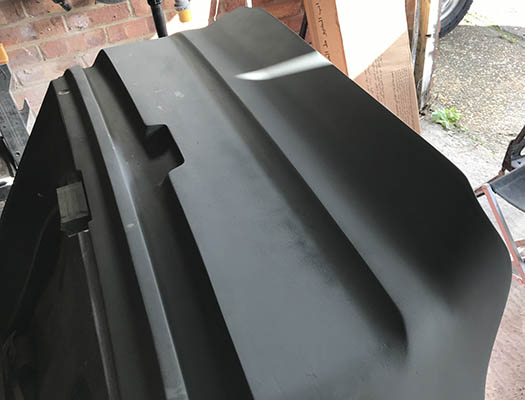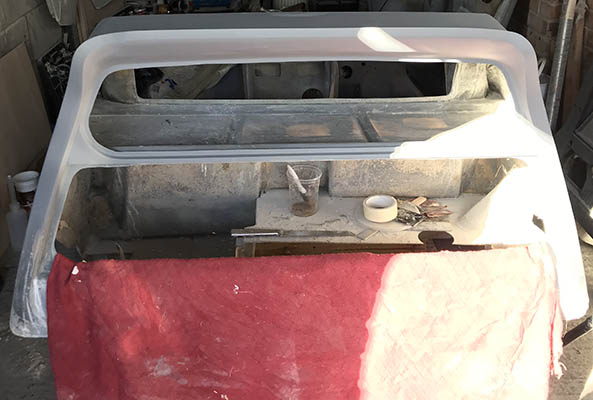 Spoiler now moulded to body work



Finished spoiler out of the mould - ready to attach to Bug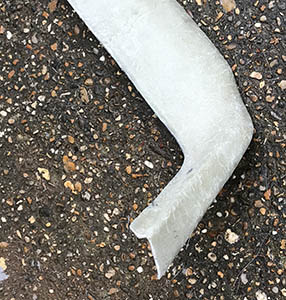 Spoiler mould made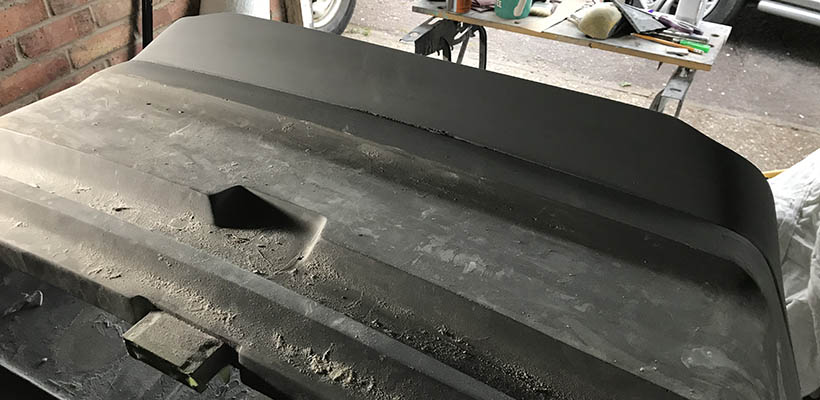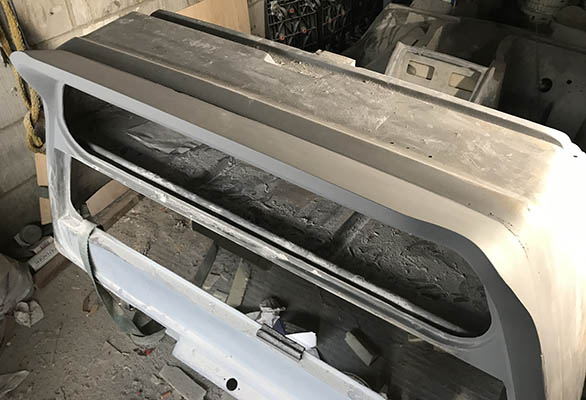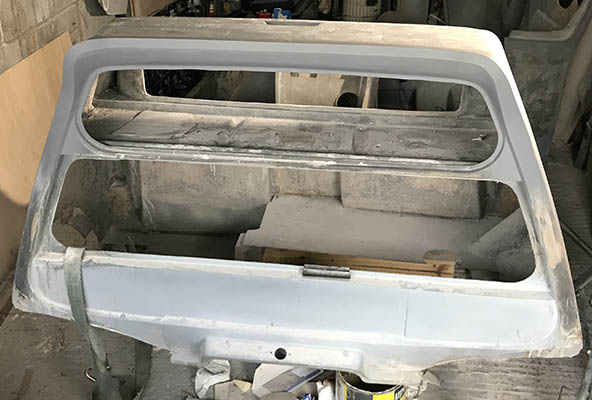 Spoiler mock up ready for moulding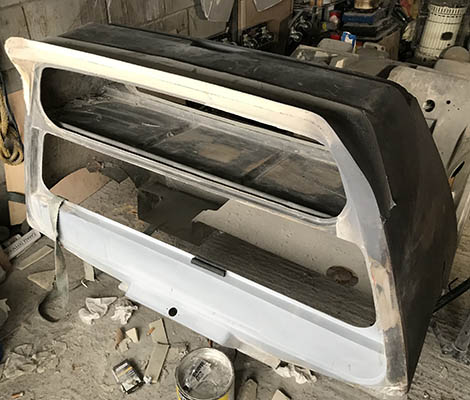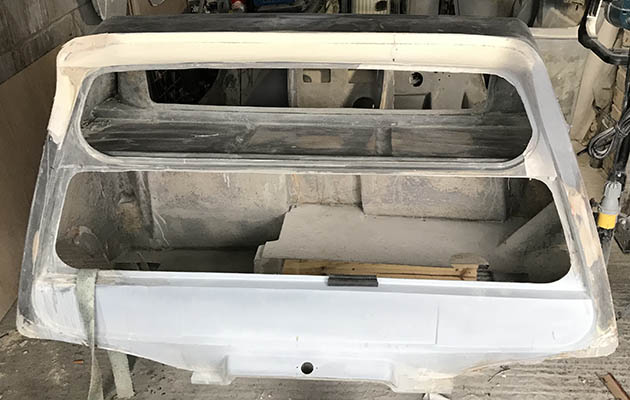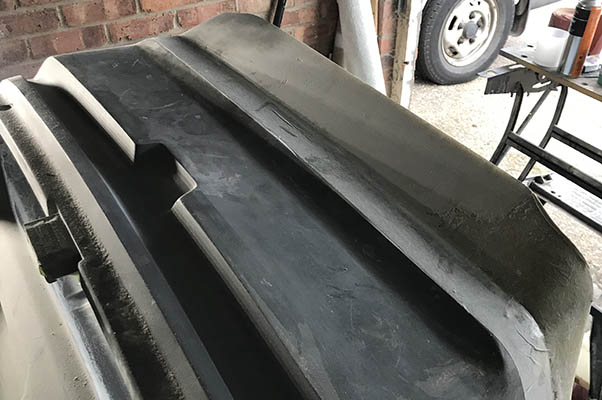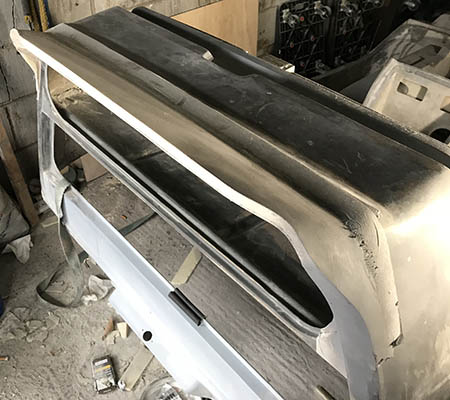 New rear spoiler being shaped ready for a mould to be taken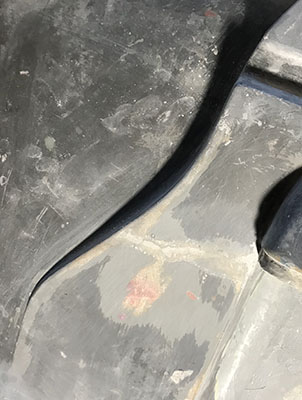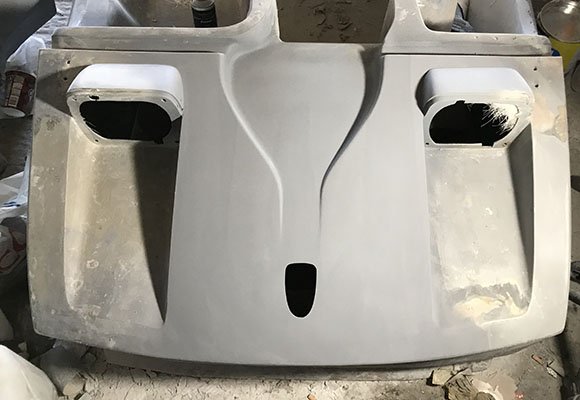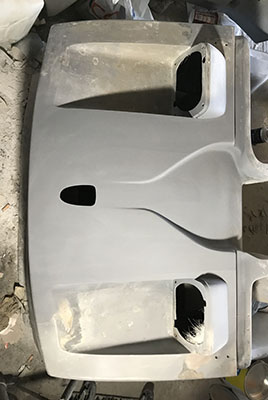 Previous repairs re- fibre glassed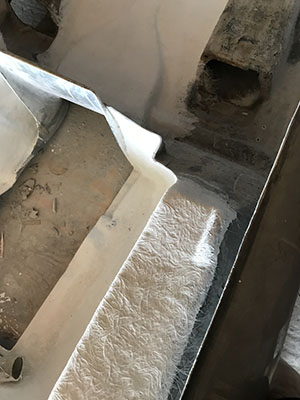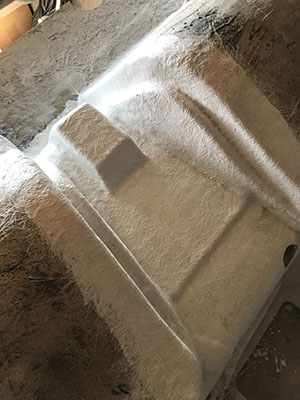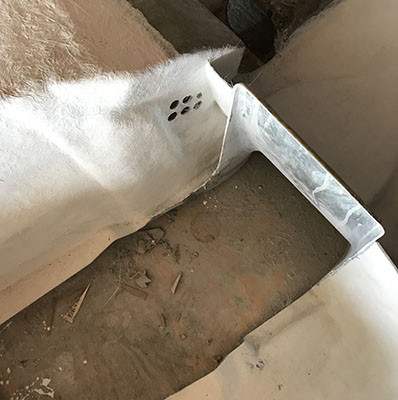 Underbody modifications - new centre console with no manual handbrake or seat belt fixings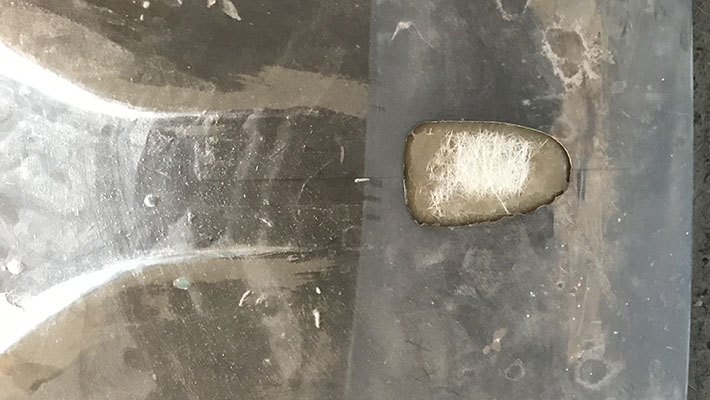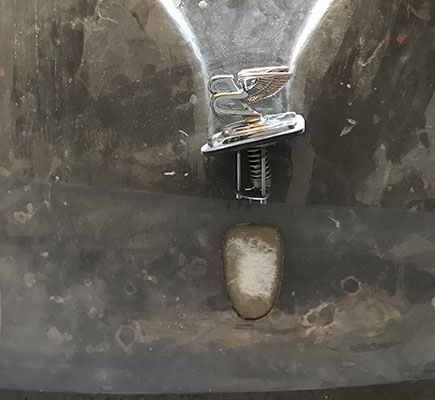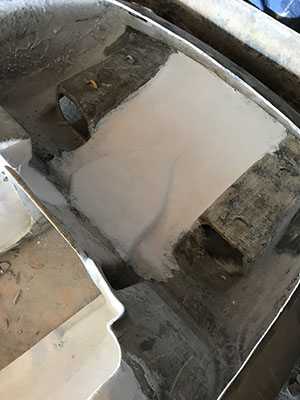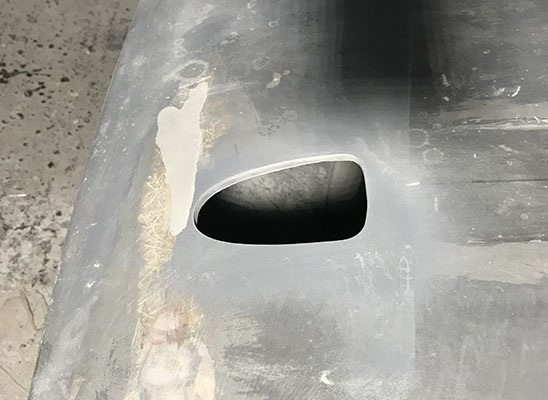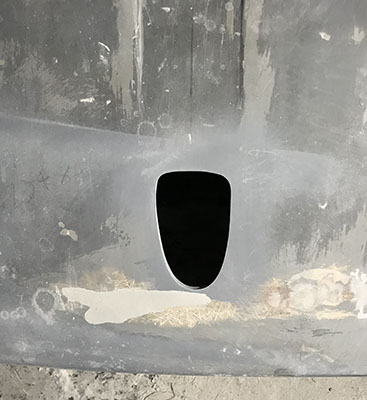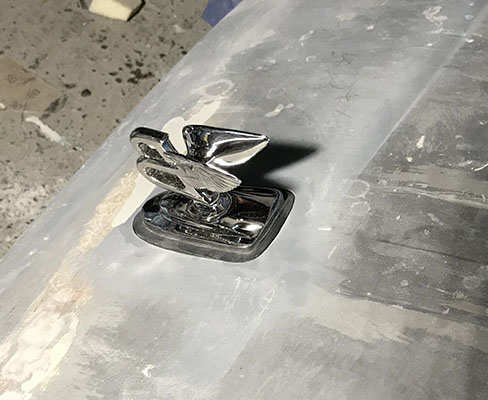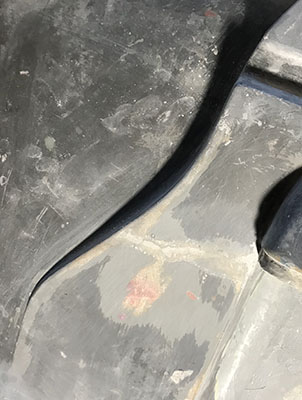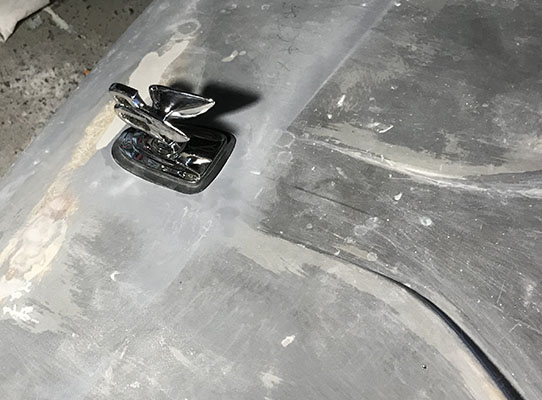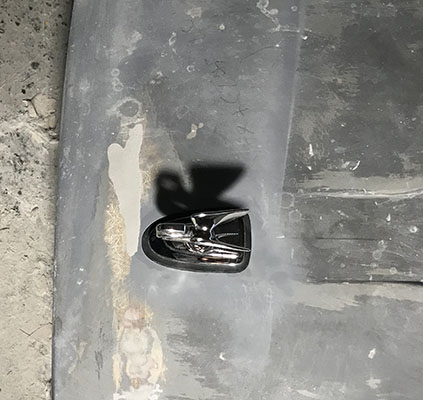 Bonnet cut out made for Bond badge - under bonnet has been stiffened to prevent flexing and recess for badge - previous repair cracks properly fibre glassed in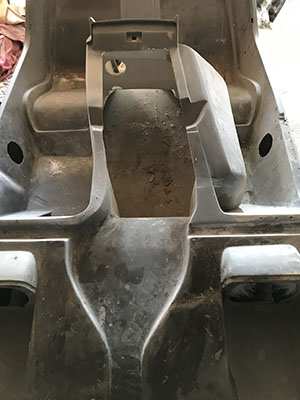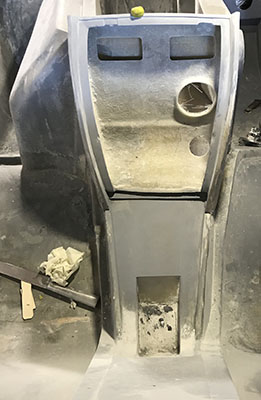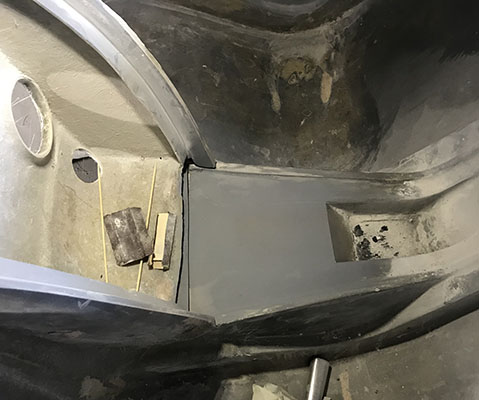 Engine bay mods and centre console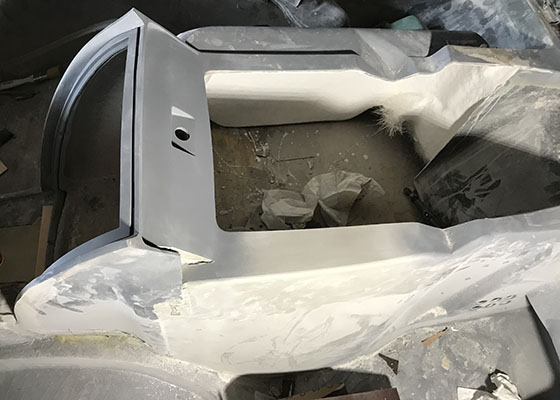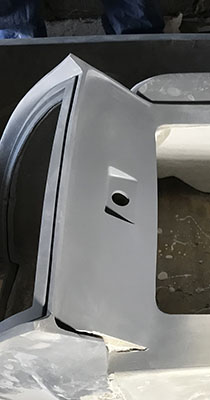 Canopy locator plug detailed into dash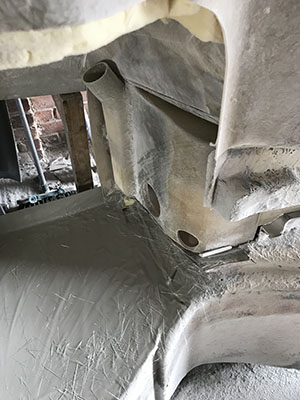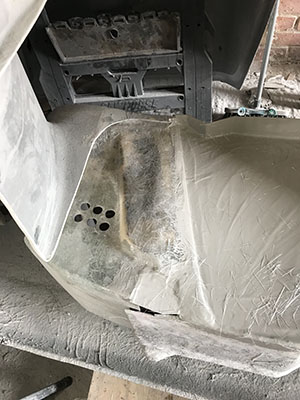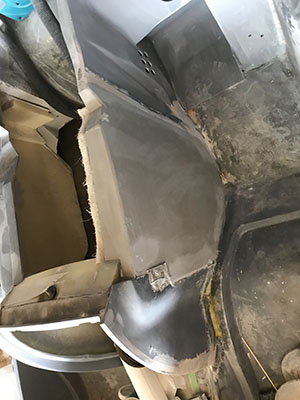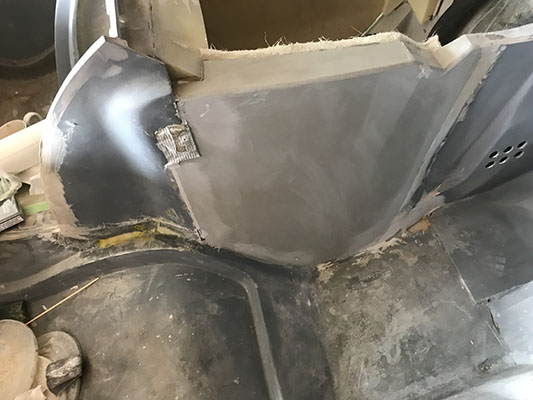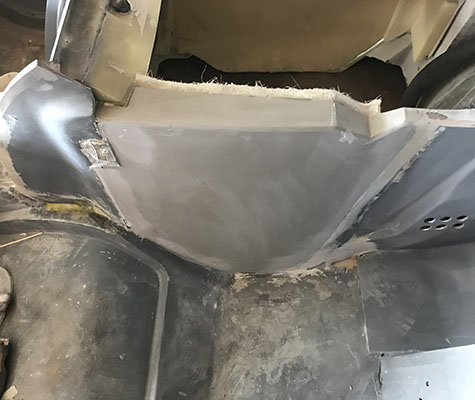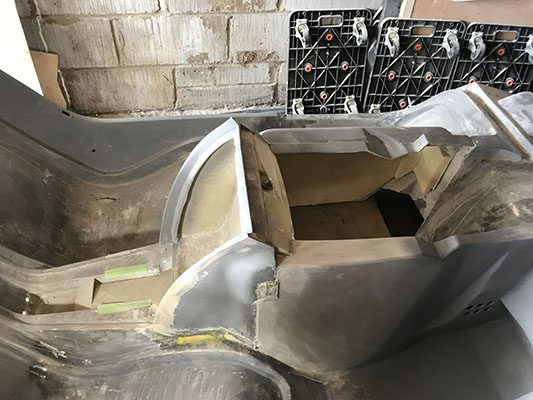 Drivers engine side cover fibre glassed in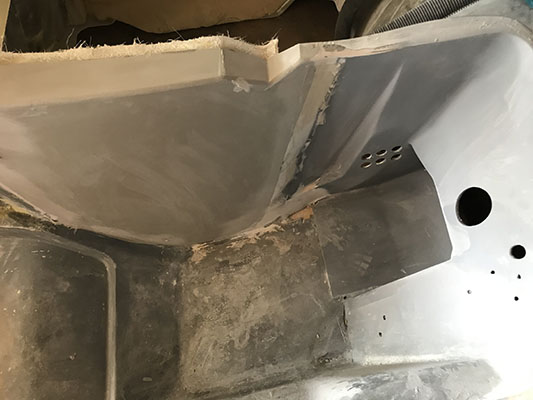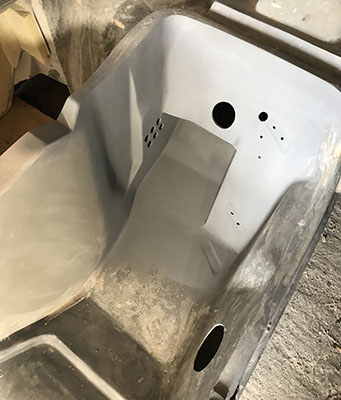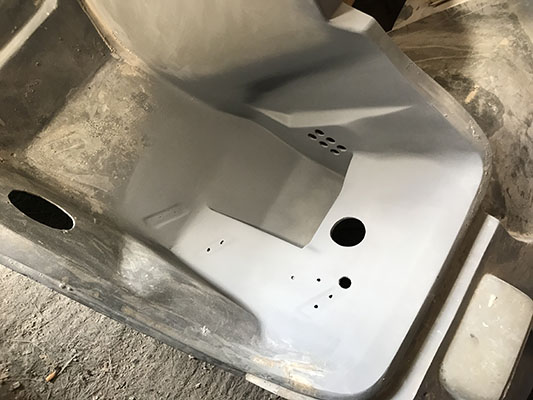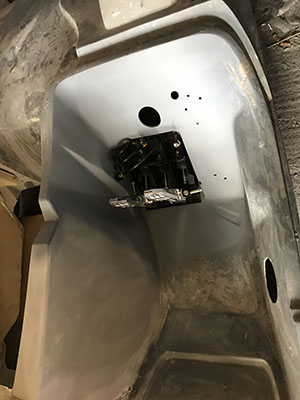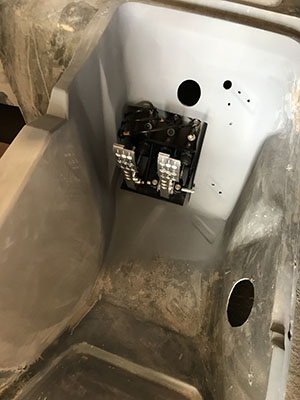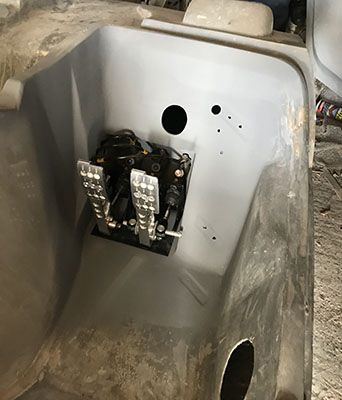 New pedal box fibre glassed in place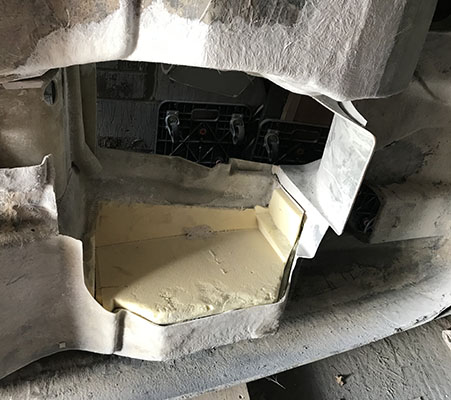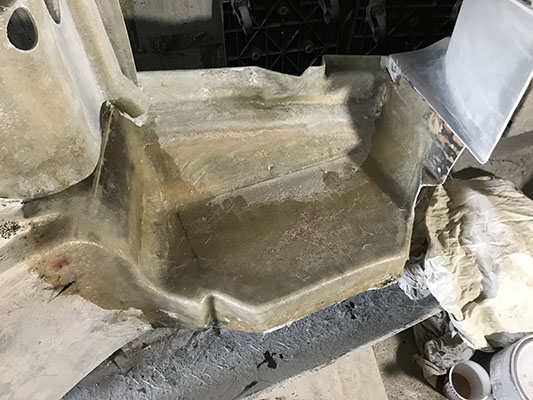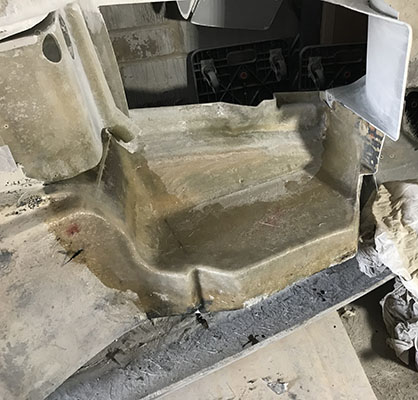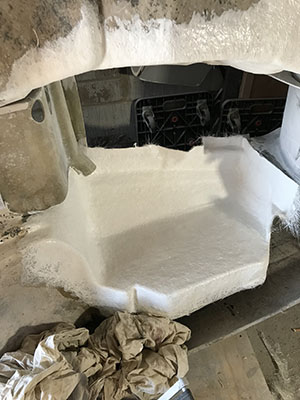 Passenger and driver side engine inner cover being fibre glassed in place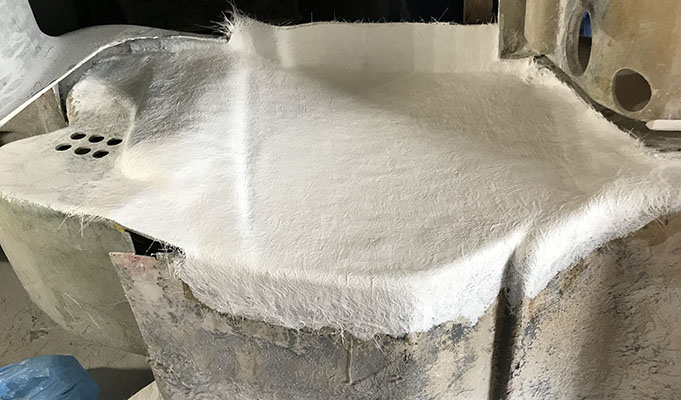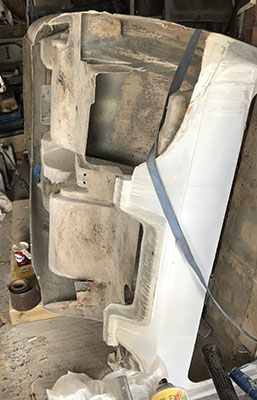 Body off the frame and fibreglassing all the new elements together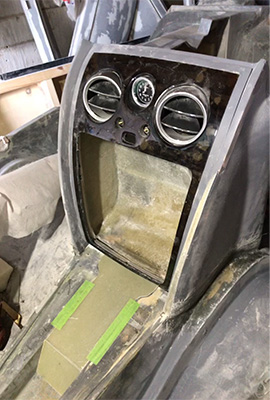 Mocking up reversing gear lever location in fibre glass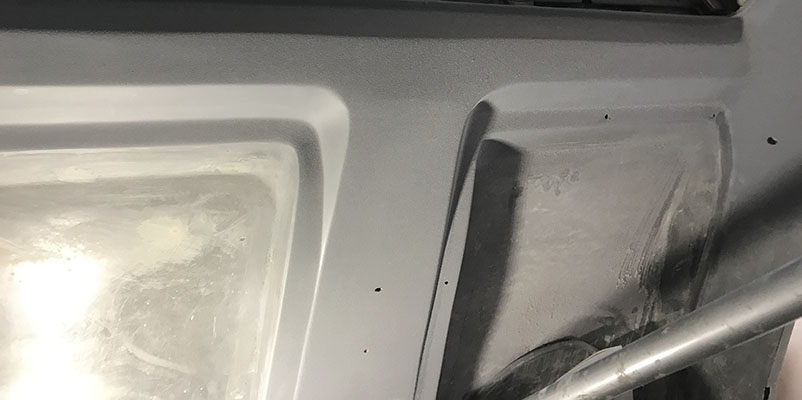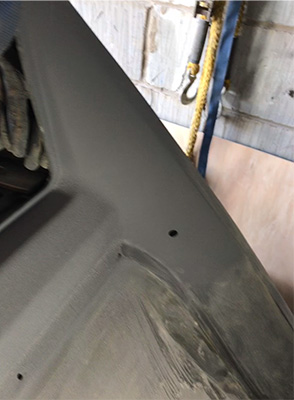 Hole filling and detailing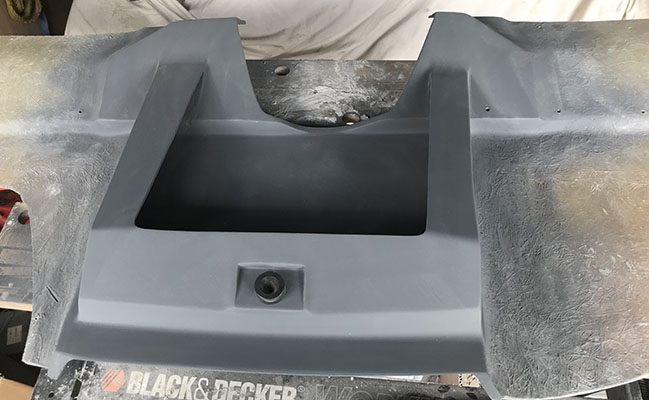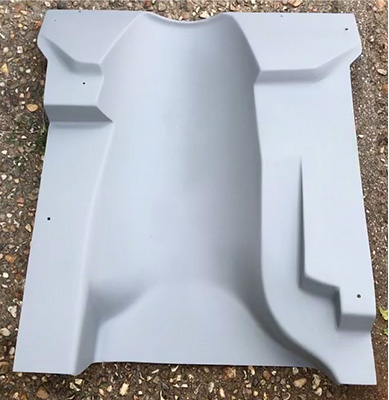 Canopy locator lug fitted - Under canopy finished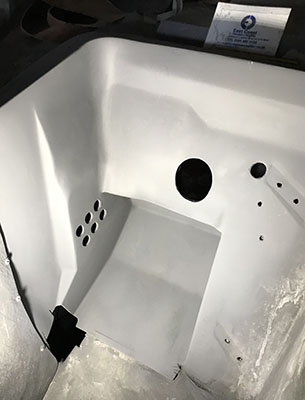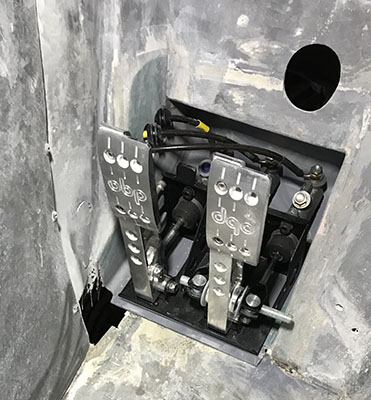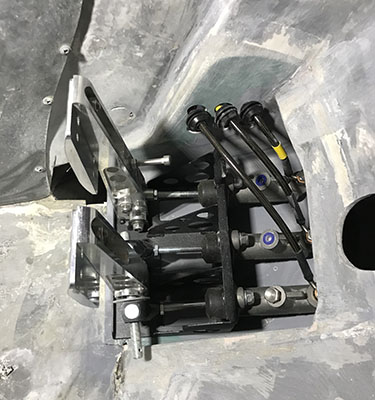 New pedal box fibre glassed in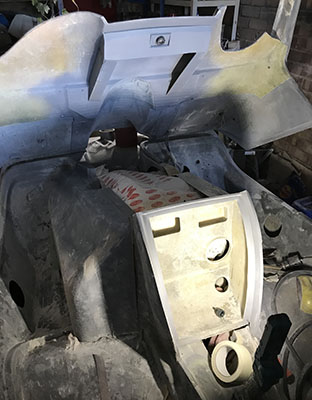 Canopy locating lug mount finished - canopy rubber engine seal tested OK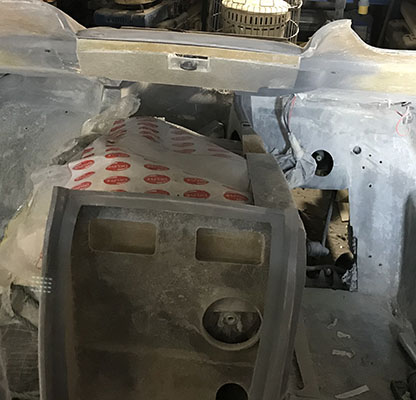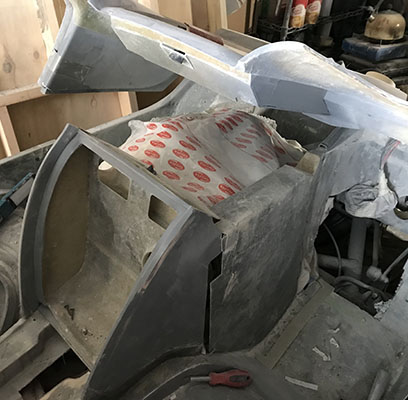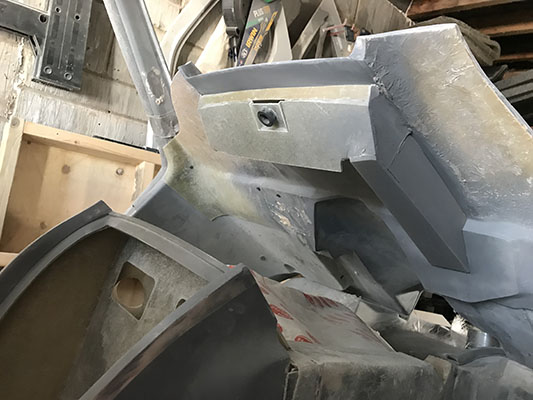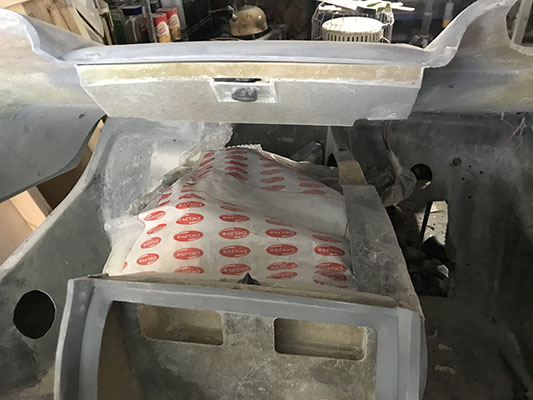 Inner canopy locating lug fitted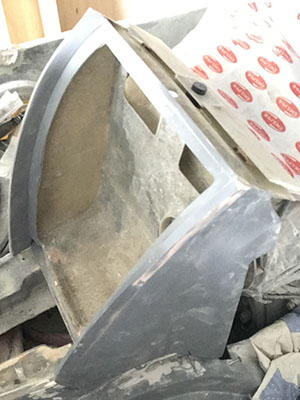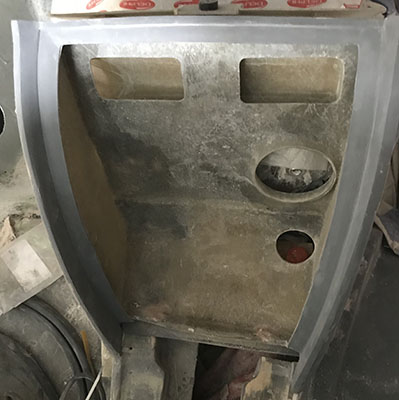 Inner dash finished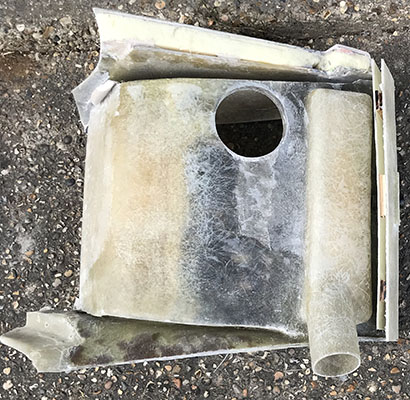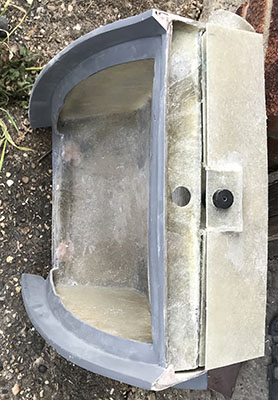 Added double sandwiched locator plate - top plate will be fitted to canopy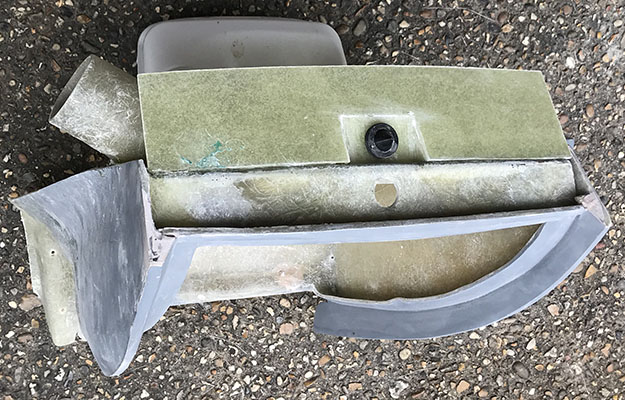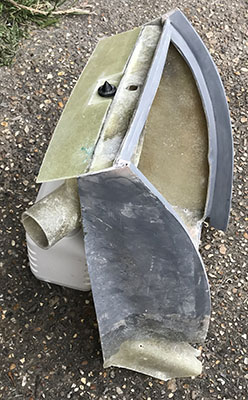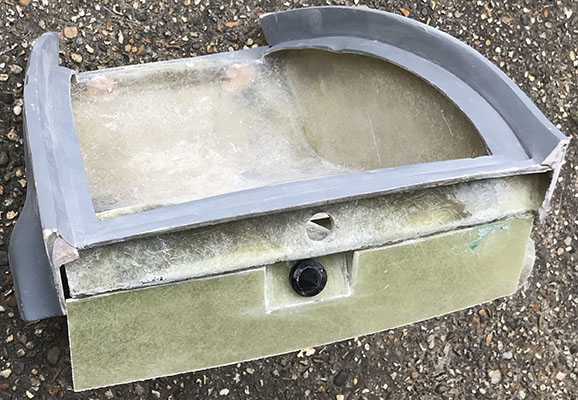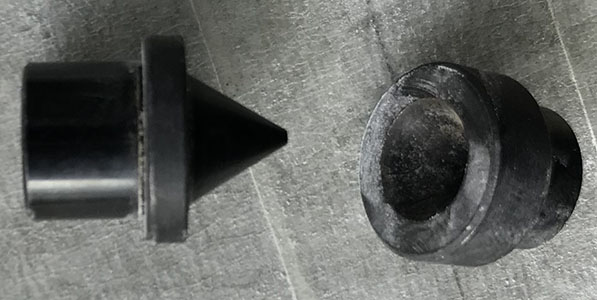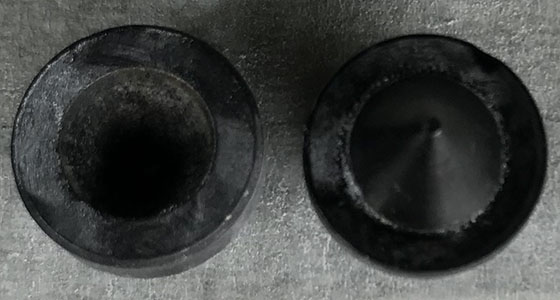 Locating lugs being fitted into central dash board unit and canopy so they mesh exactly when canopy is closed.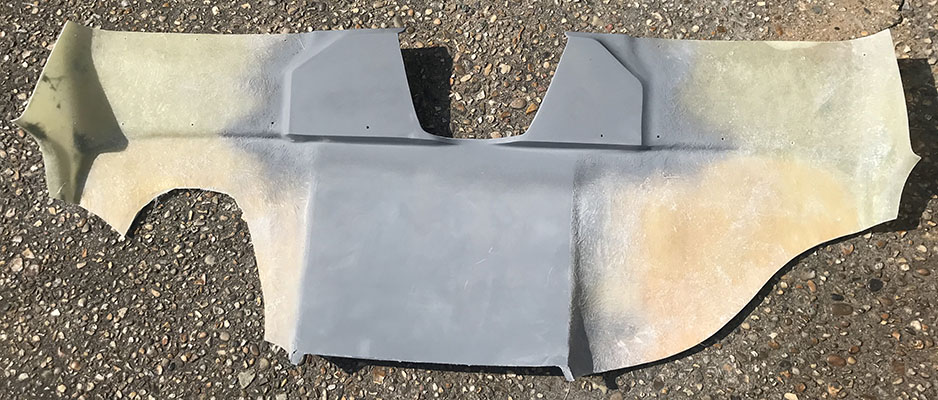 Inner canopy moulding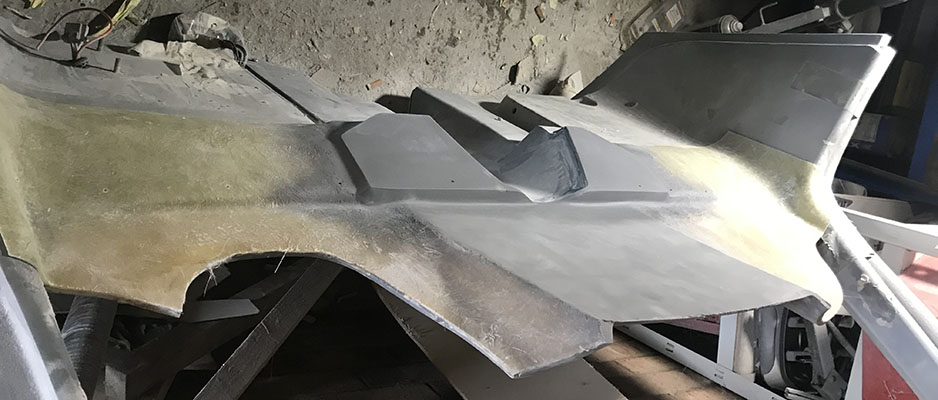 Inner canopy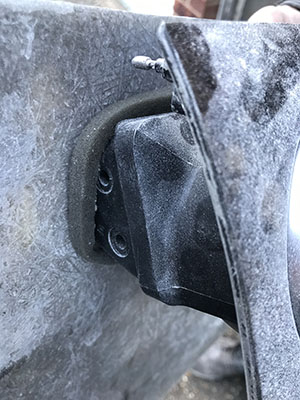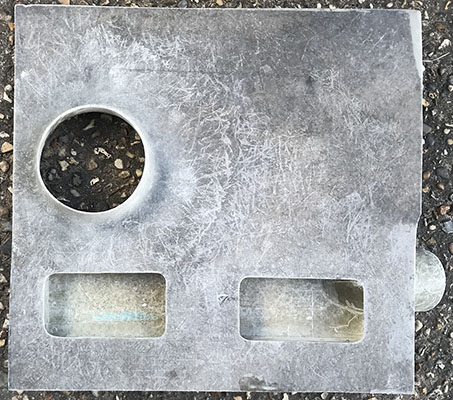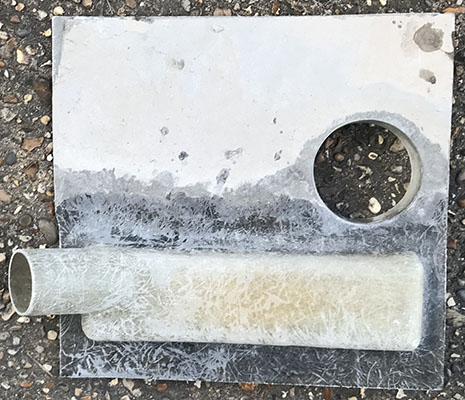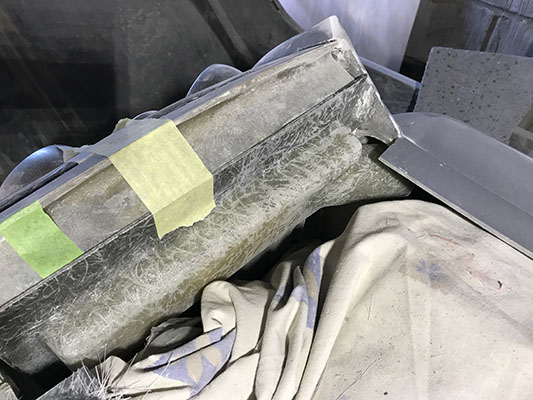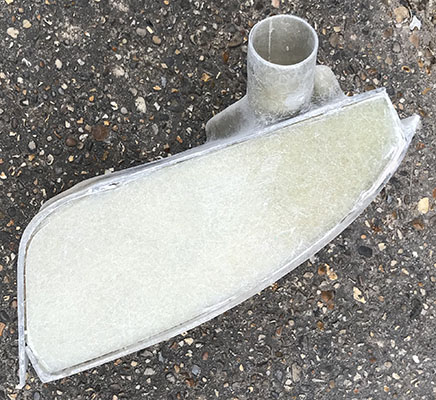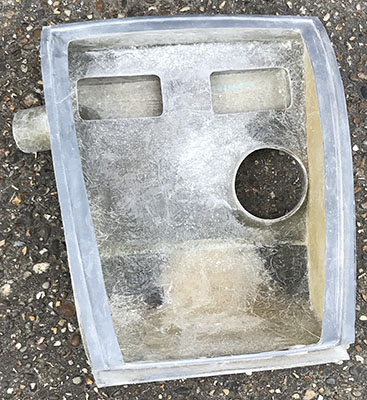 New Air duct moulded inlet customised to fit the Bentley dashboard vents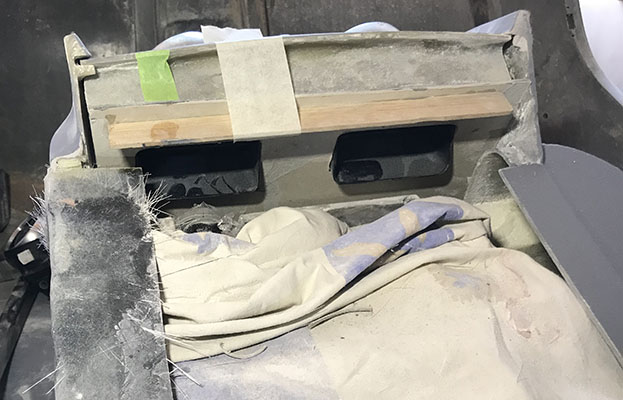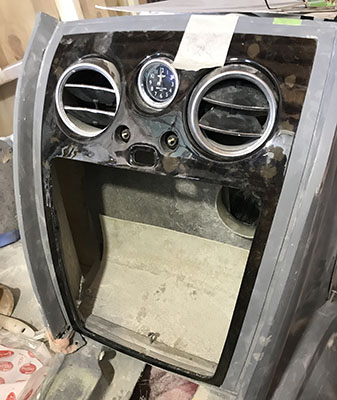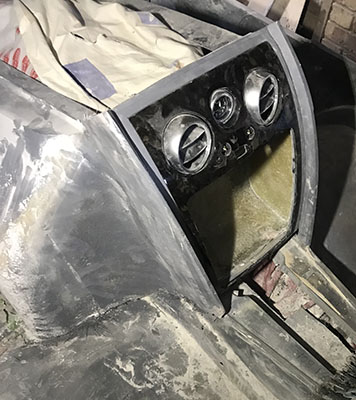 Air intake rear ducts now moulded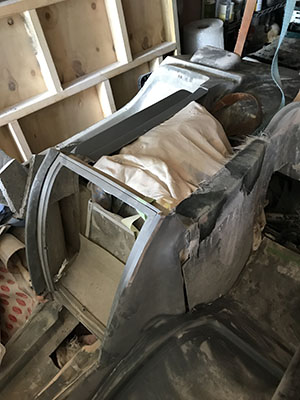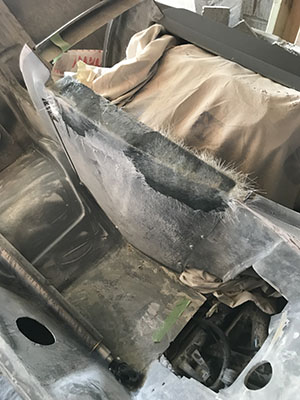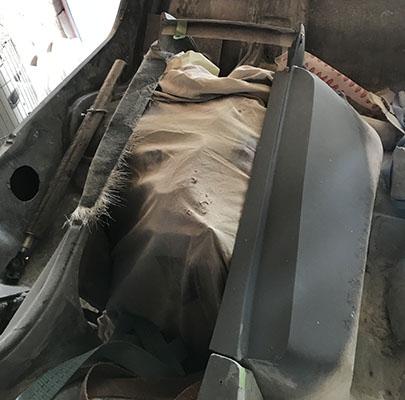 Removable side engine covers being mocked up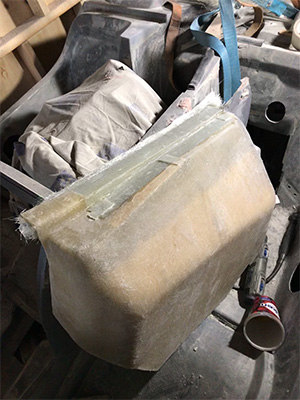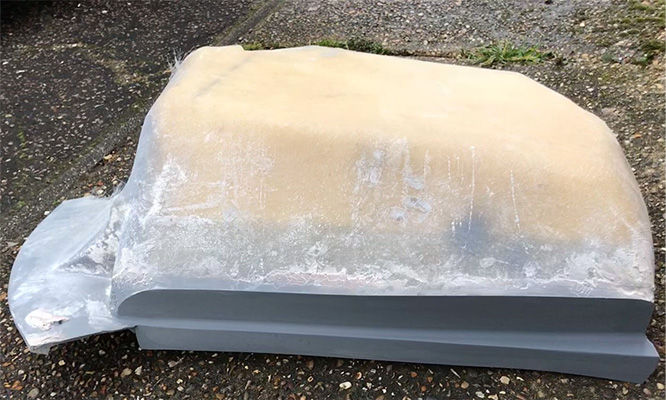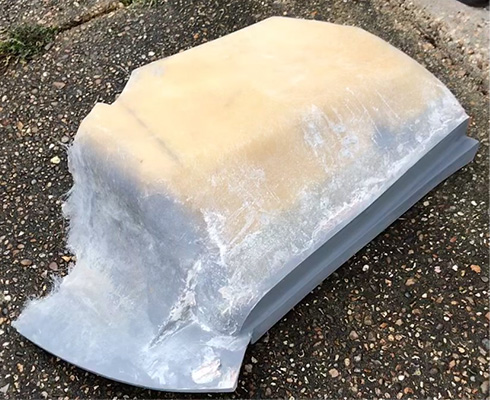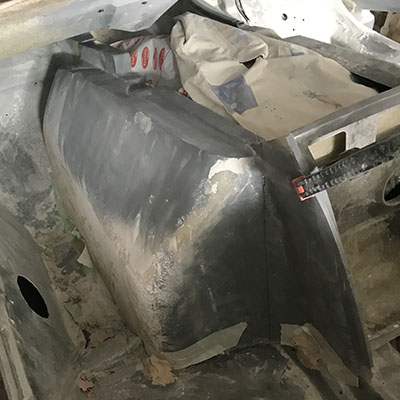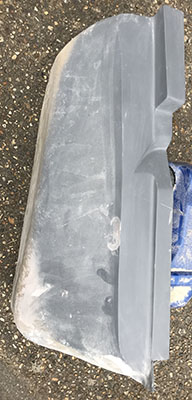 Engine passenger side cover extended to allow for rubber seal strip - Notched to mirror canopy closure profile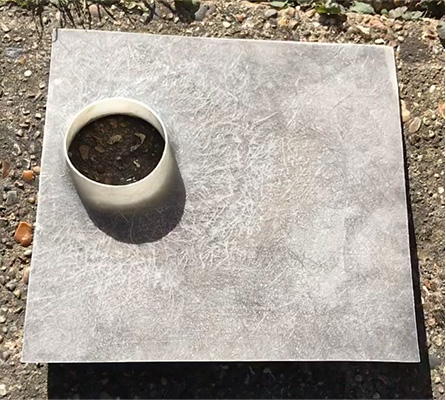 New central dash back plate - raised ring to accomodate alternator nut removal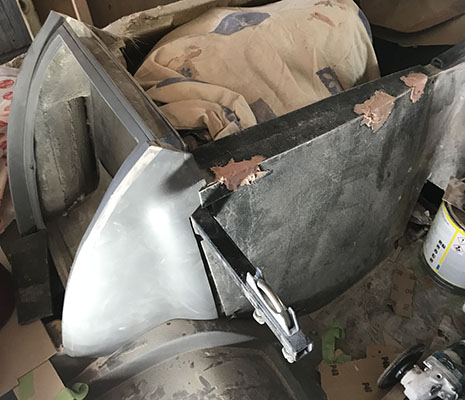 Adding engine side cover top ready to take sealing rubber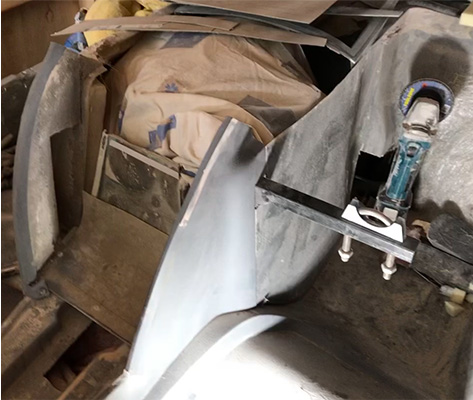 Side dash now moulded around steering column support - removable engine side panel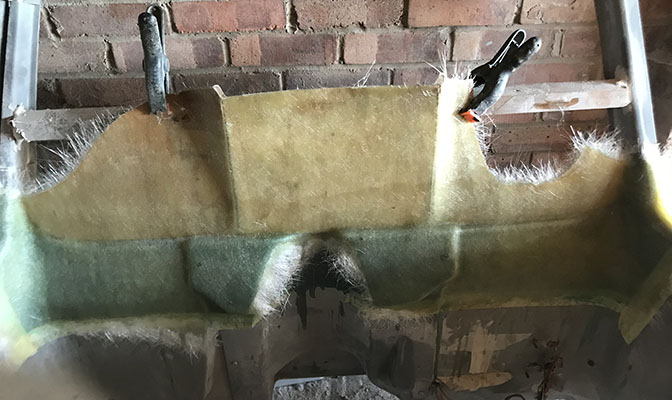 Dashboard fibre glassed inner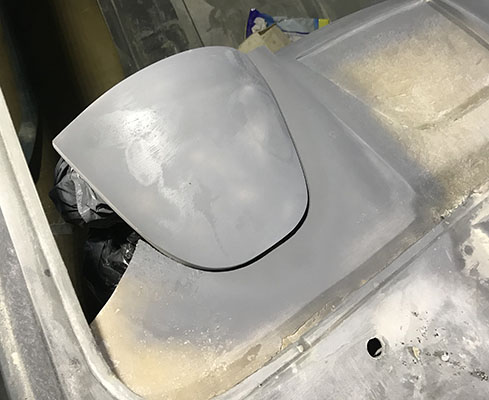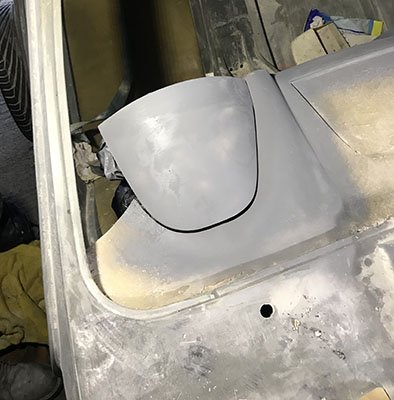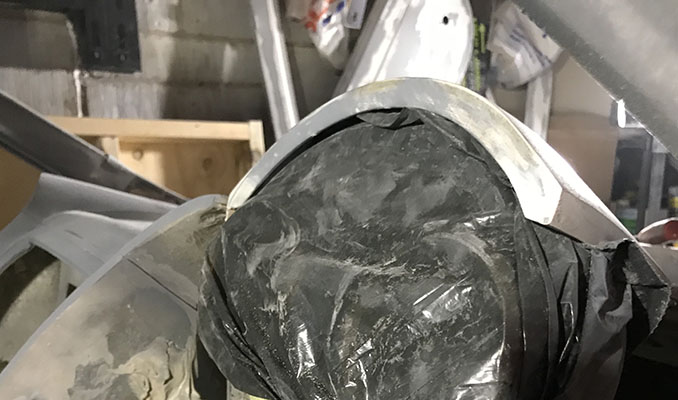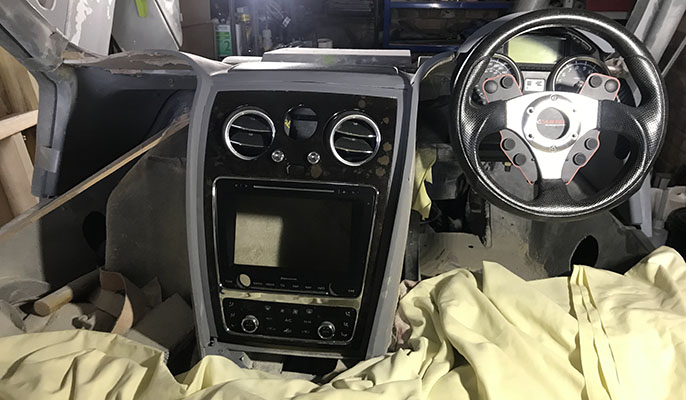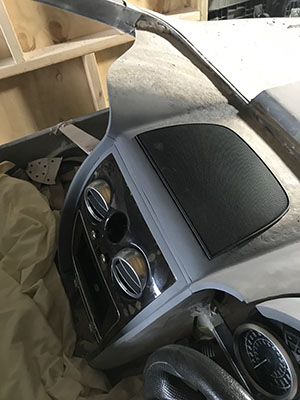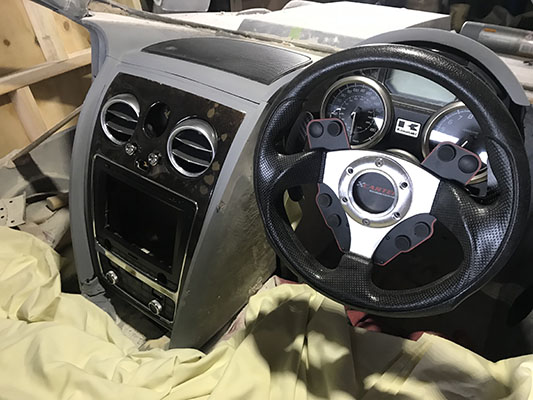 Bentley Centre console now mocked up - lip added to dial cowling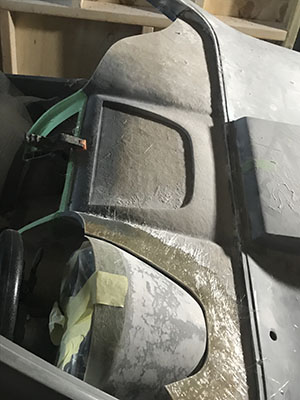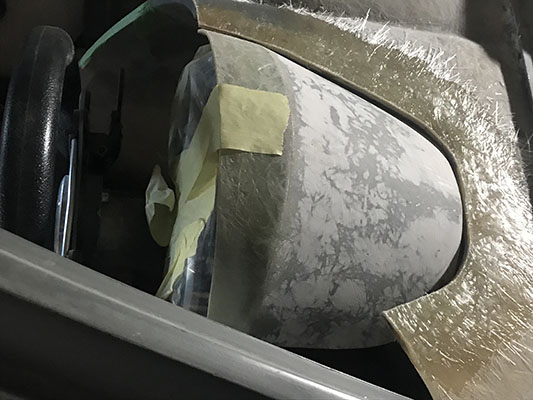 Dial pod now loosly fitted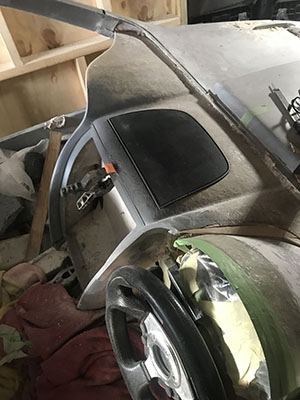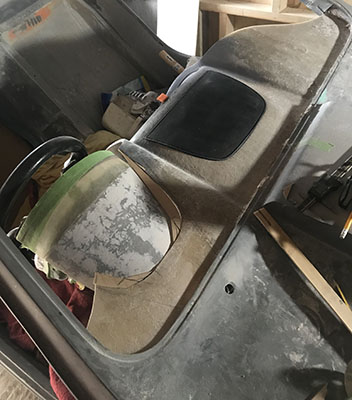 Both dash side wings now joined to centre console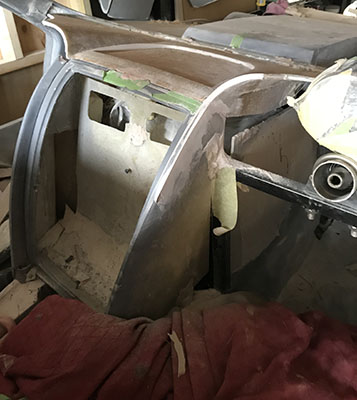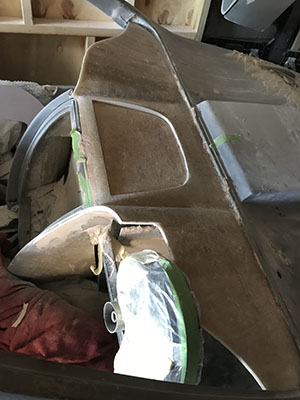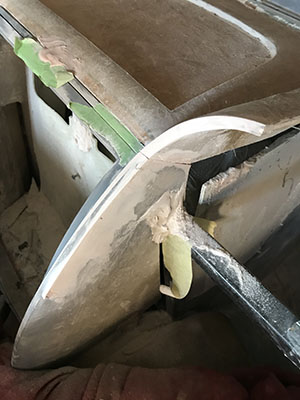 Dash radius wing moulded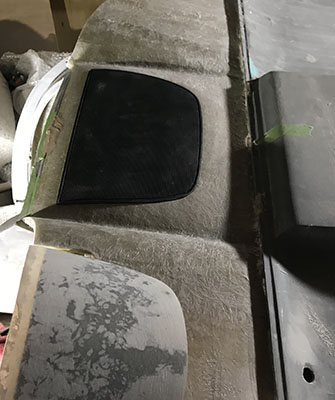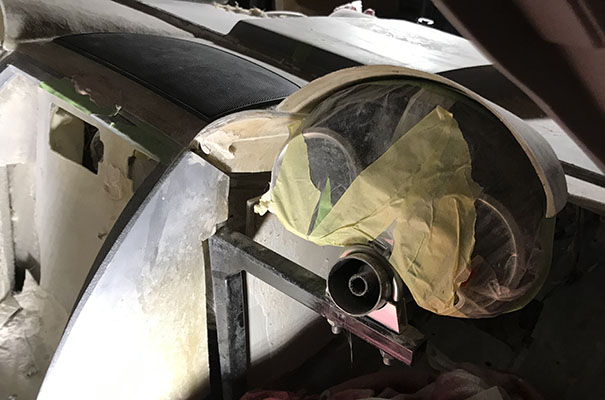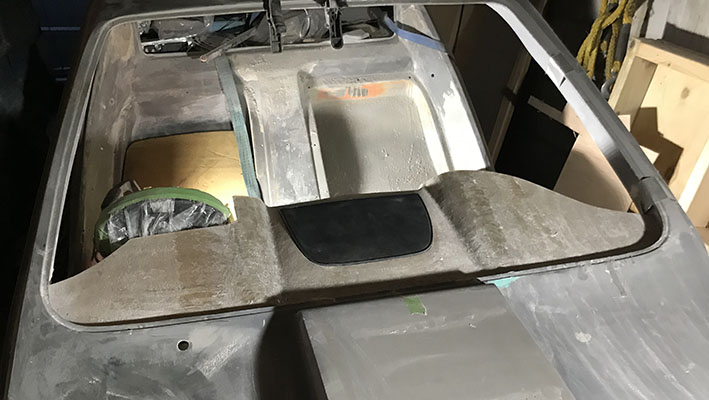 Bentley central grill now recessed into dash - dial cowling now loosly placed into position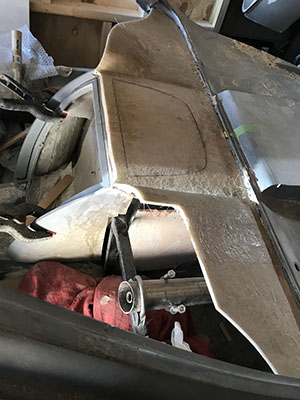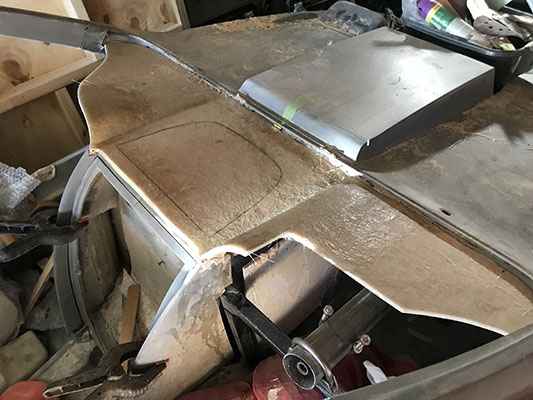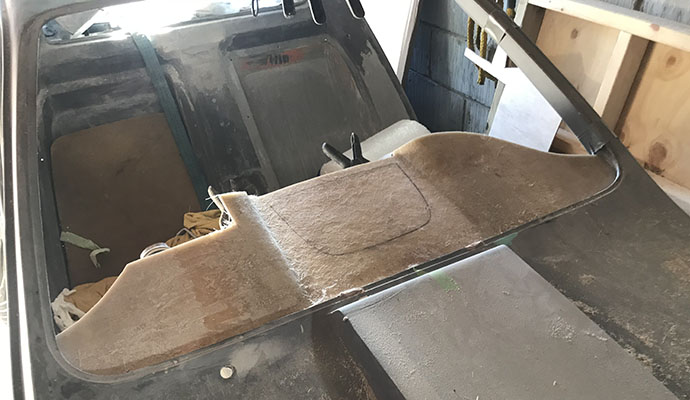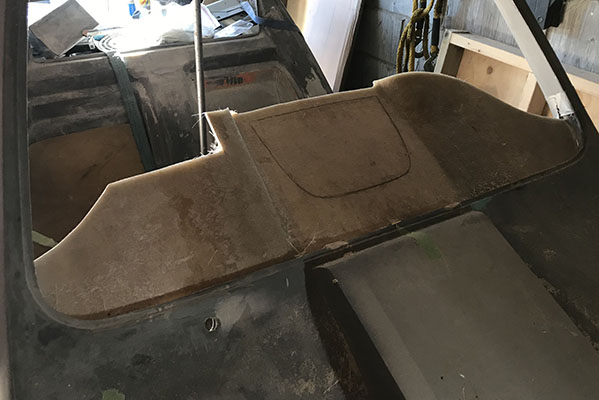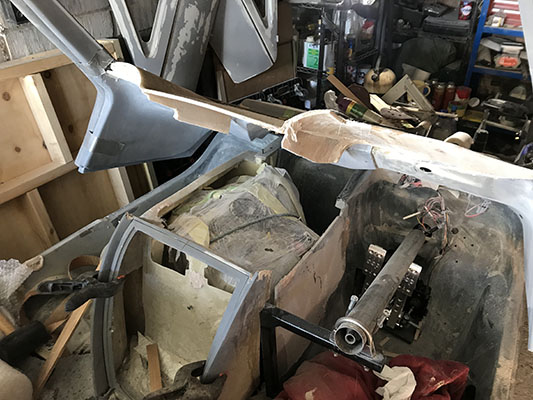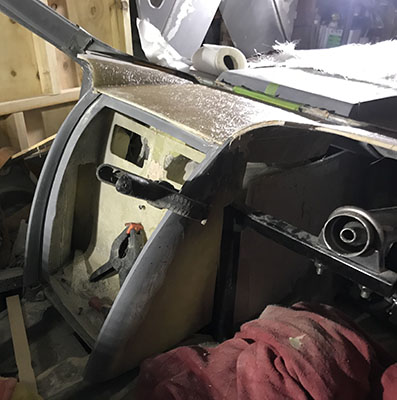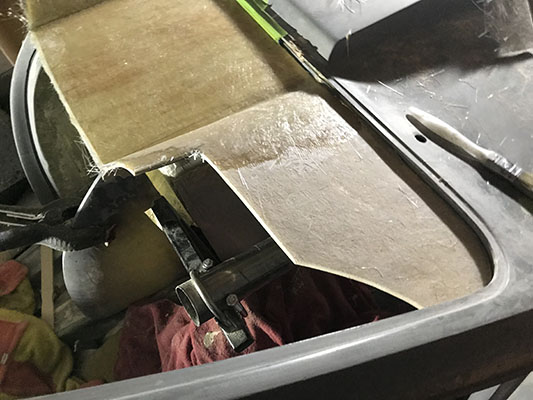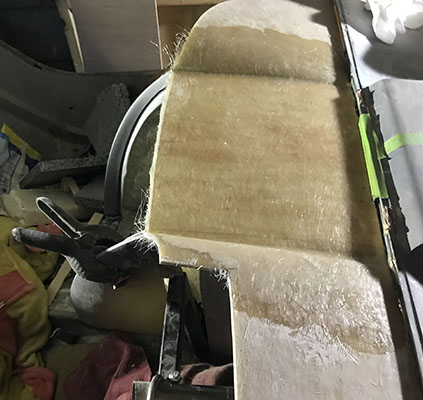 Centre console section now joined with bendy ply and fibre glas - Kawasaki gauge unit now cut out of the top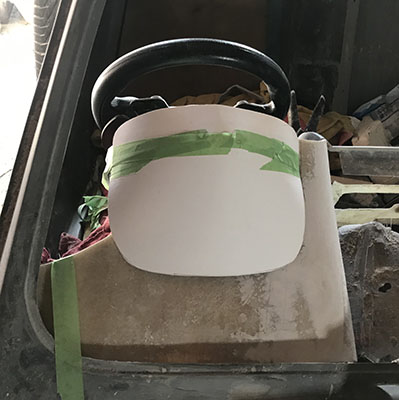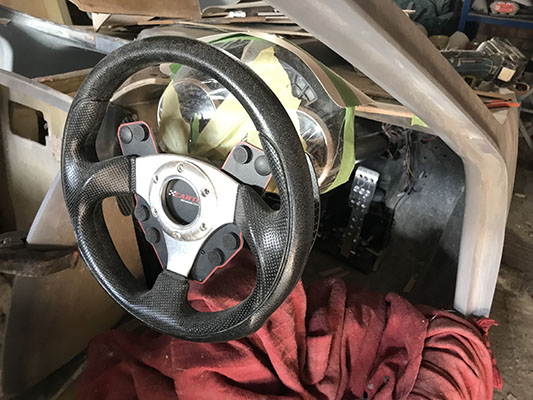 Kawasaki dial cover mocked up in card board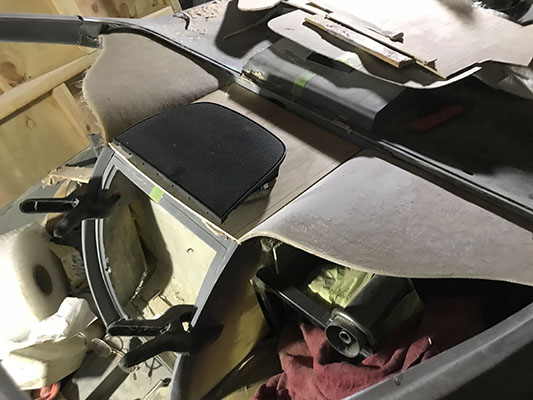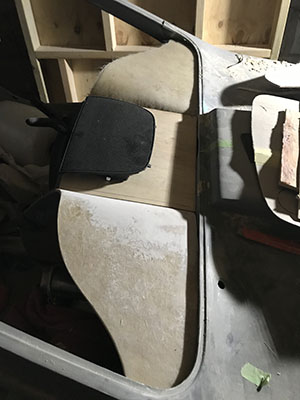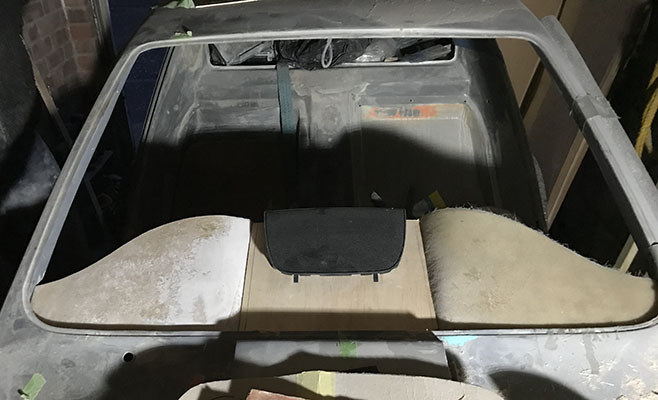 New dash top panels being formed in bendy plywood and fibreglass. Bentley top air grill being inserted.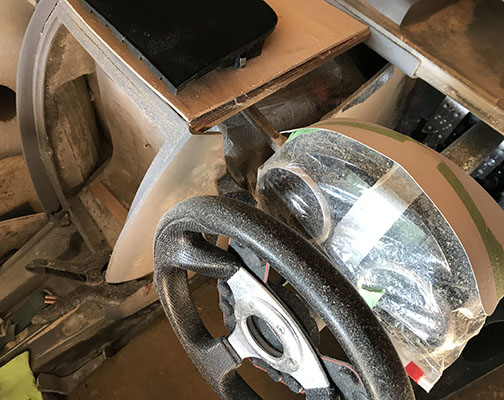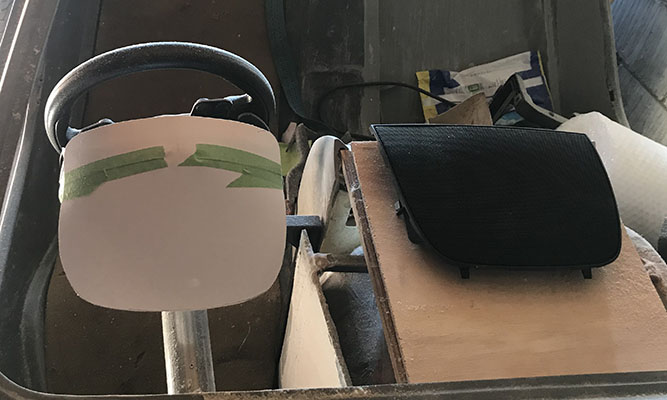 Mocking up dial cowling in card board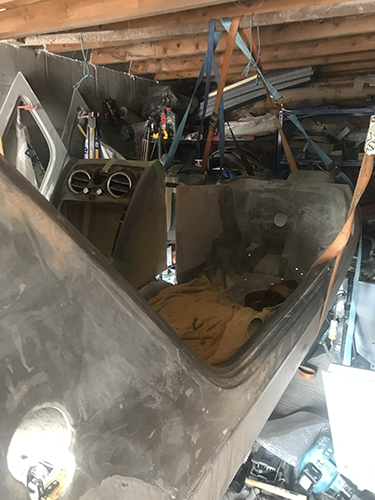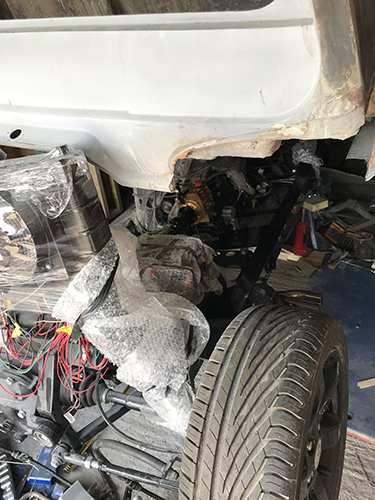 Body strapped to garage beams so it can be raised and lowered to trim body work and to get clearance around the 170amp external alternator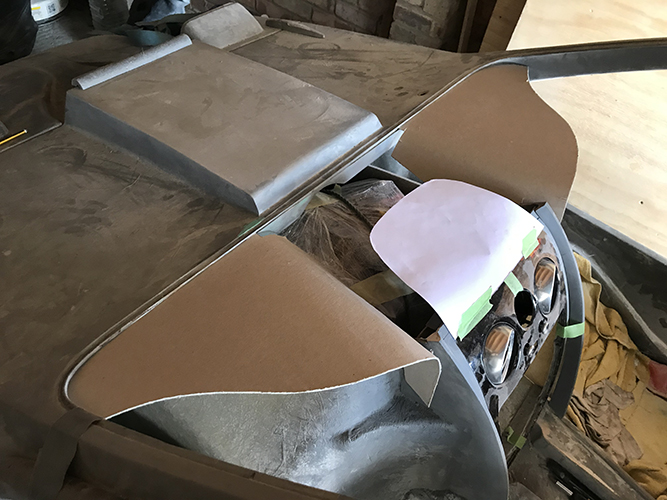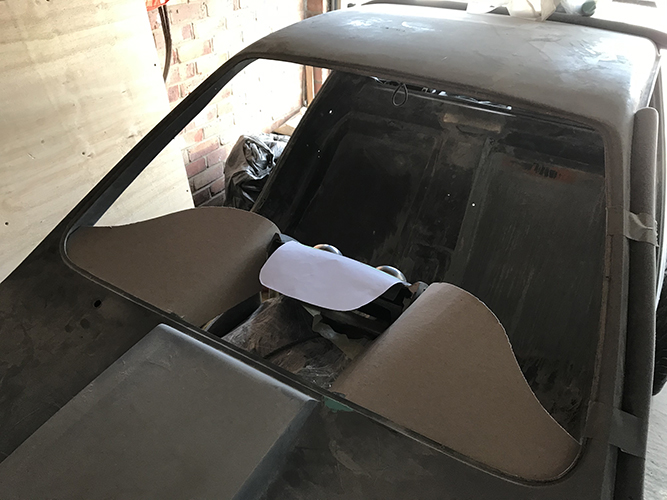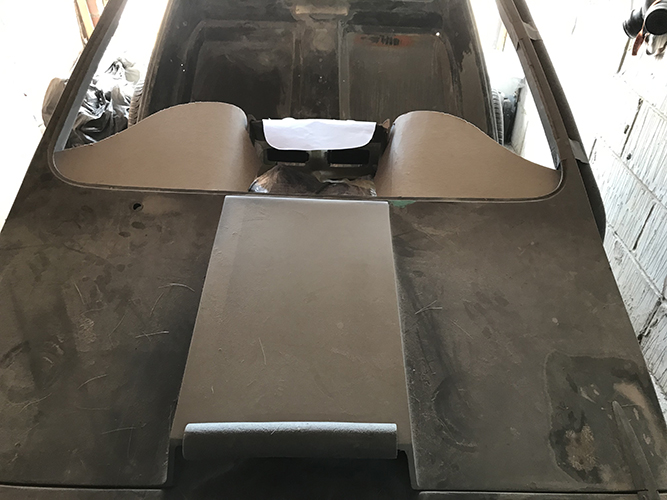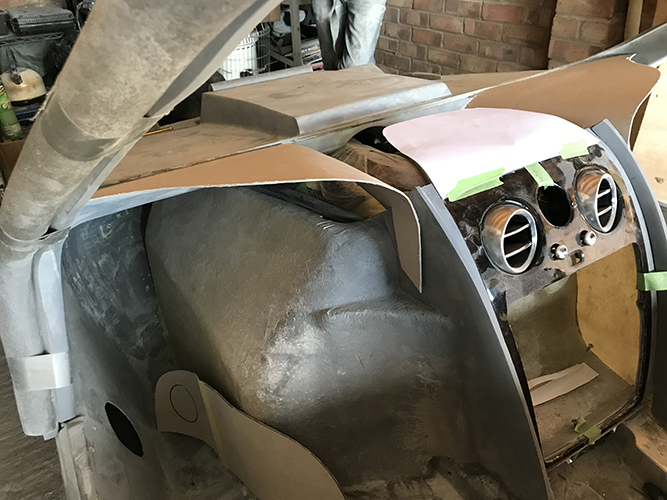 Mocking up dash board top in card board. The top dash is attached to the canopy and lifts up with it. Engine cover is split to allow access to engine.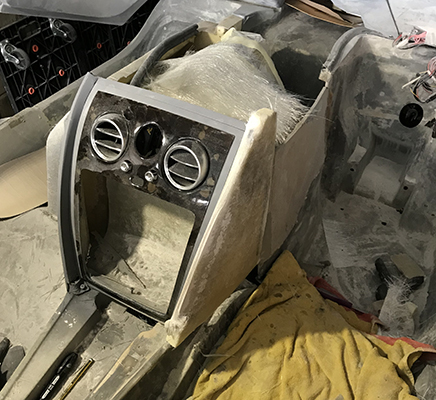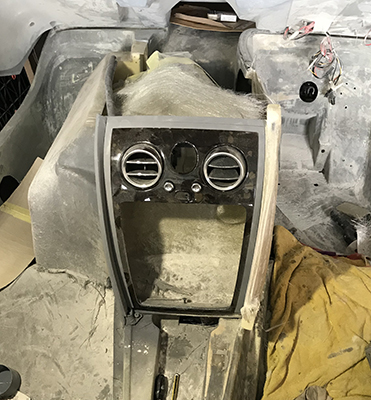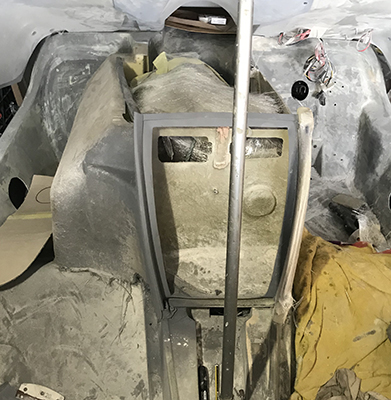 Mocking up right hand side of console in foam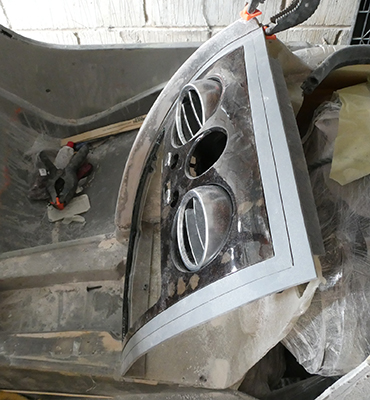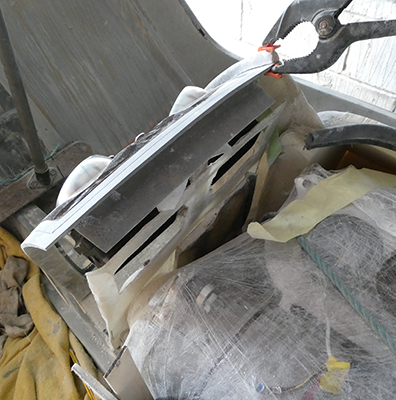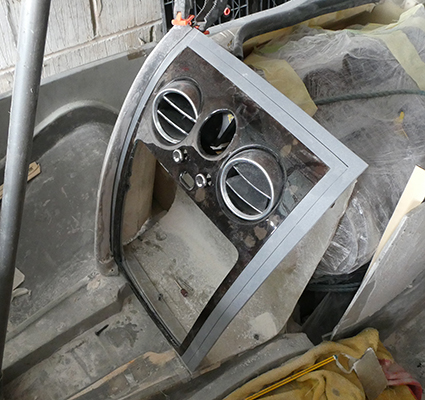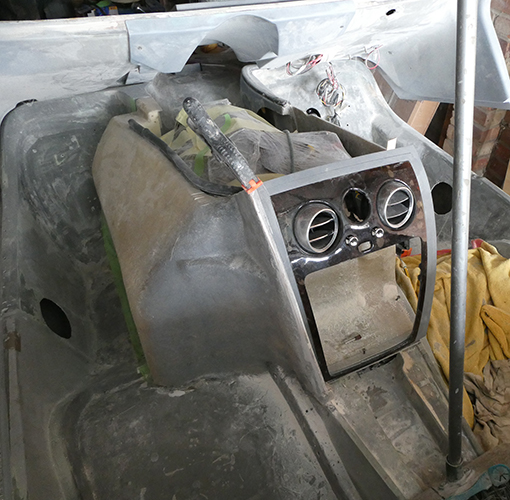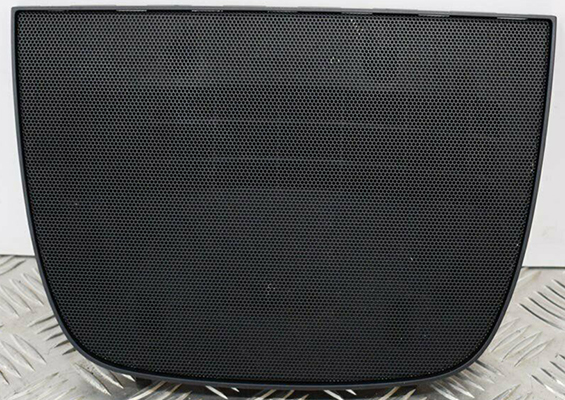 Centre console with now modified Bentley rear air intakes. The Bentley air ducts connect to a custom heater unit. The top of the Bentley console has another air duct grill to be modified from picture.
Bentley upper dash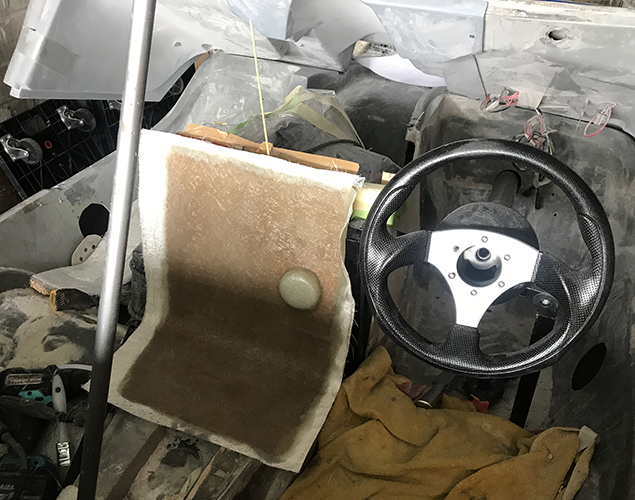 Console backing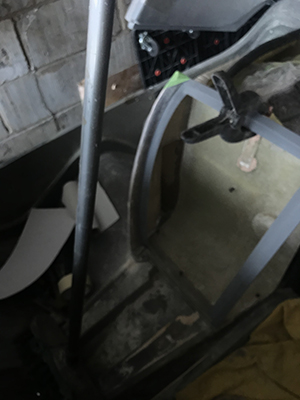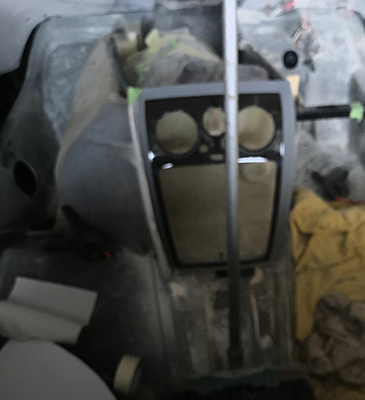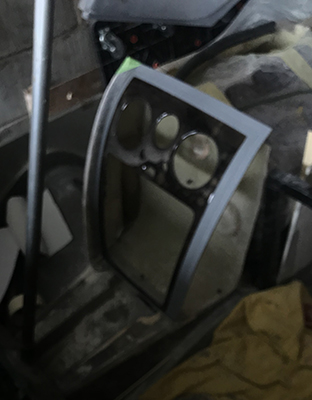 Console centre framework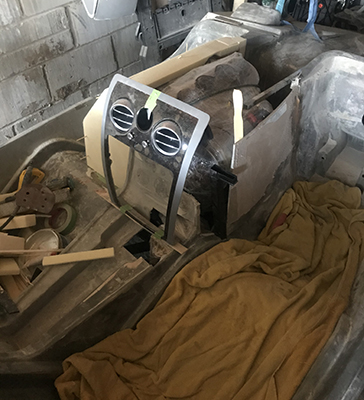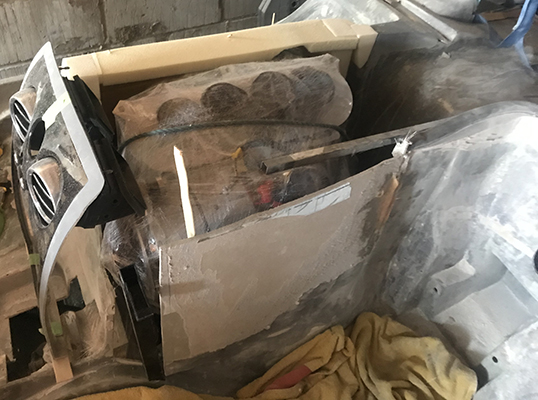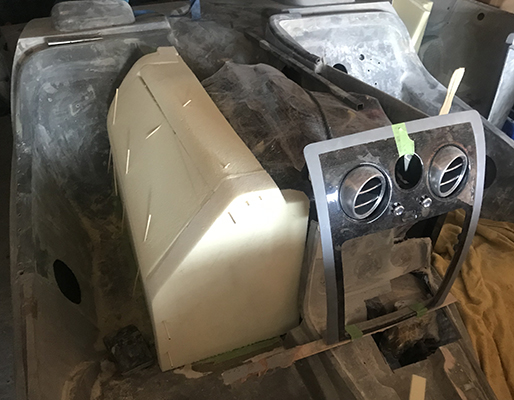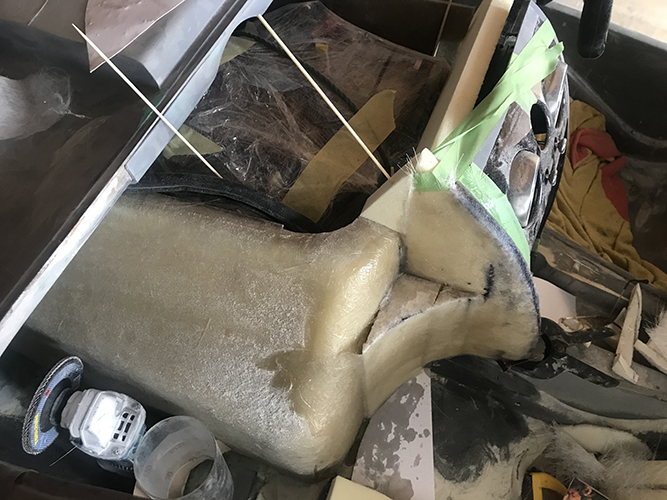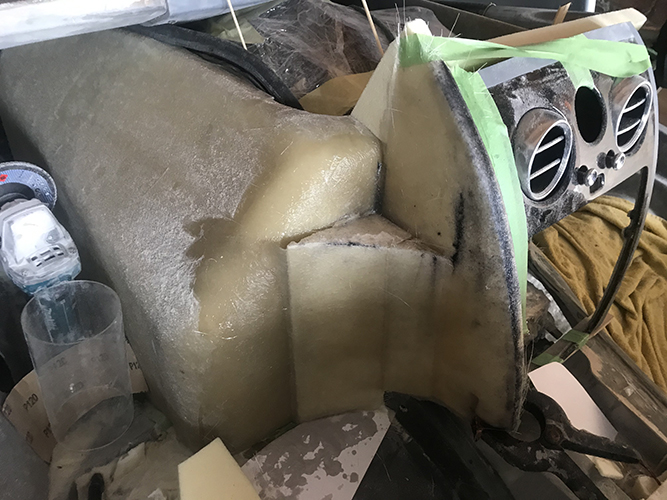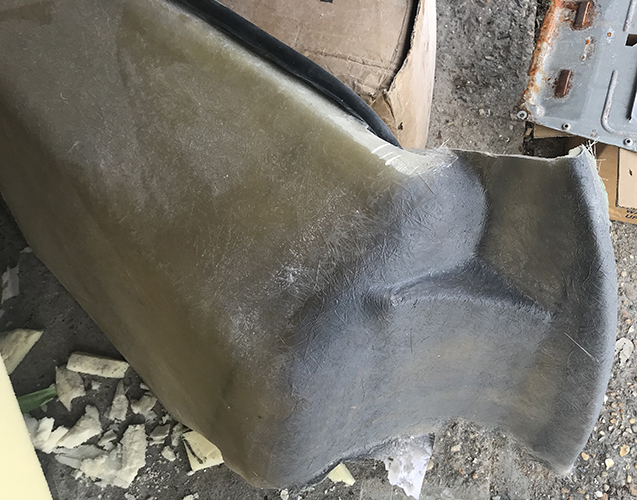 Mocking up engine surround and dash in foam then fibre glass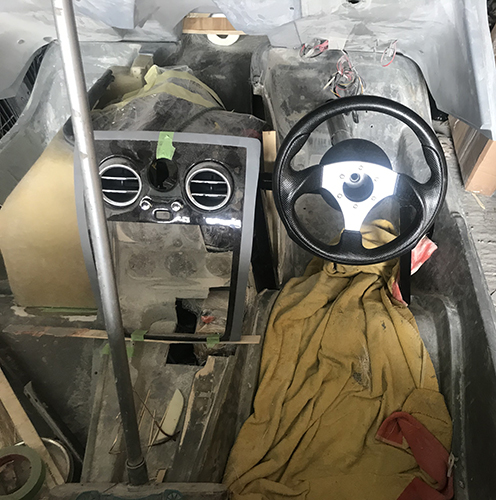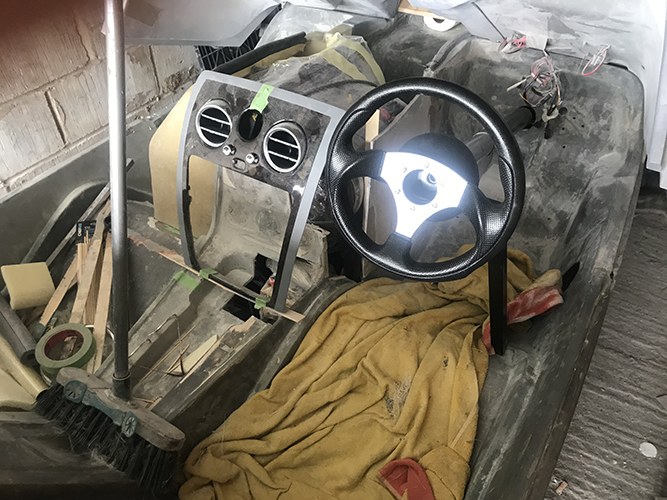 Positioning new steering column ready to make up its fixings in relation to centre console.
Left hand side engine casing now made in fibreglass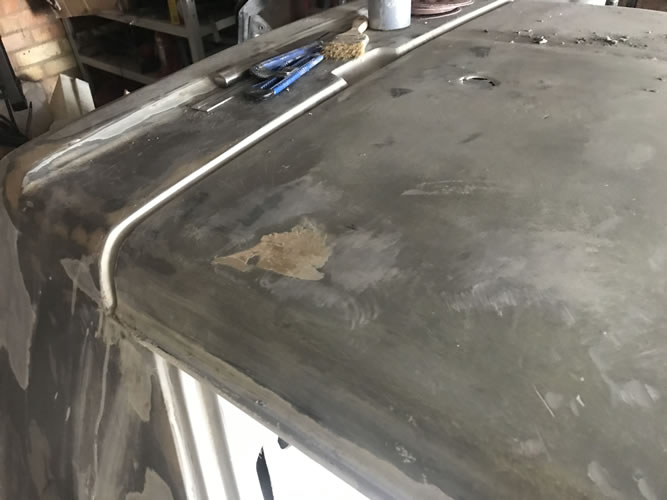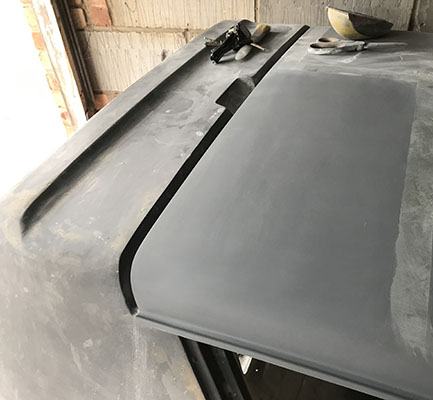 Roof lock filled in and reliants bad filling on canopy top detailed.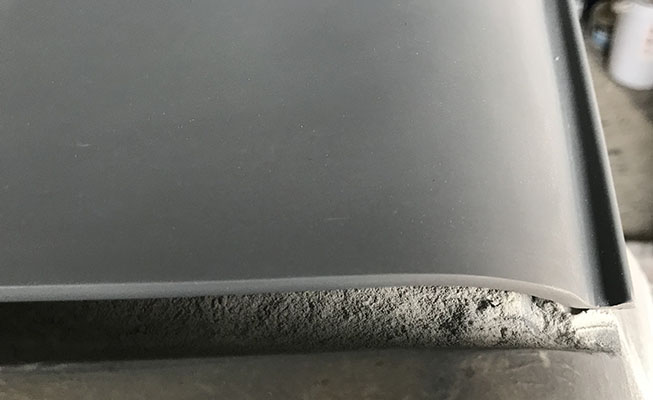 All drainage channel on side of canopy fixed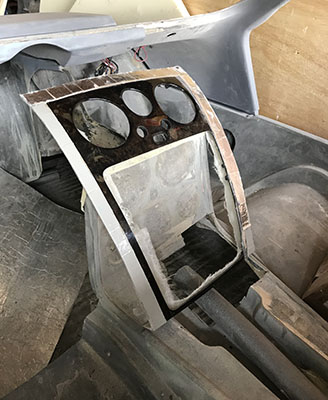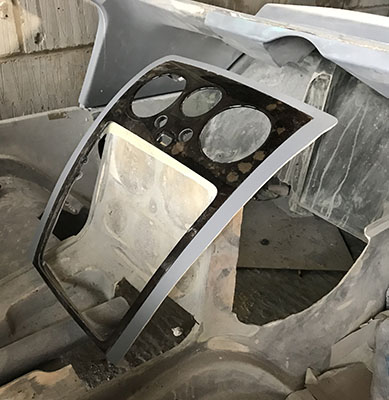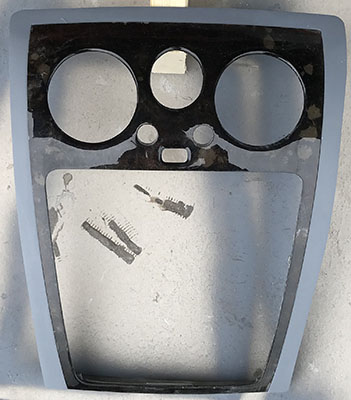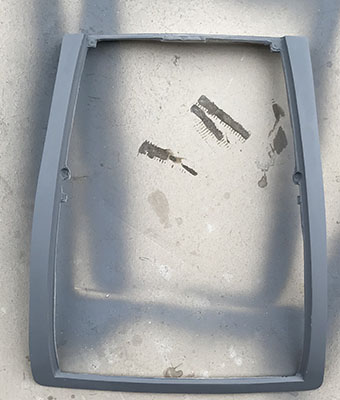 Mocking up Bentley centre console fibreglass recess mount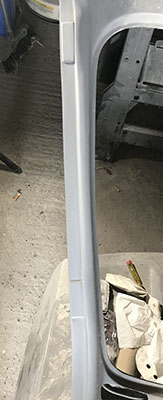 New canopy side door hinge mounting plates finished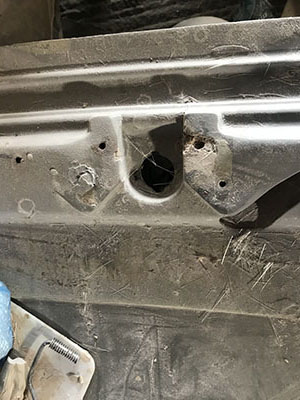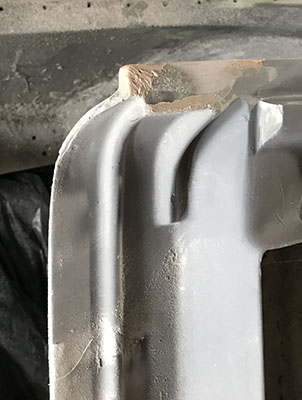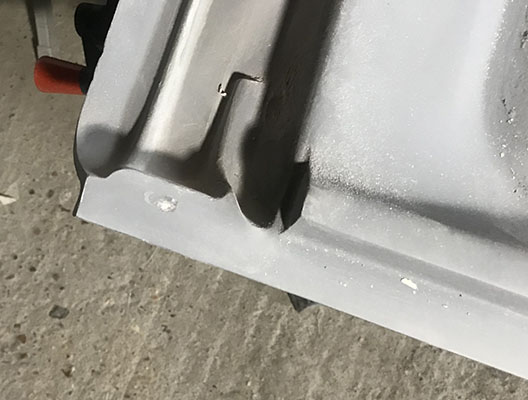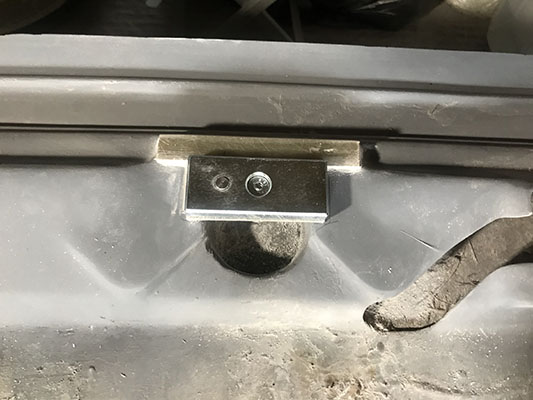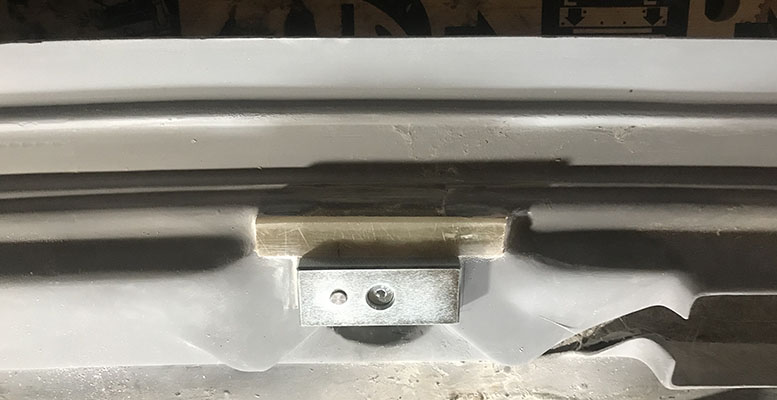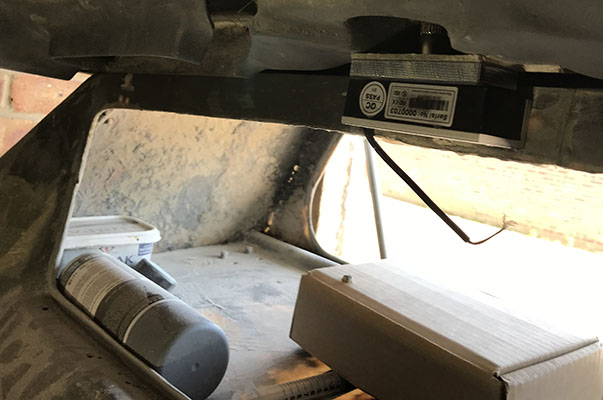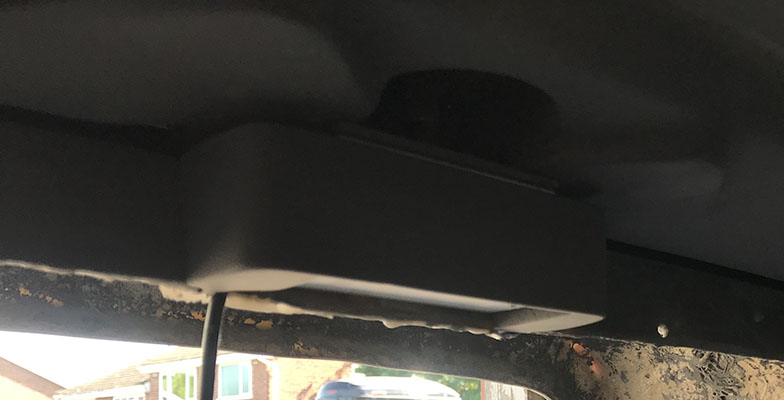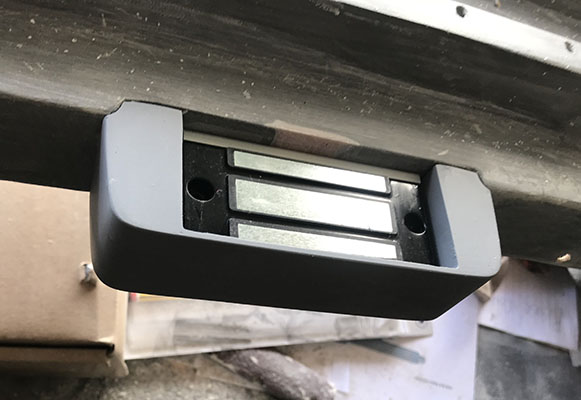 Working on replacing existing canopy latch fitting to covert to electro- magnetic catch. Lock now boxed in.
Detail work on canopy edges continues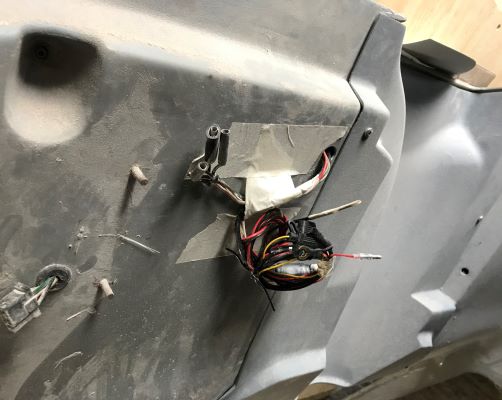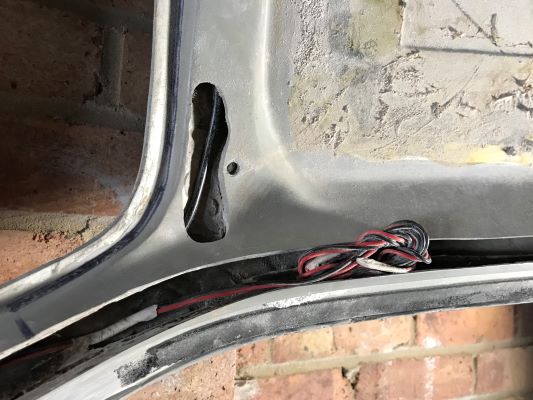 New canopy wiring for electronic rear view mirror and fibre optic ceiling lights being routed to hide them. Old side metal tubes cut out and new tubes and hinge mounting plates glasses in.
Added a 5th cable for conversion to two speed wiper motor.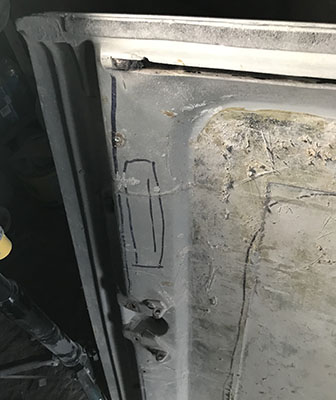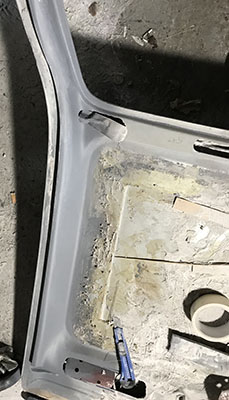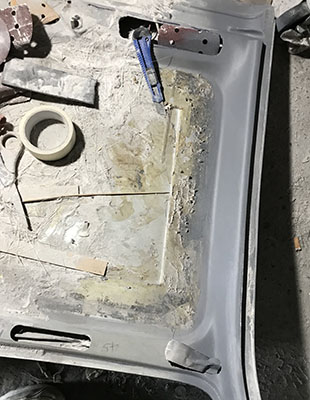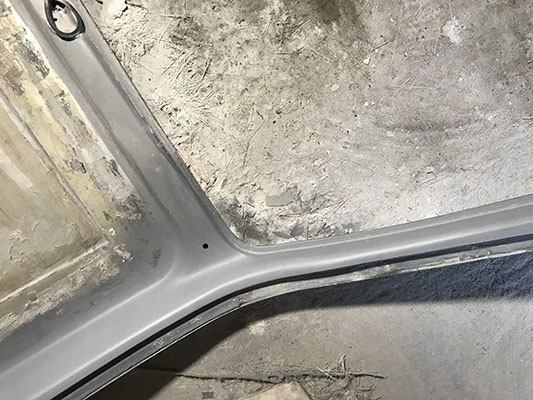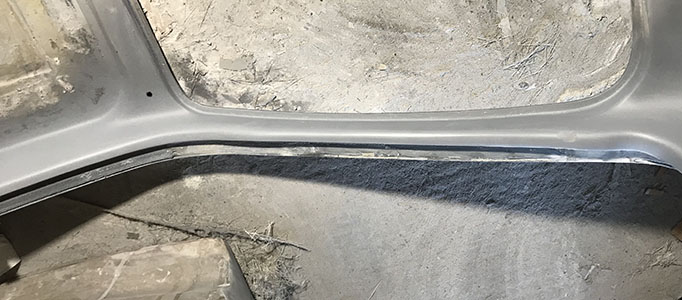 Rusty Canopy side tubes and hinge mounting plates cut out and replaced with new metal and re-fibre glassed back in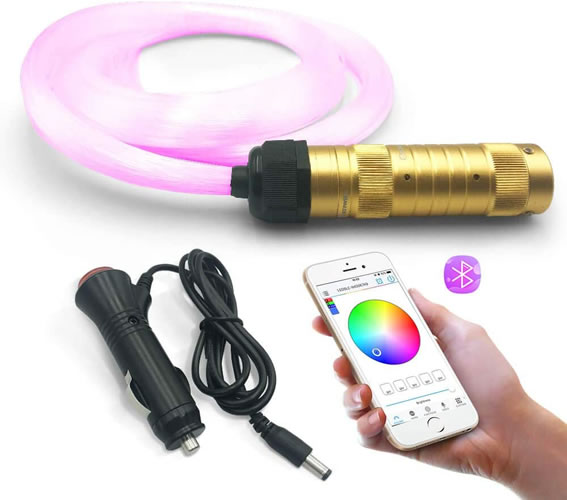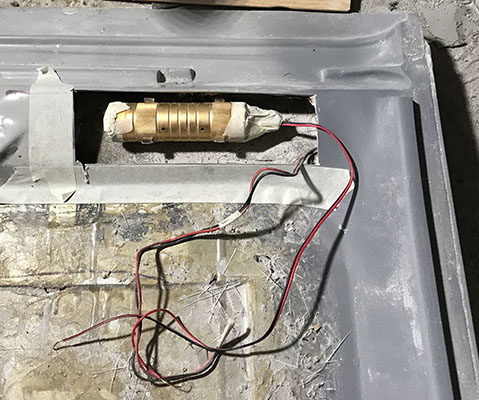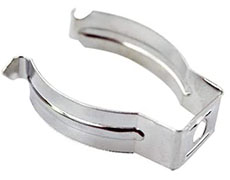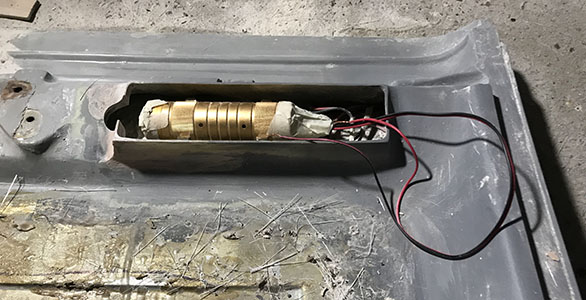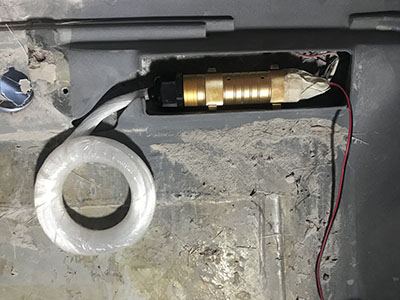 Fibre optic light unit recessed into canopy and secured by using Terry clips for easy removal. The hole is a lot larger than the unit and will be vented to allow for heat generated to escape.
The fibre optic light unit is only 7W but measuring its temperature output when fully lit it measured 33C so it needs this extra ventilation.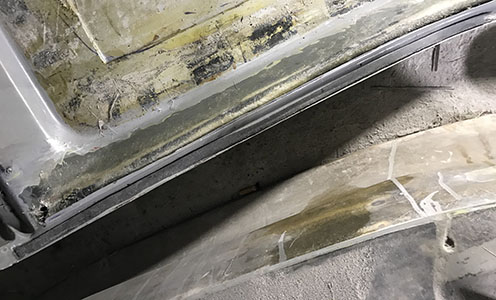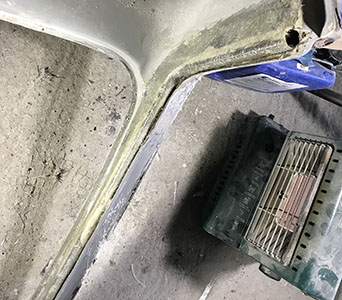 New 15mm rod inserts now fibre glassed into canopy side.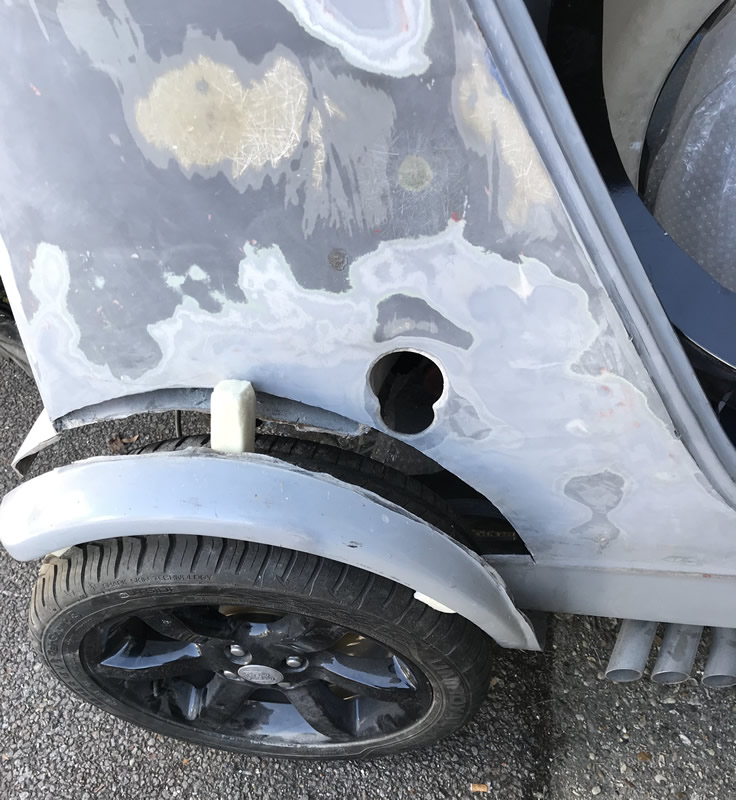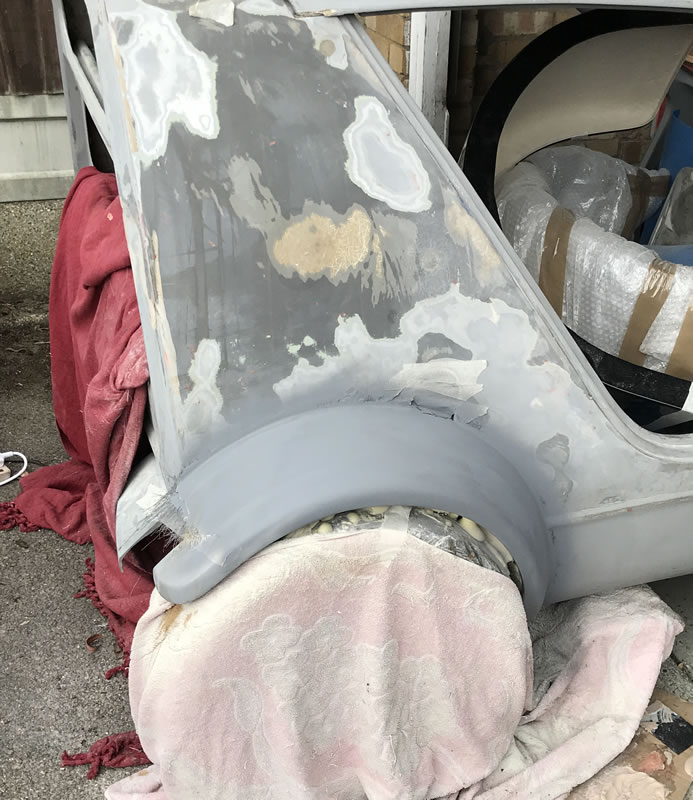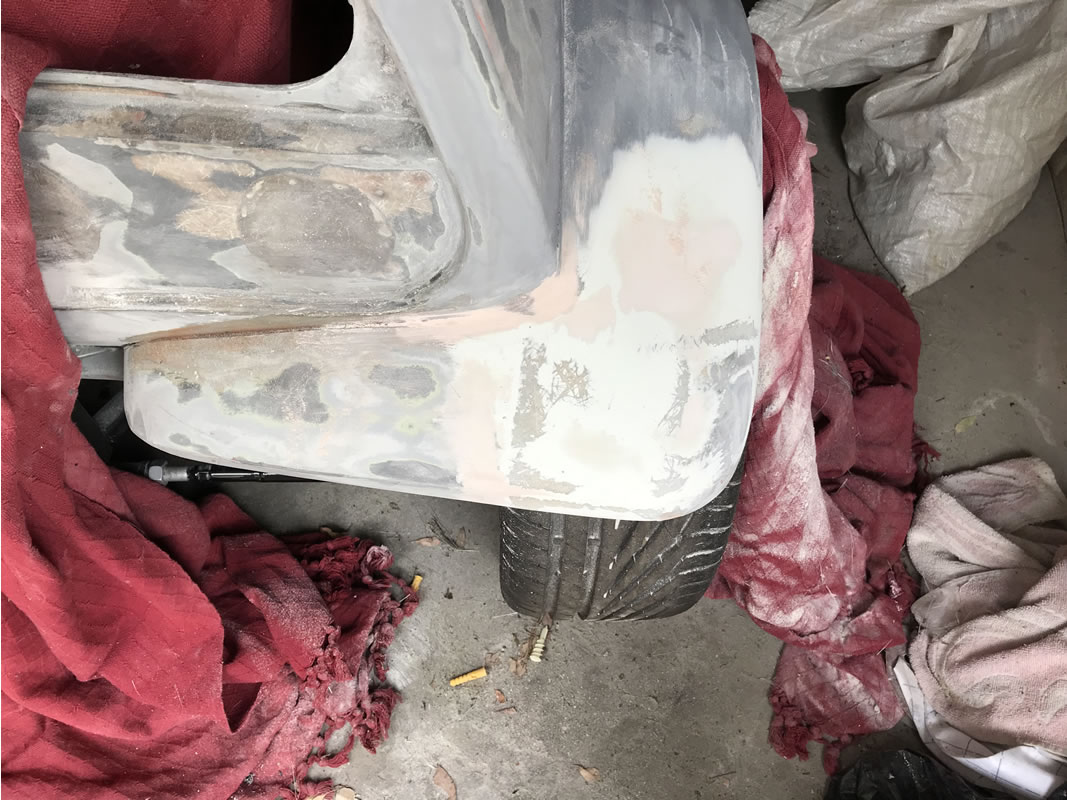 Existing wheel arches now cut off and foam moulding used to produce the template to take a fibre glass mould.
The old arches are the correct radius of the new wheels.
Tooling Gelcoat applied ready to be fibreglassed to produce mould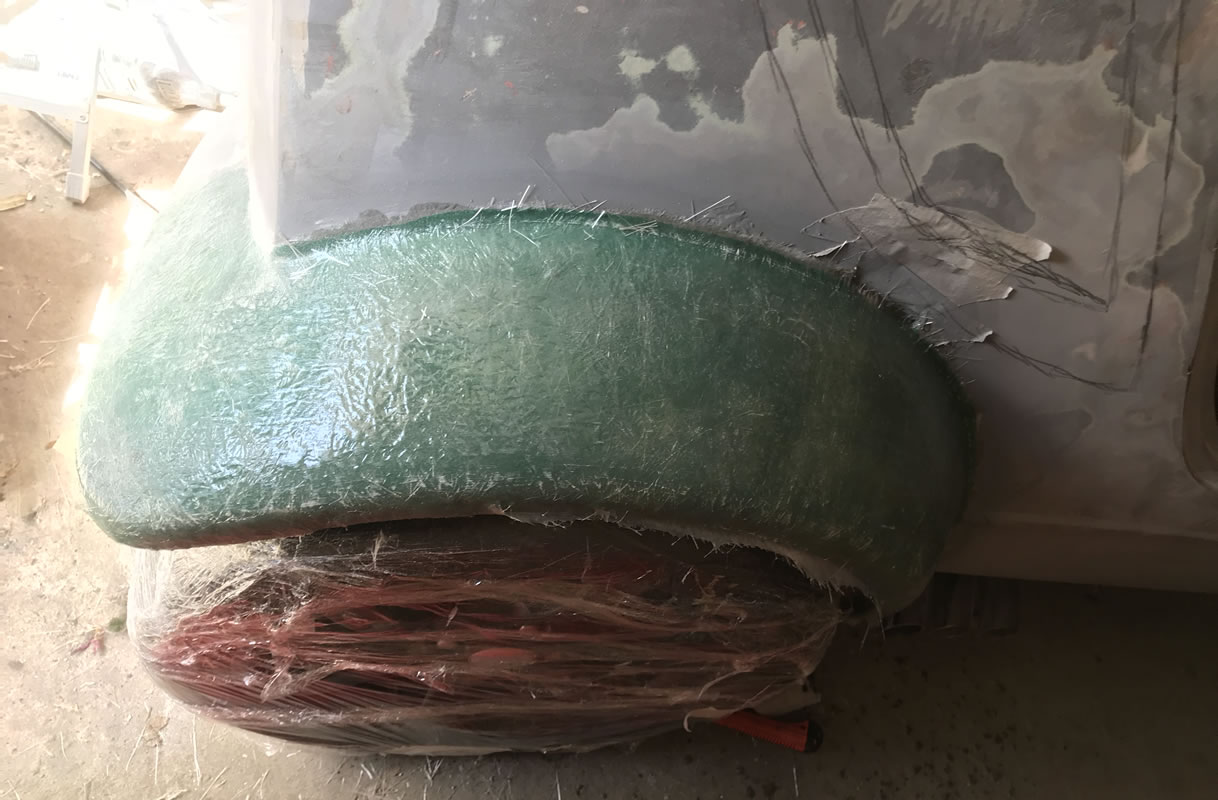 Arch mould preparation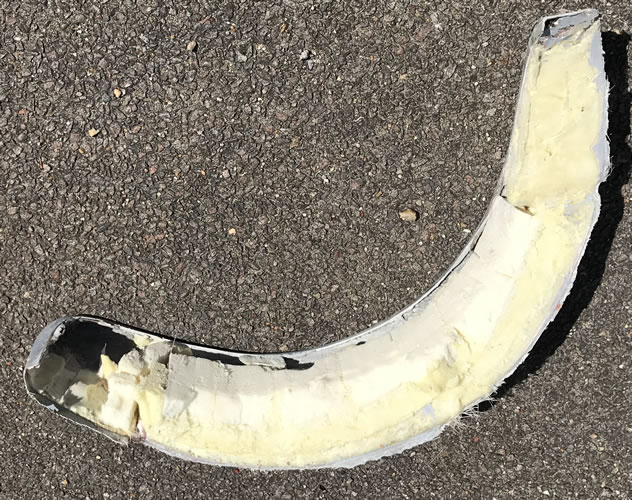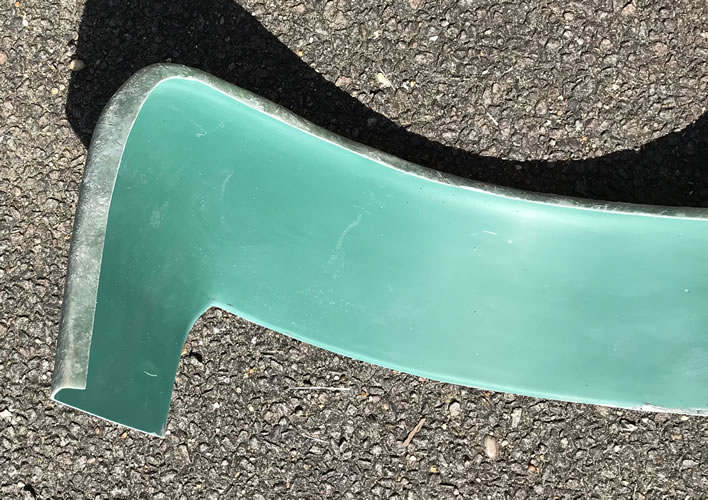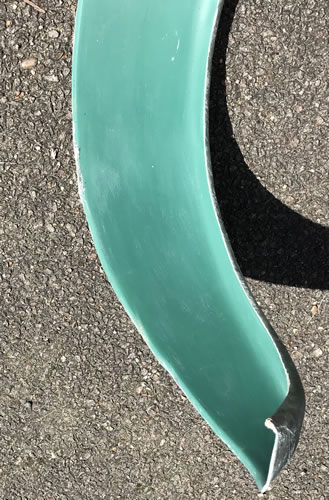 Arch mould proforma and mould ready for final fibre glassing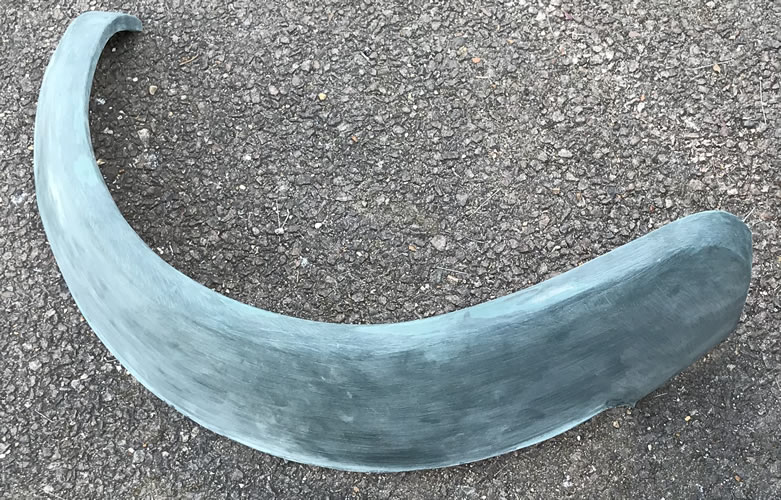 Formed arch out of the mould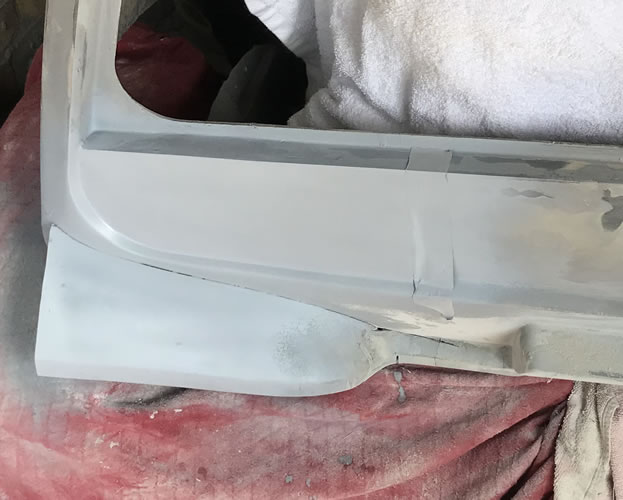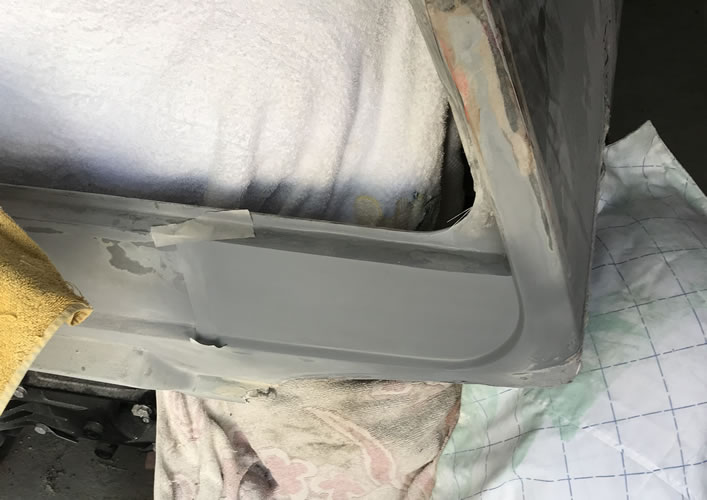 Finished light original holes blocked in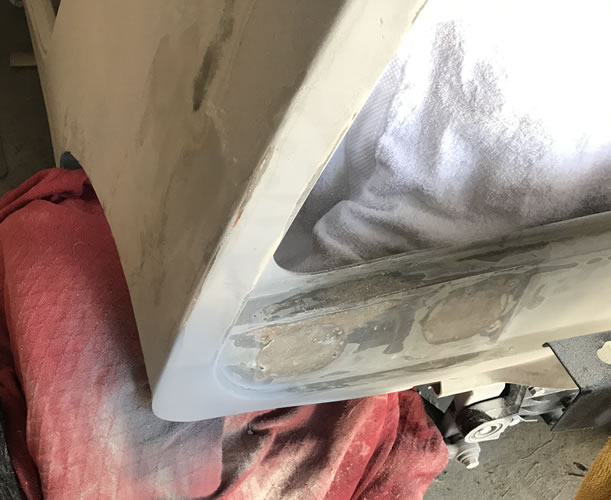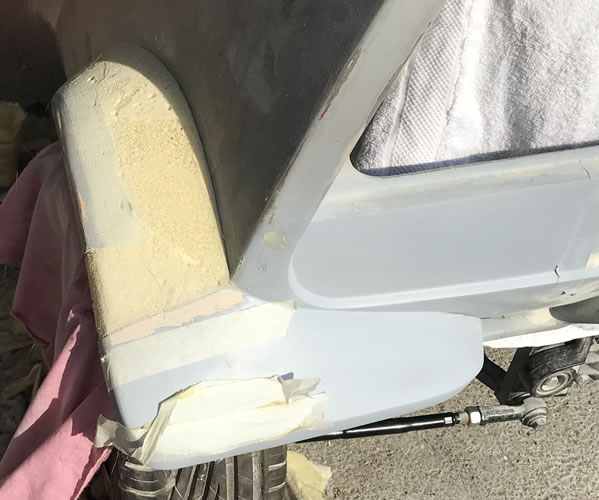 Left rear arch cut off ready for new mould production - foam being used to make new wider arches, the shape nearly ready to take mould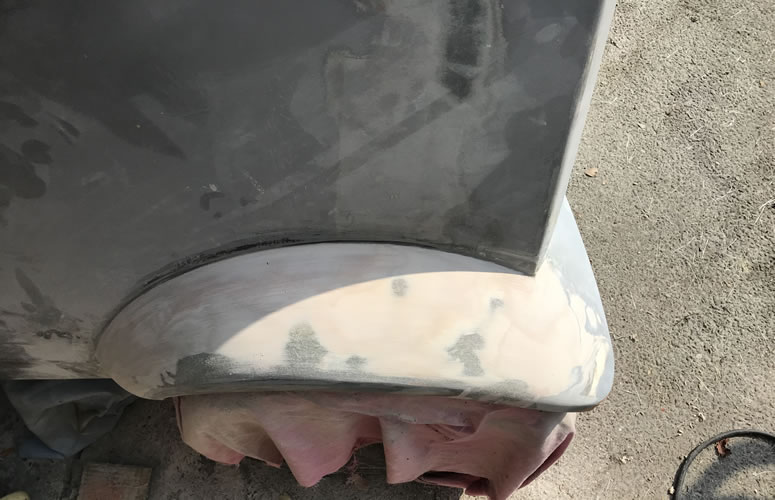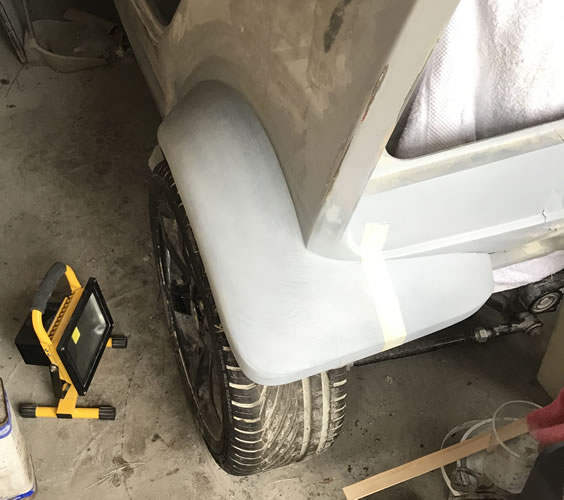 Left wheel arch finish ready to take mould
New right arch tacked on ready to joined to body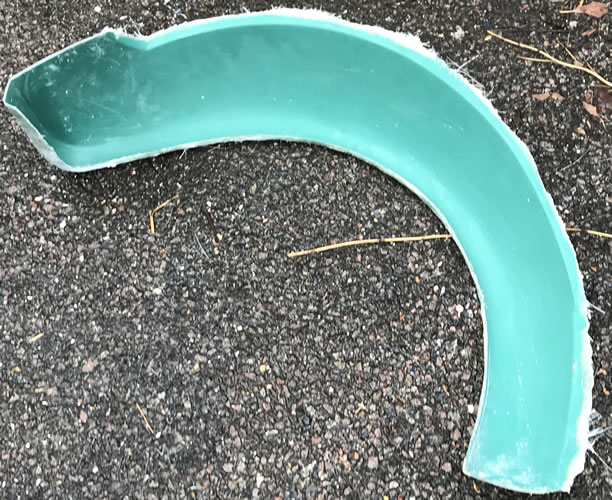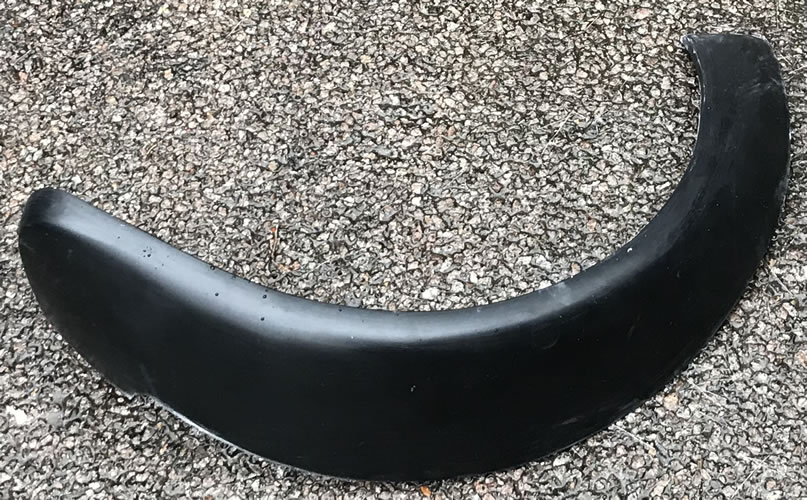 Left wheel arch mould and finished item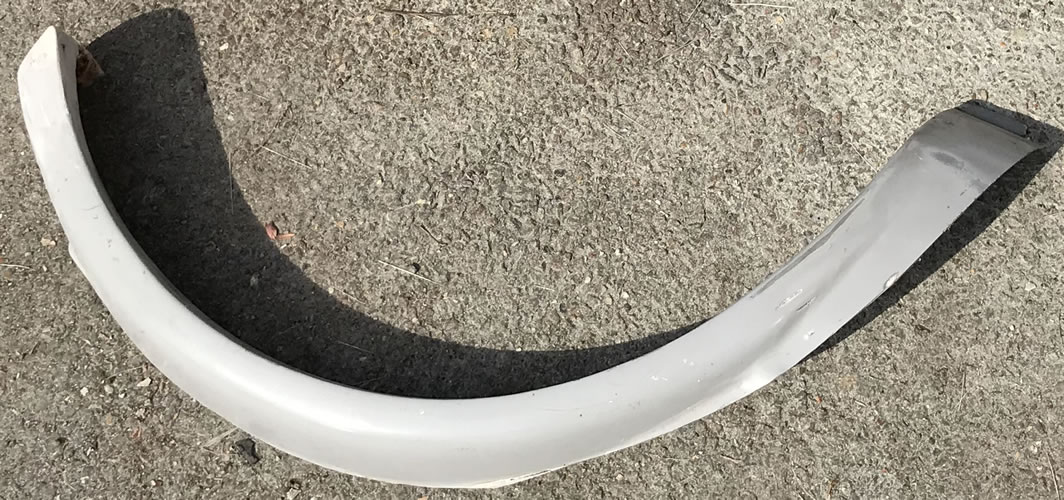 Left wheel arch to use to make mould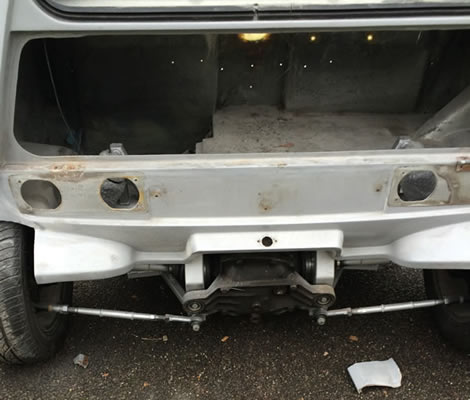 Original lighting holes


Number plate and lights detailed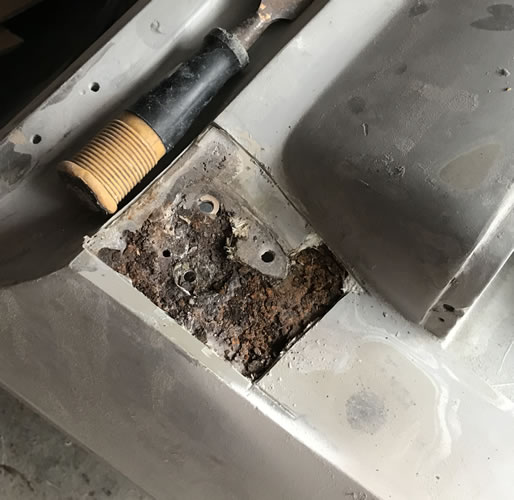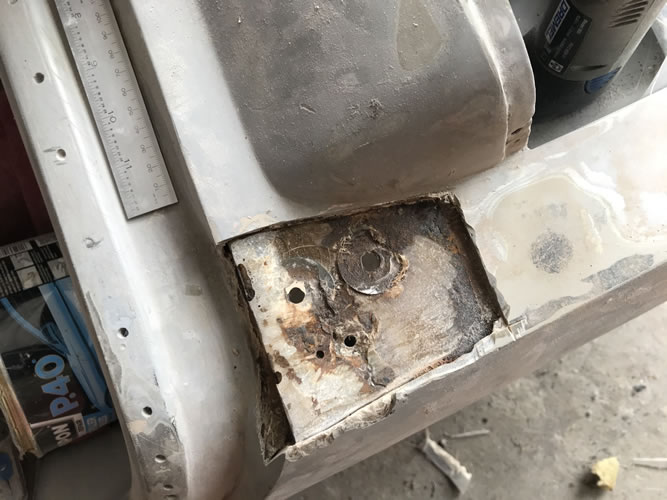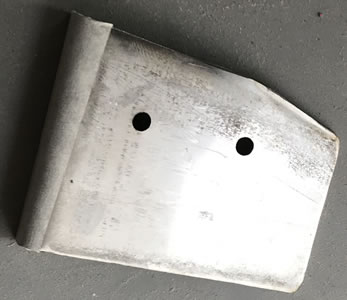 Body work and canopy hinge mounting steel plates corroded and cut out. New stainless steel insets re-fibre glassed.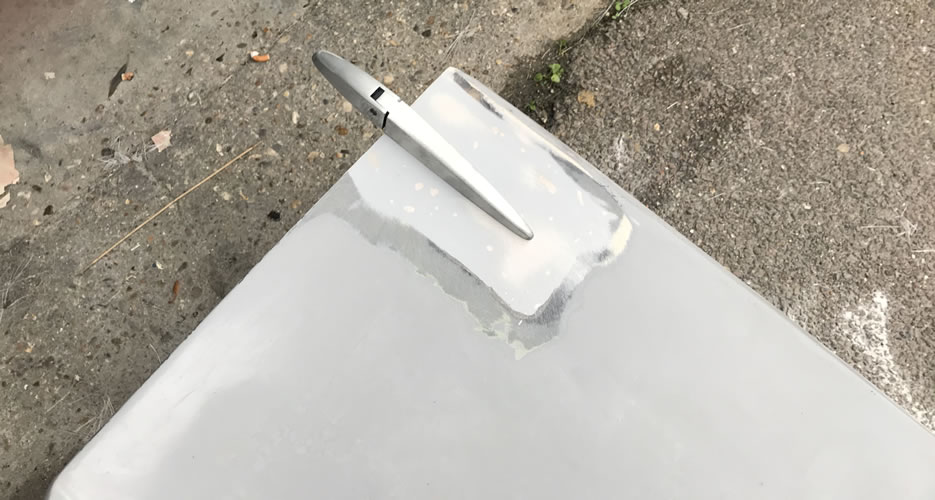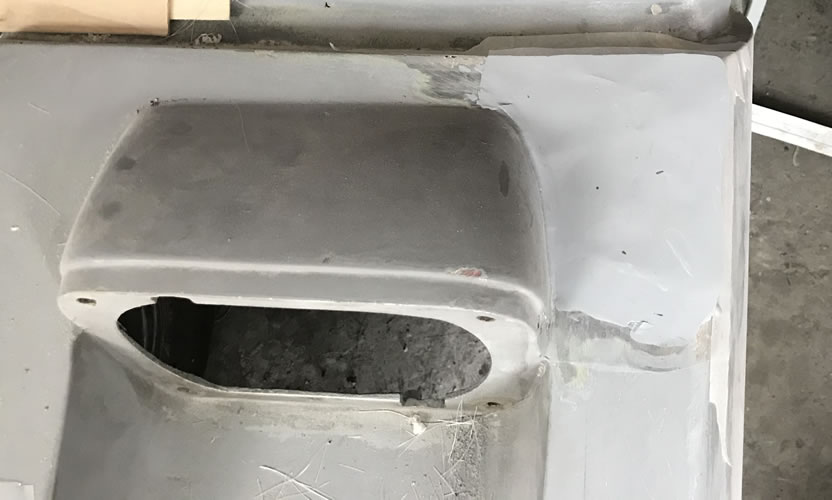 New aluminum hinge positioned in new stainless steel inserts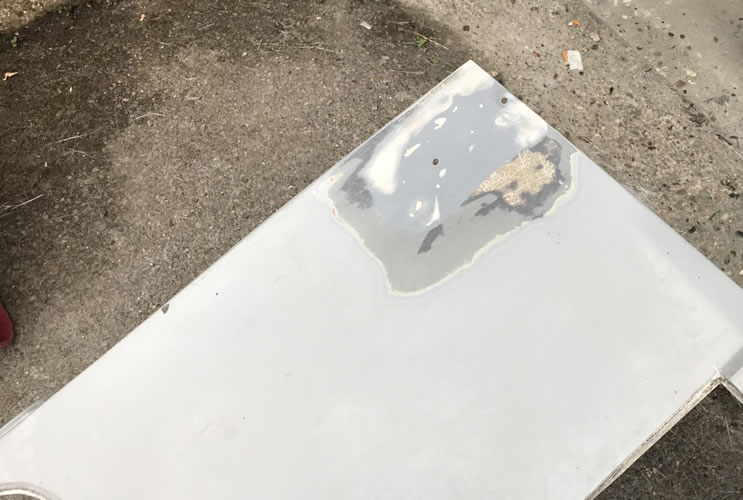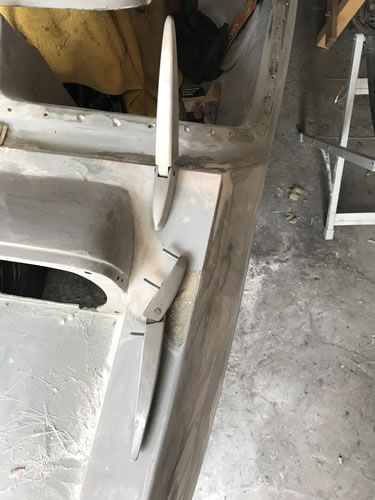 Canopy - new stainless steel hinge mounting plates fitted - new aluminum hinges fitted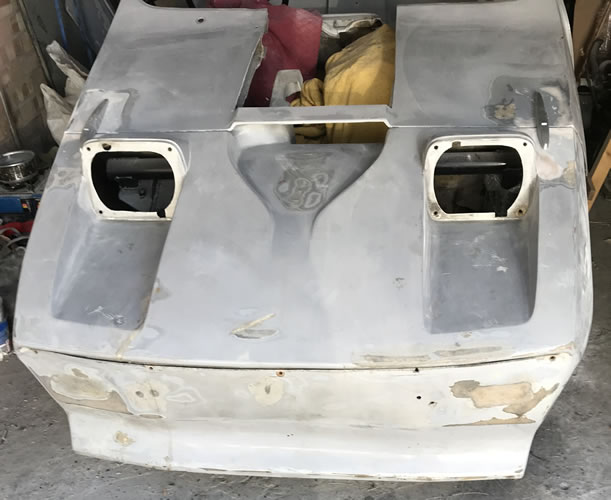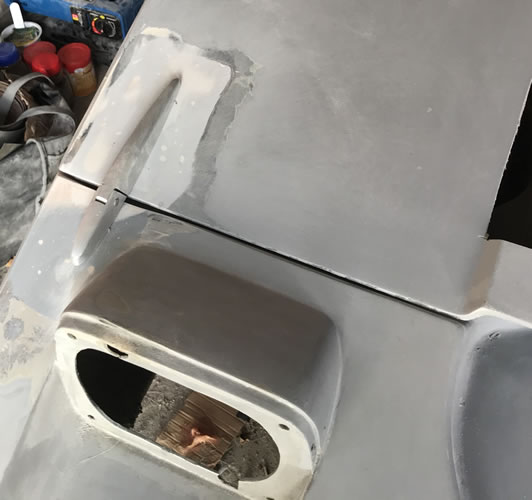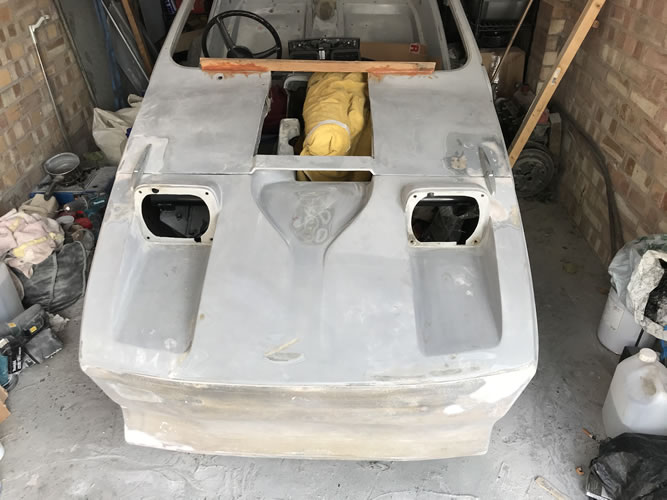 New canopy hinges fitted- fettling needed to adjust shut lines.
Spoiler ready for new indicator lights and number plate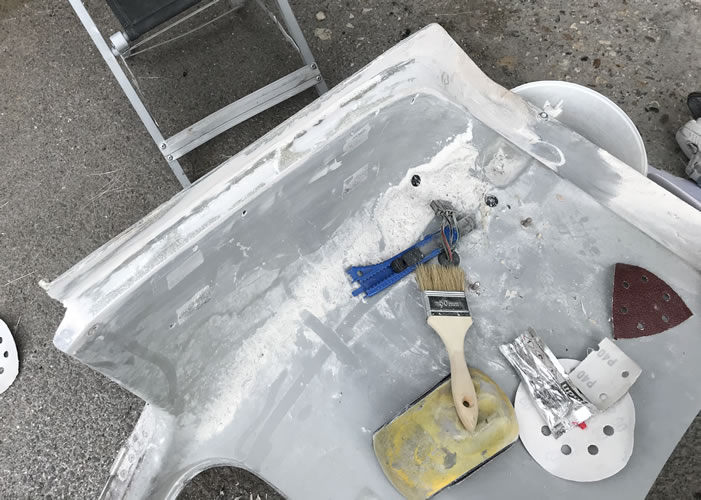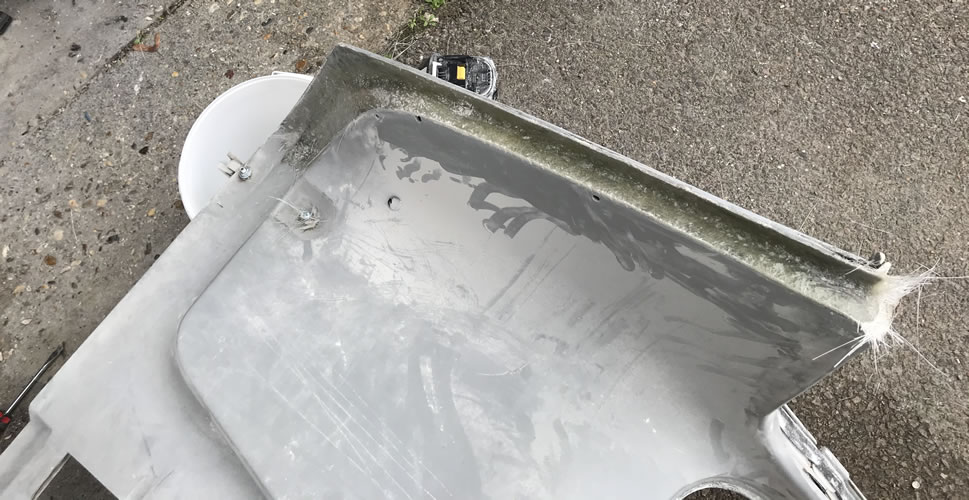 Over time both of the canopy sides had bowed out and are no longer flush with the bodywork.
Thin slices of fibre glass were cut out each side of the canopy to pull in the sides. The slots were re-fibre glassed to set them in new positions perfectly.
The canopy sides and body work are now perfectly flush.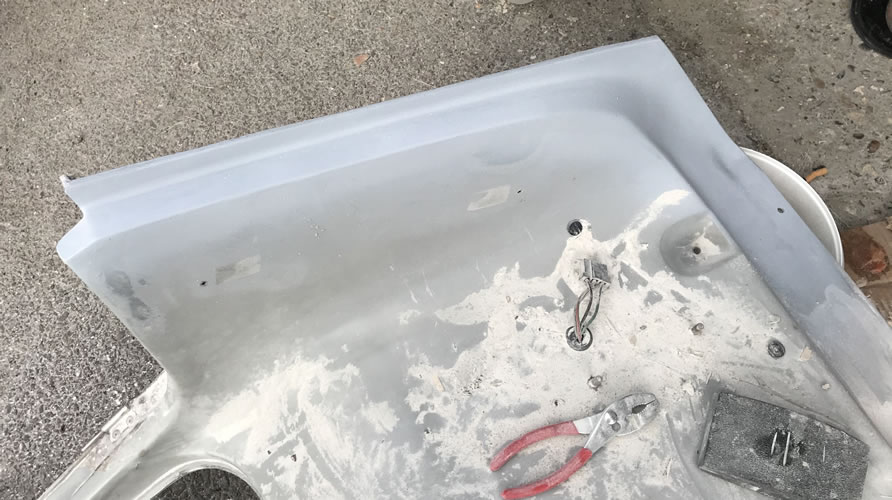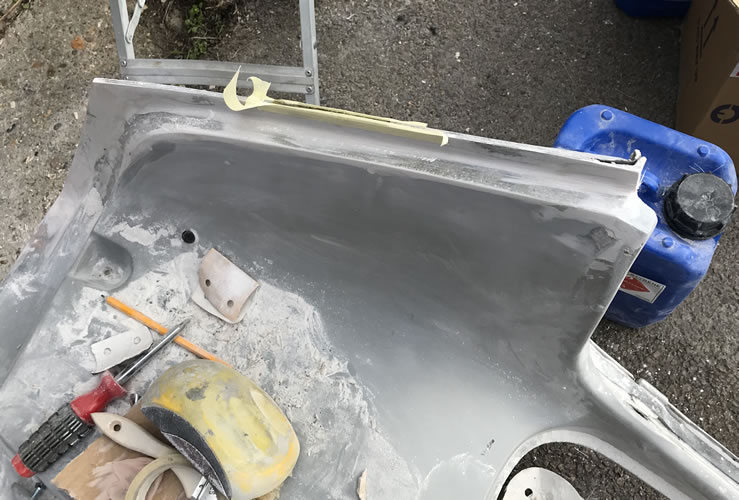 Finishing off the canopy bottom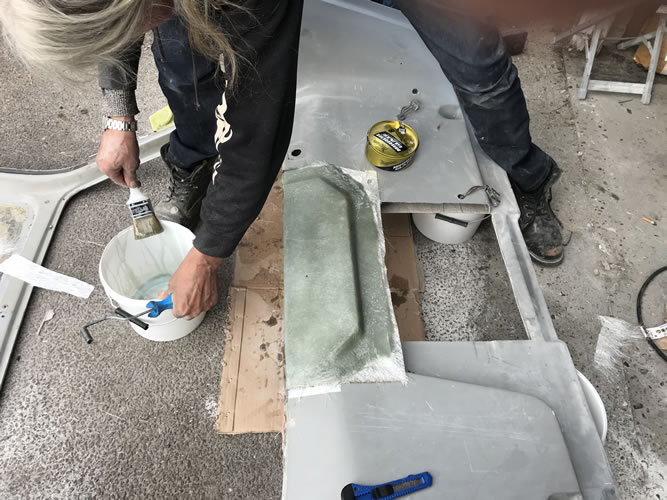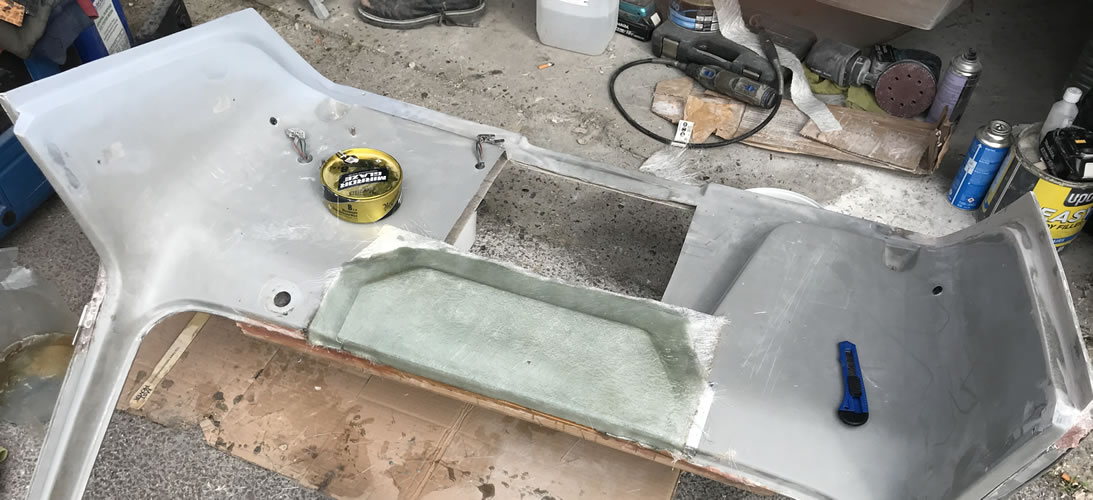 Starting the scoop construction on the canopy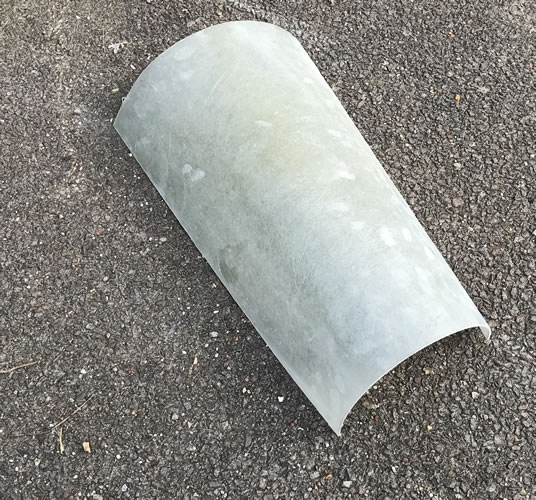 Modeled central air-box cover scoop in fibre glass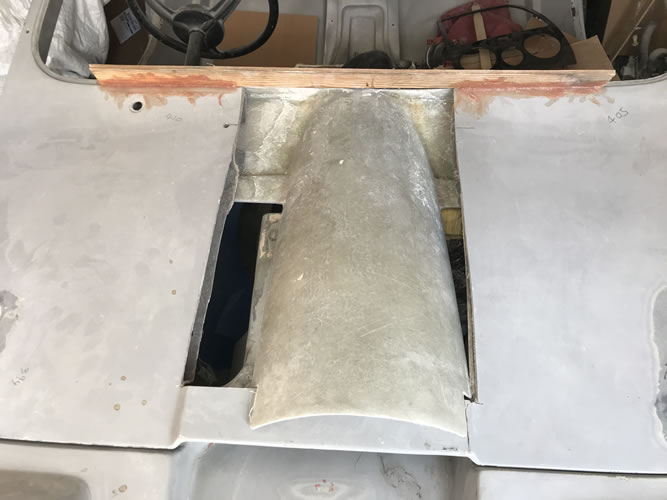 Inner canopy scoop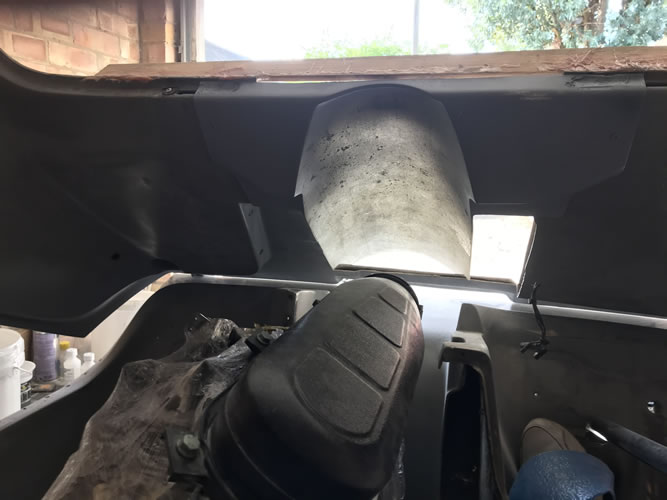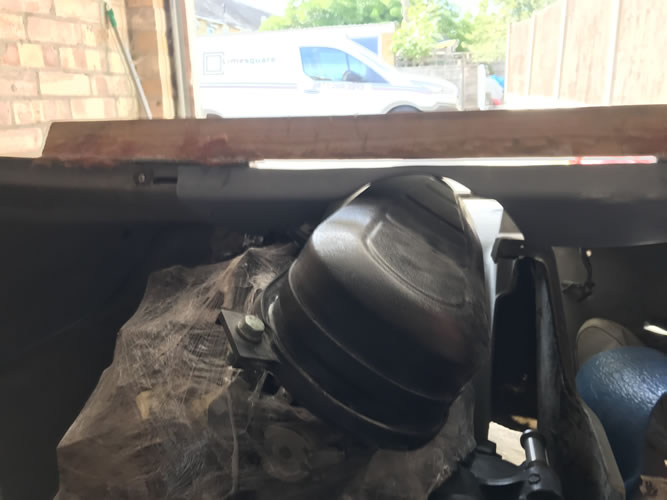 Inner canopy scoop formed to clear air box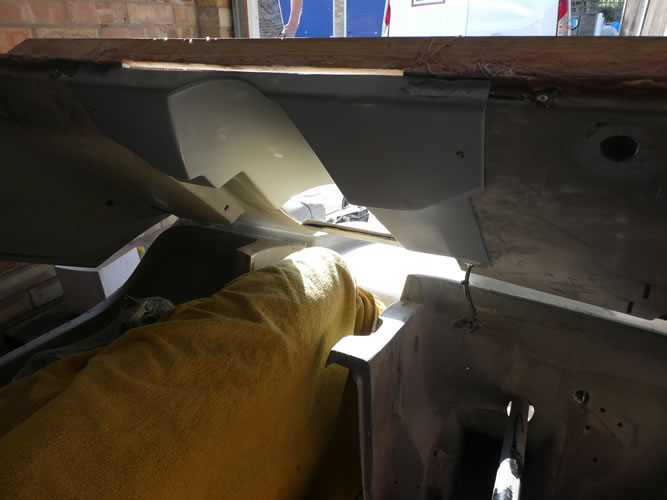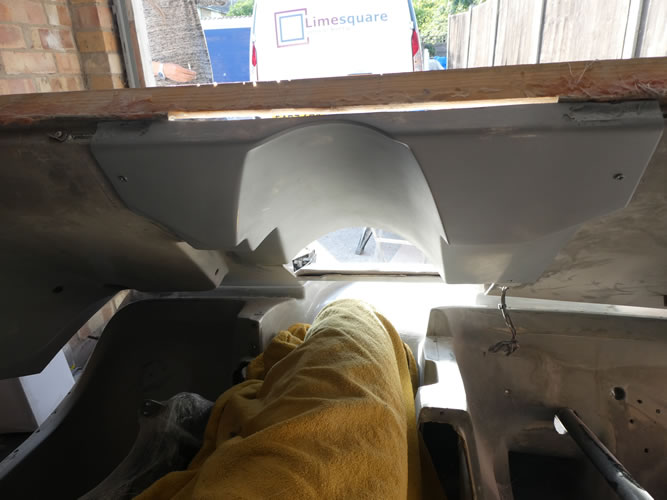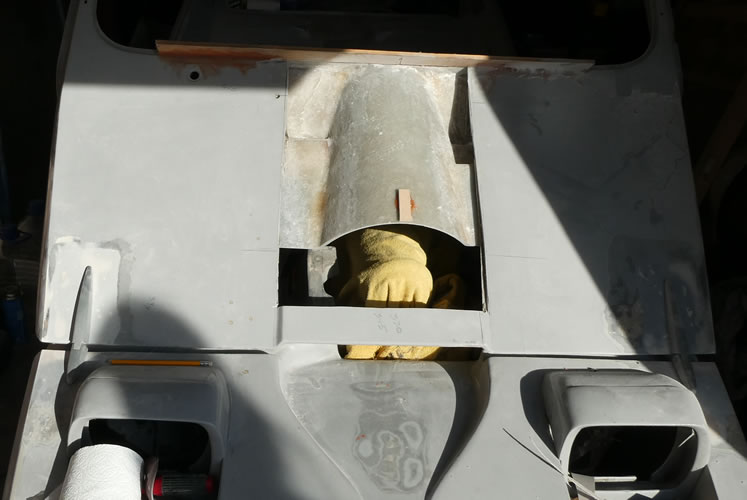 Canopy inner scoop loosely fitted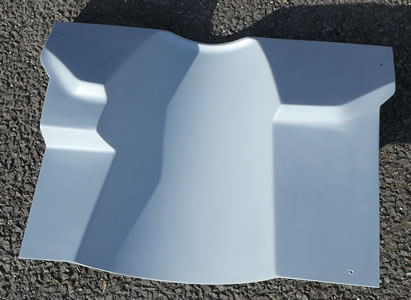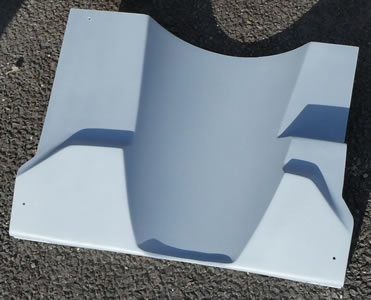 Finished first part of inner scoop moulding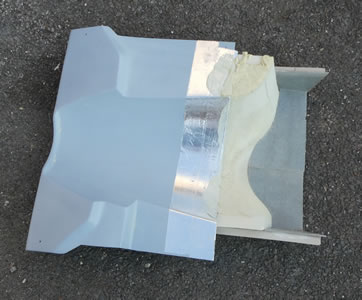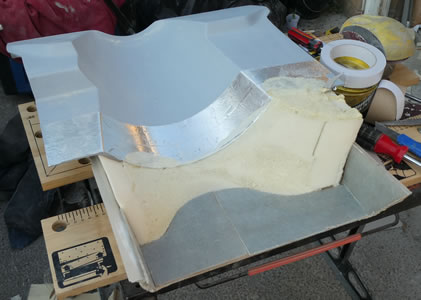 2nd part of inner scoop being moulded in foam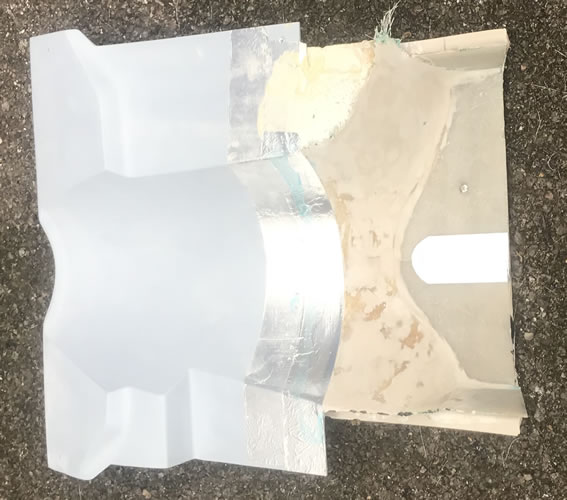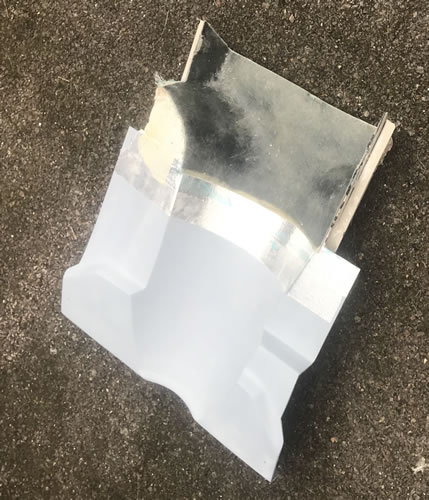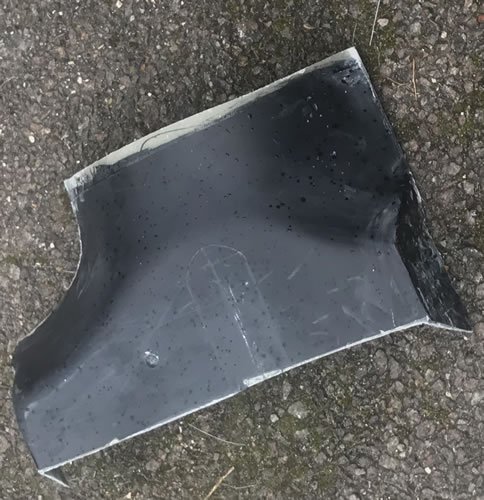 2nd half of air scoop mould made.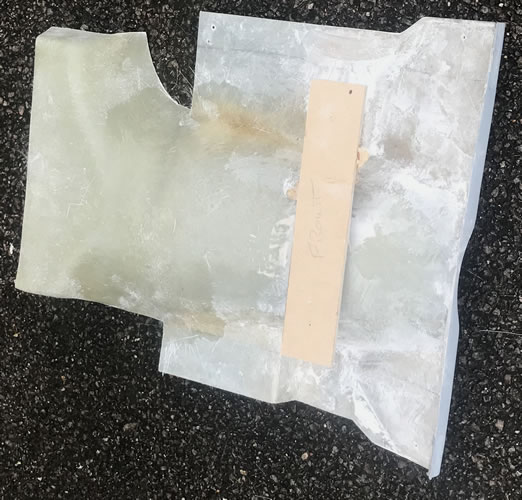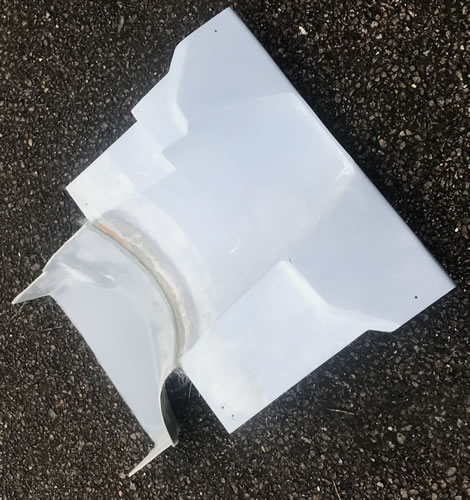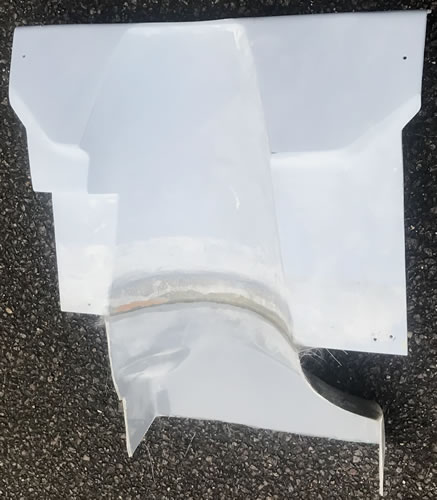 2nd part of air scoop joined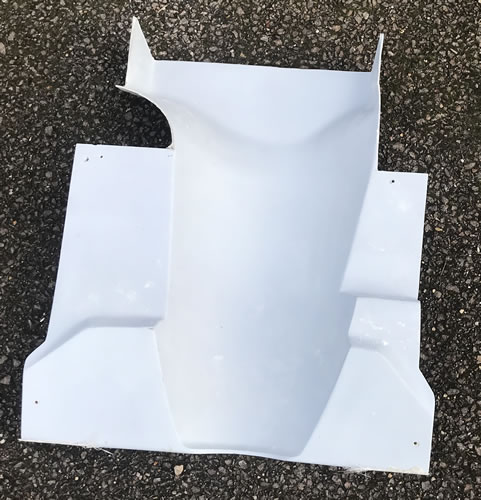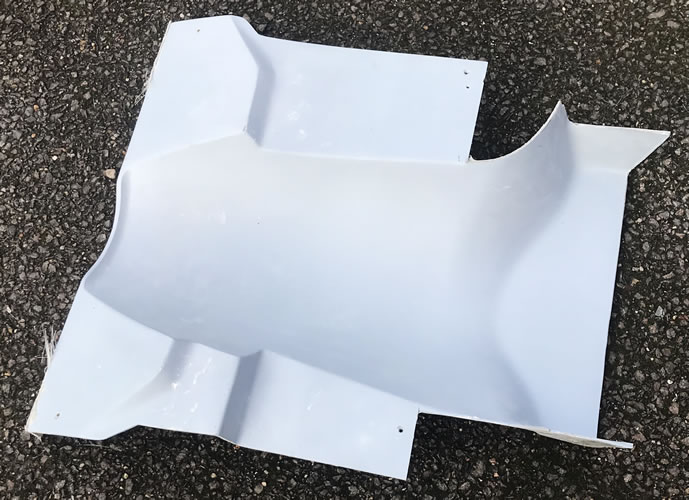 Nearly finished air intake
This flow directs fresh cold air directly from outside into carburetter air box to improve perforamance. Almost ram air.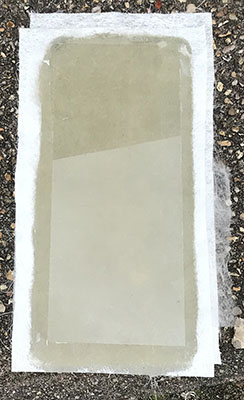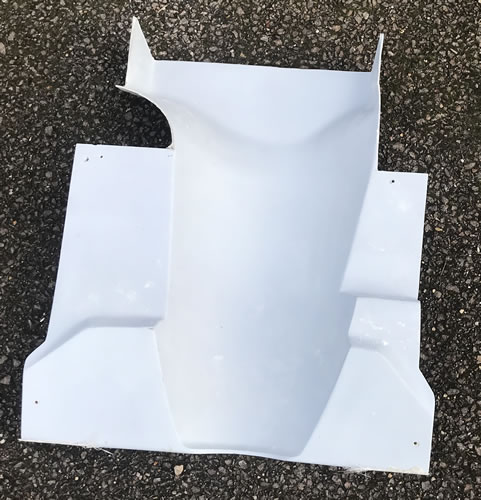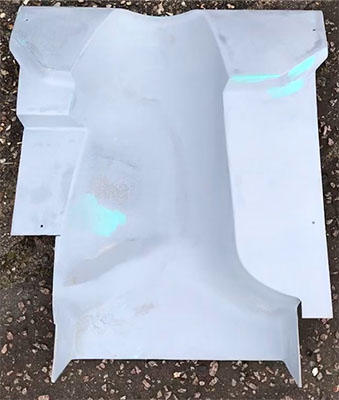 Clear fibre glass sheet made up to add more more trim to internal scoop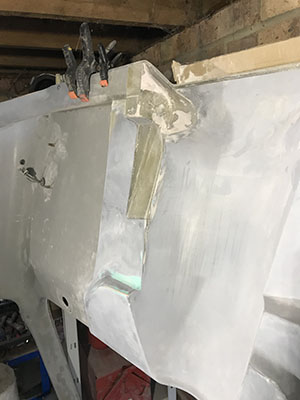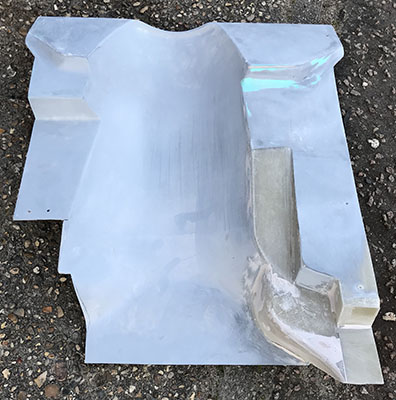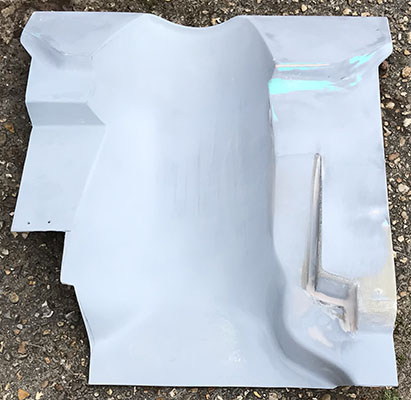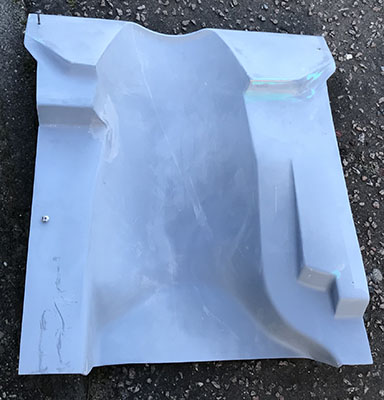 More inner scoop being shaping to accomodate the canopy rubber seal location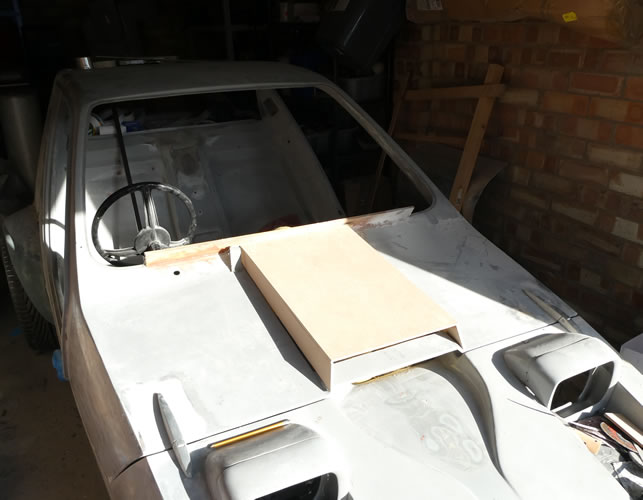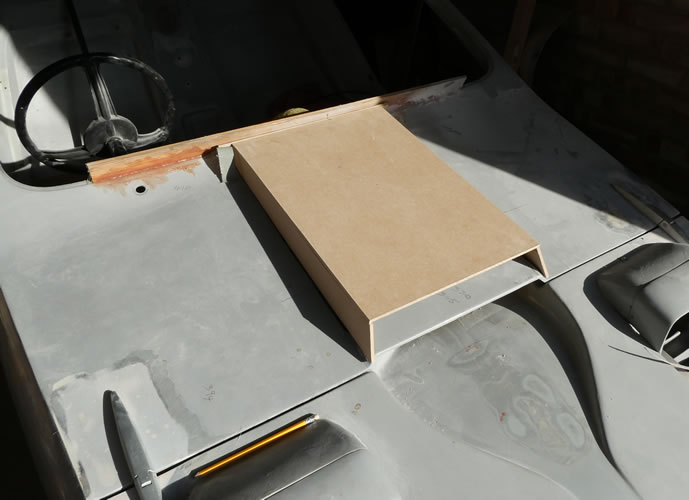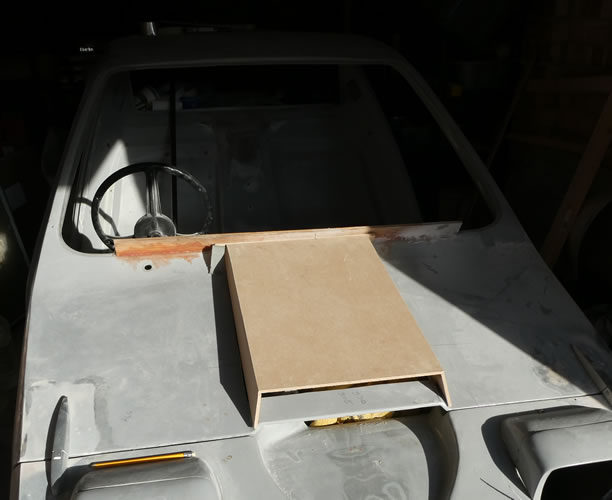 New outer scoop template mocked up using MDF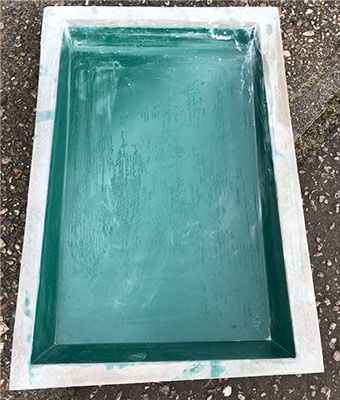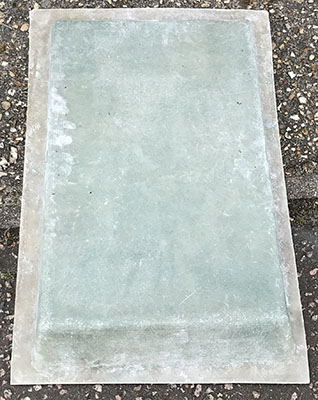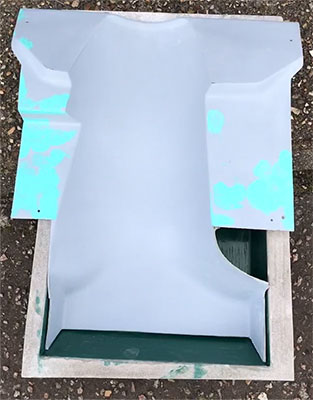 External canopy scoop mould made and internal duct offered up for sizing and fit.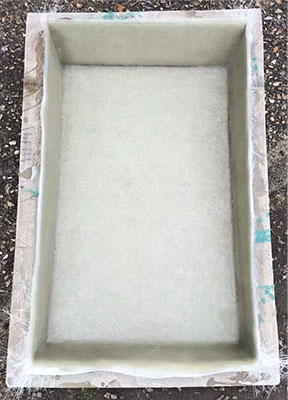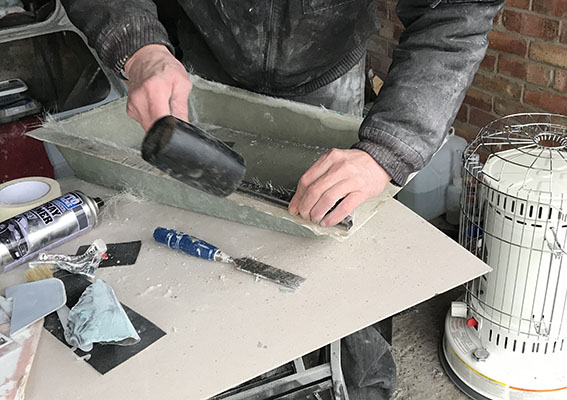 Getting scoop out of its mould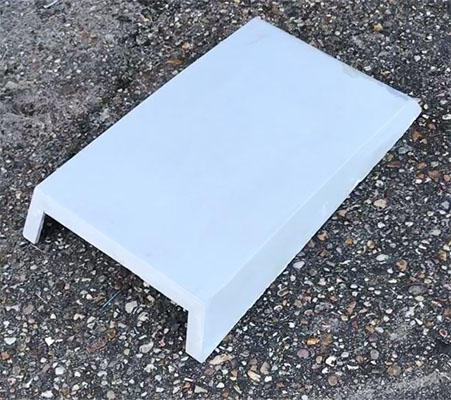 Scoop out of the mould ready for trimming - this is super strong to keep canopy stiff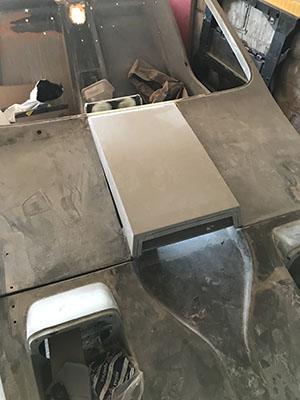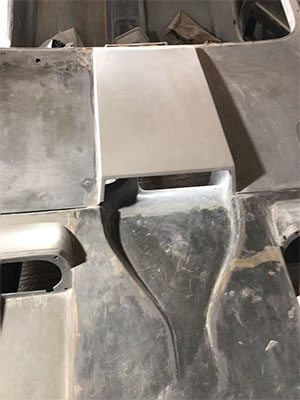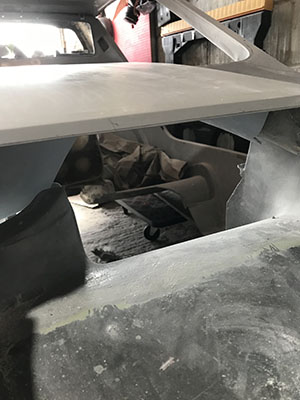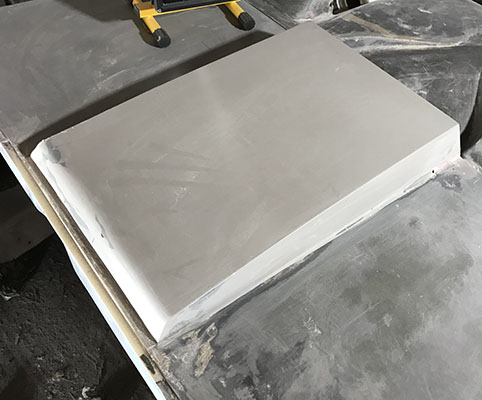 Finished scoop being glassed in to its final position - inner scoop fitted temporarily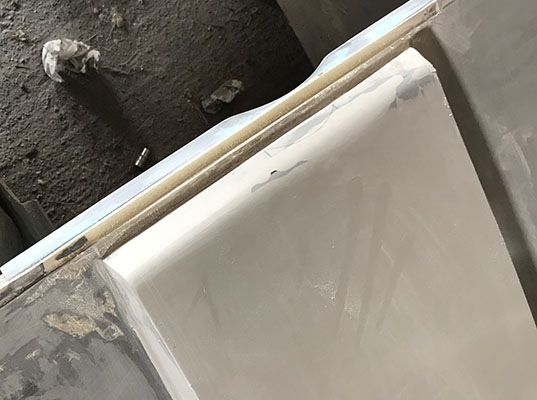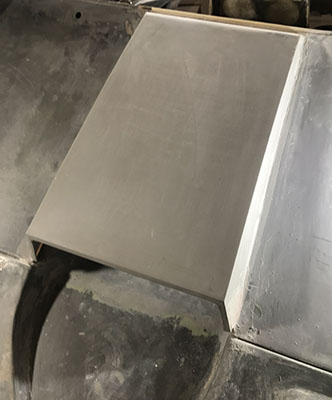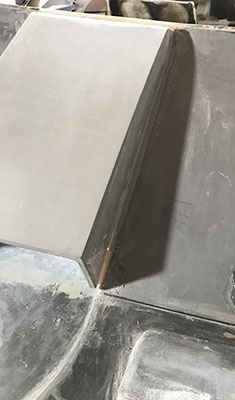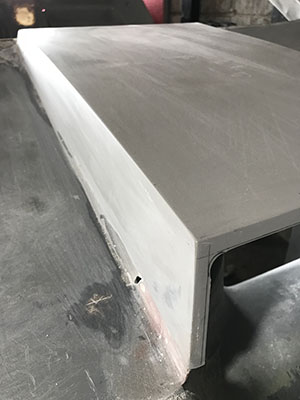 New scoop being glassed in place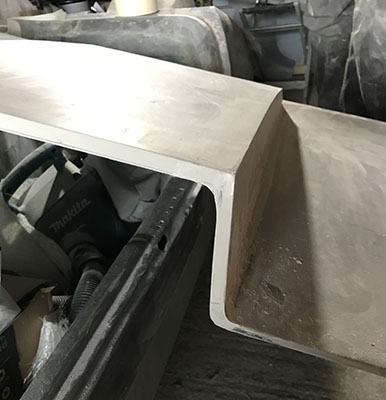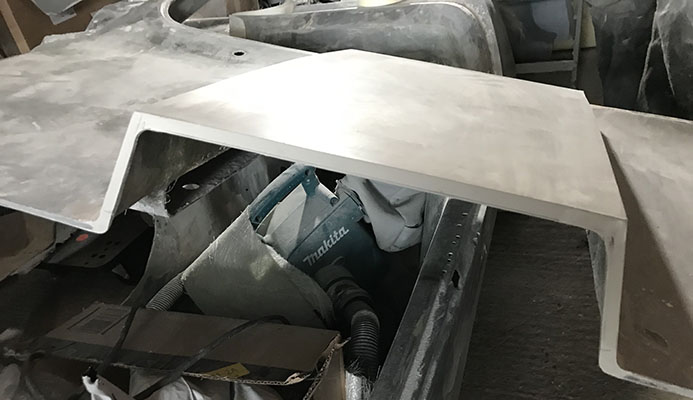 Scoop edges blended to the canopy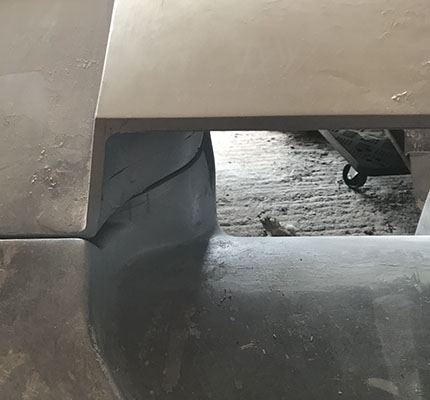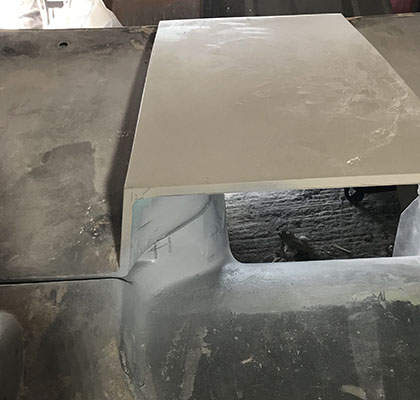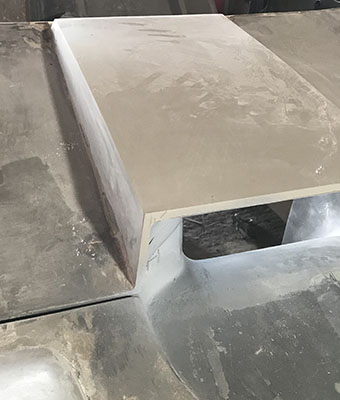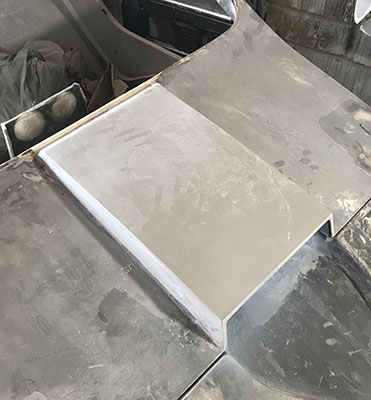 Outer scoop radius added to match altered body inner radius - this allows for a body rubber sealant strip to be fitted to seal cabin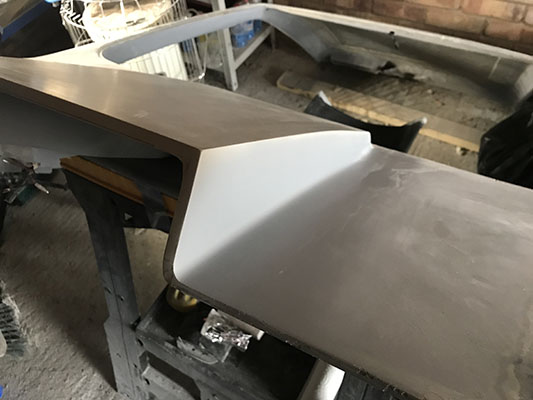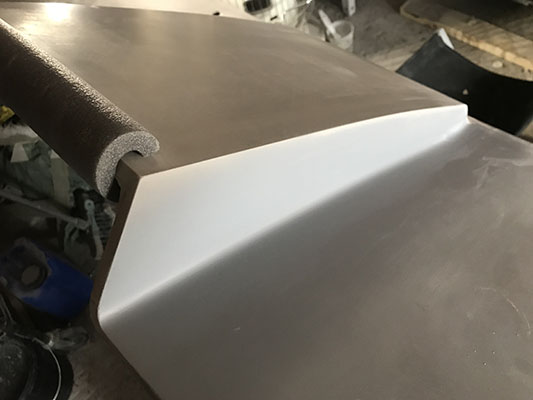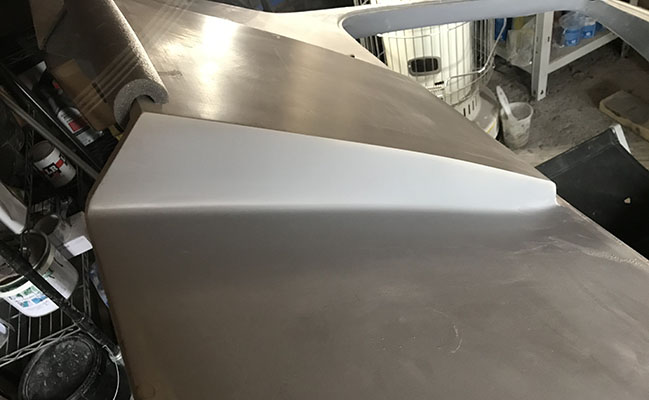 Spoiler now bonded to canopy top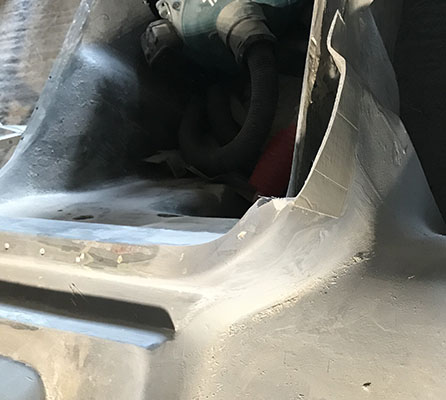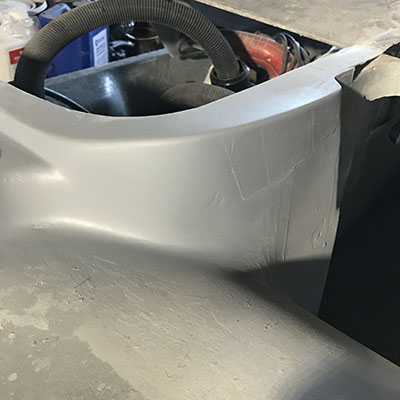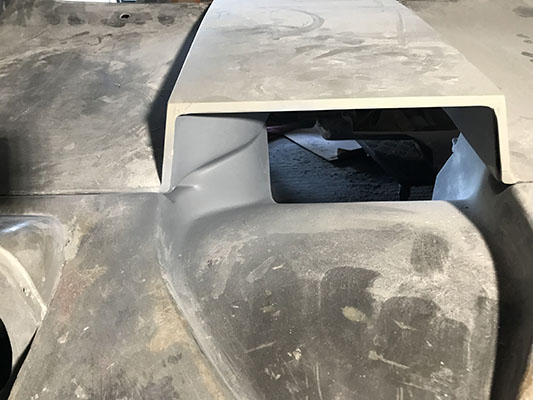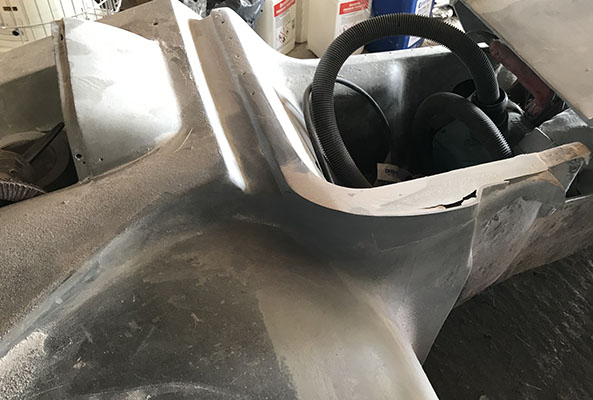 Additional moulding to body air inlet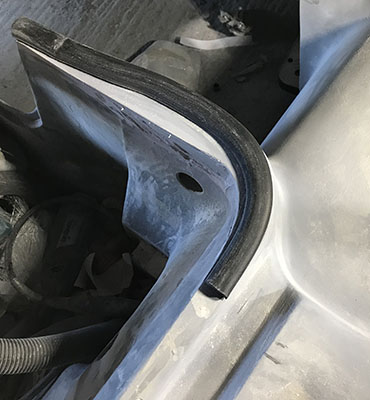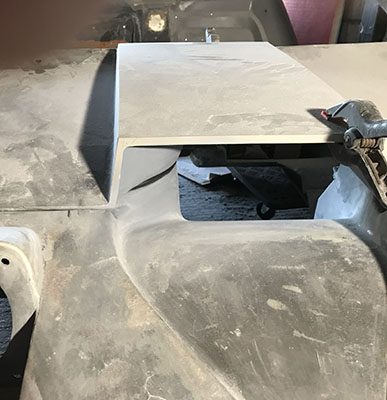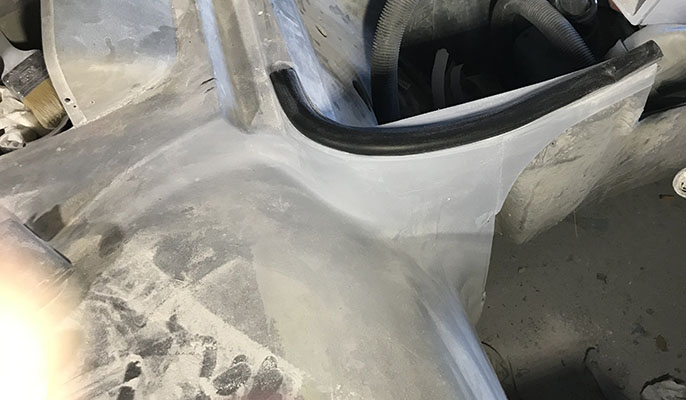 Test body seal rubber in place- using a special D shaped rubber profile that forms a great water tight seal between body and canopy.
Sponge D-profile 21x15mm with adhesive black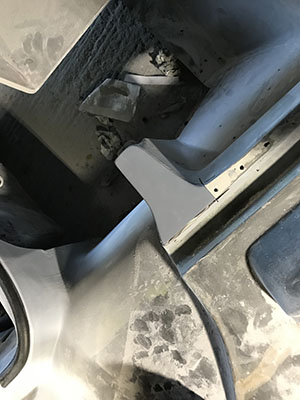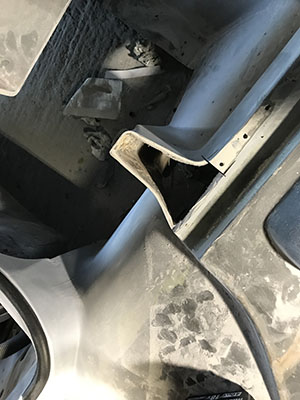 Shaping other side of the body air intake to suit new seal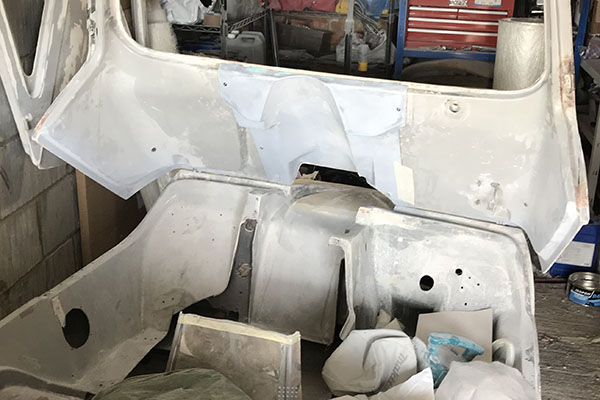 Inner canopy moulding temporarily fitted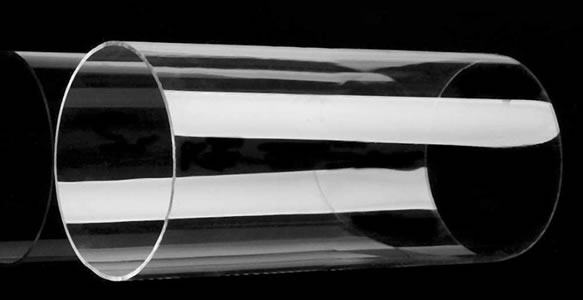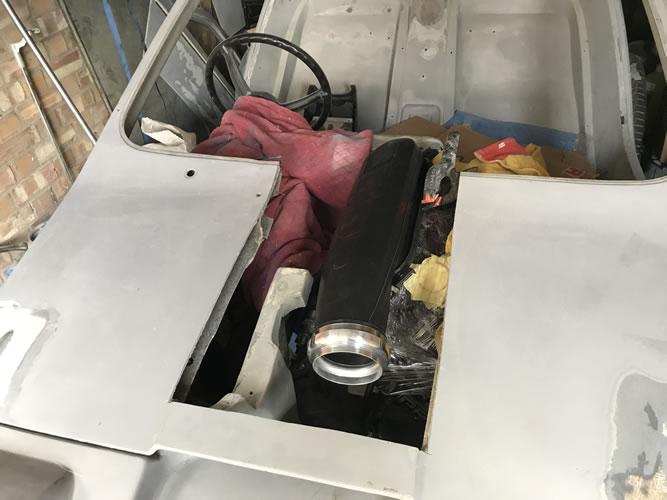 100mm dia OD pipe being used as a proforma for air box extension into scoop
Clear Acrylic Plexiglass Tube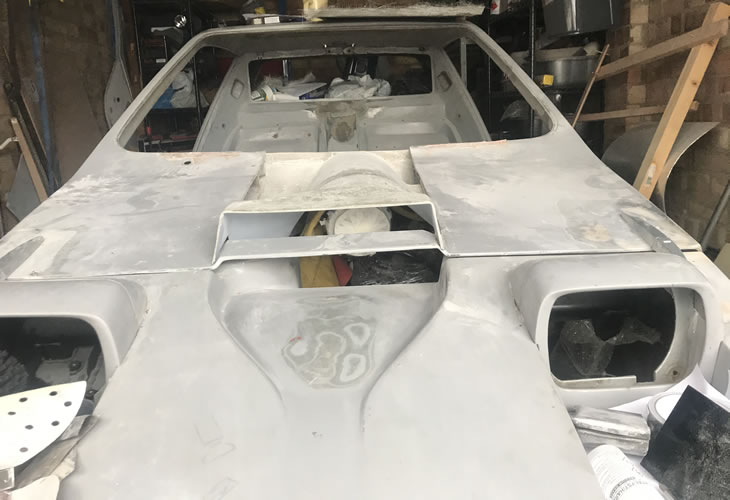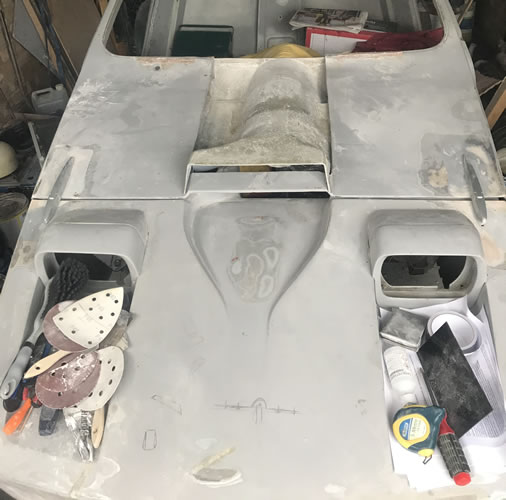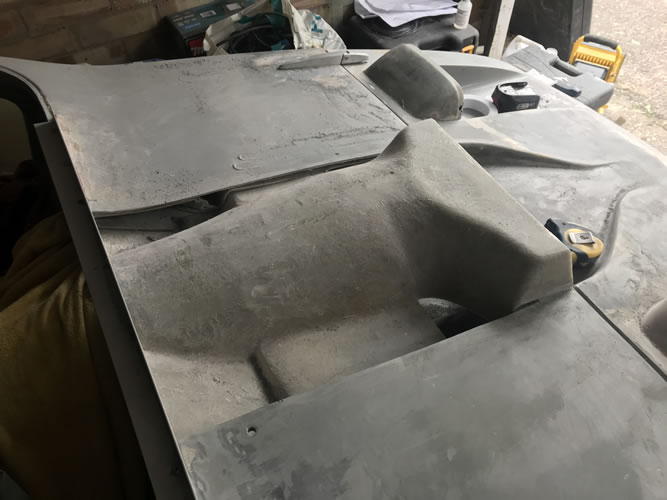 Inner scoop loosely in place - not removing the original scoop cross member until new central canopy is reinforced.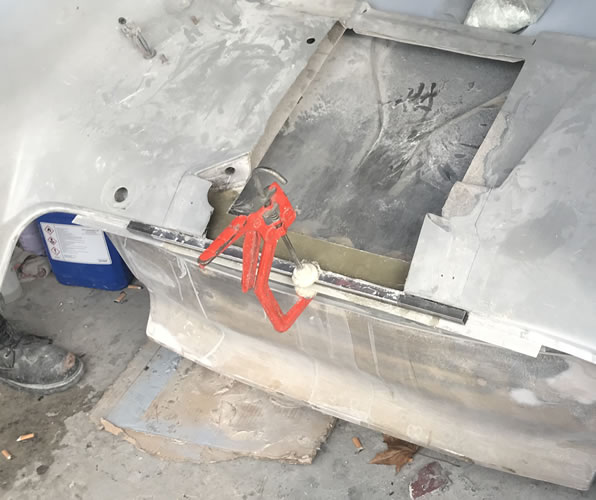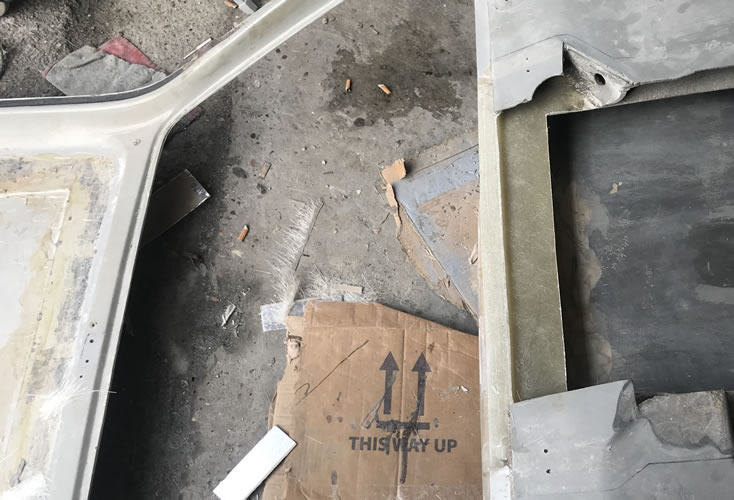 New reinforcing canopy strip and window edge made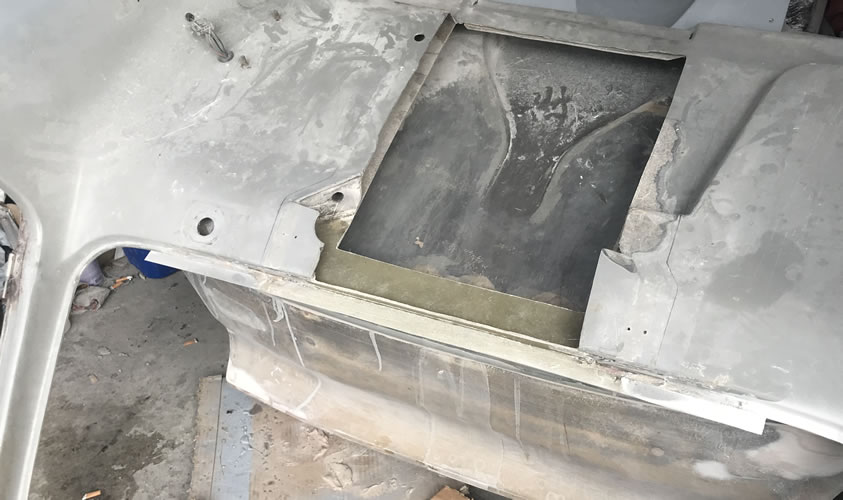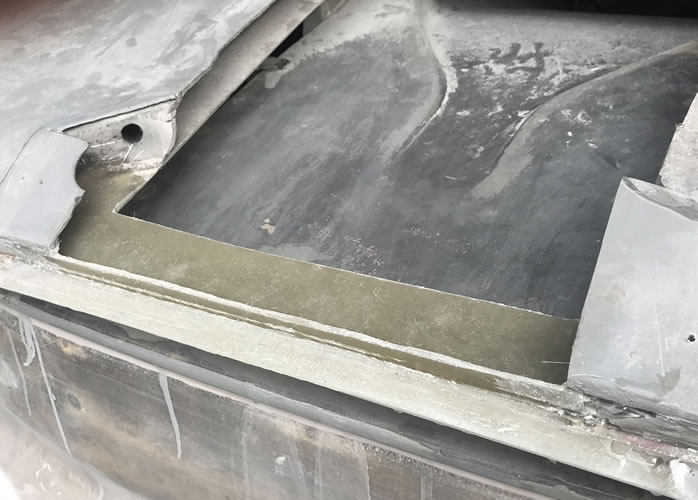 Nice mega strong fibre glass cross member and window edge formed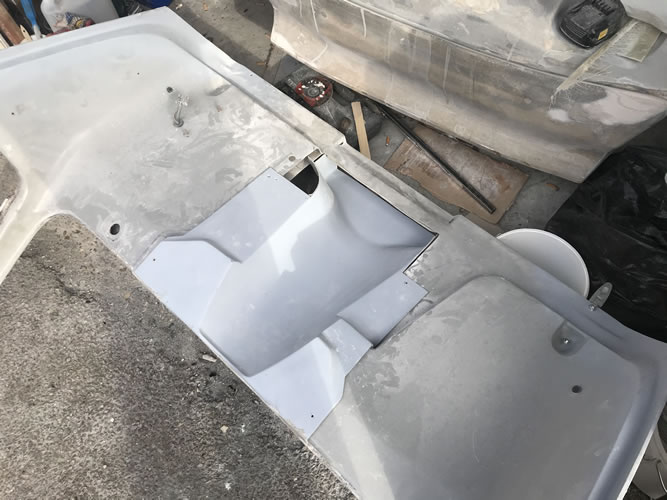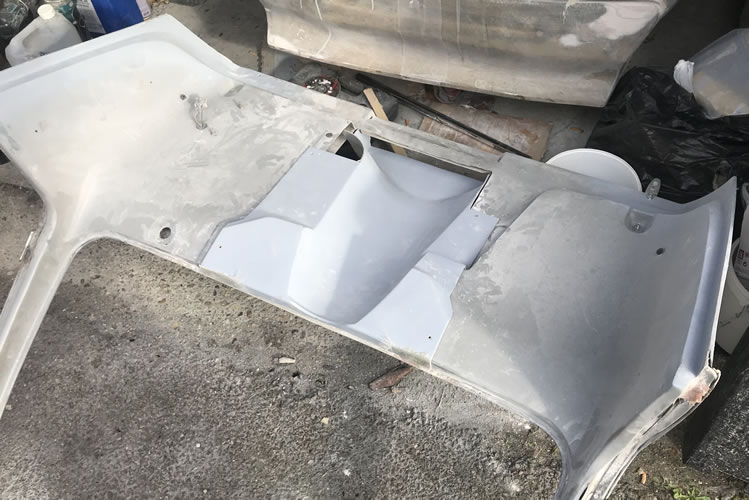 Internal canopy scoop laid in loosely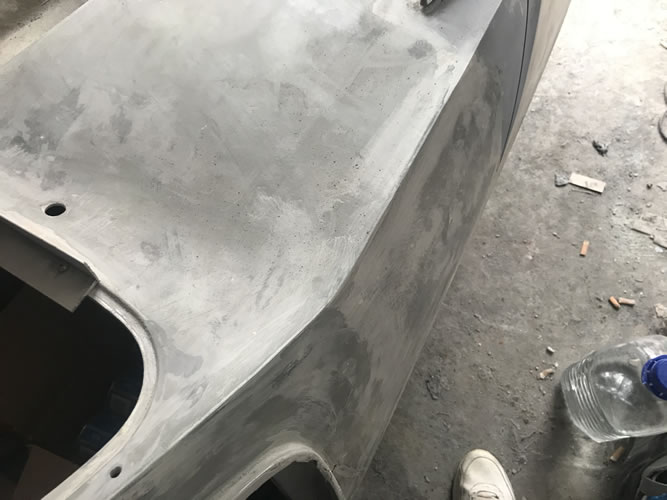 Body prepping- Roof shows Reliant's bad filler from the factory to a dip in the roof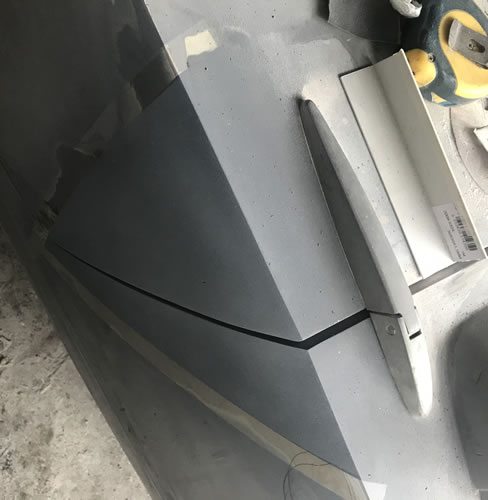 Detailing work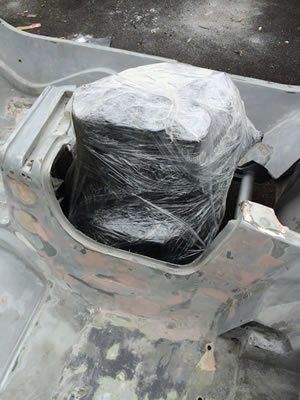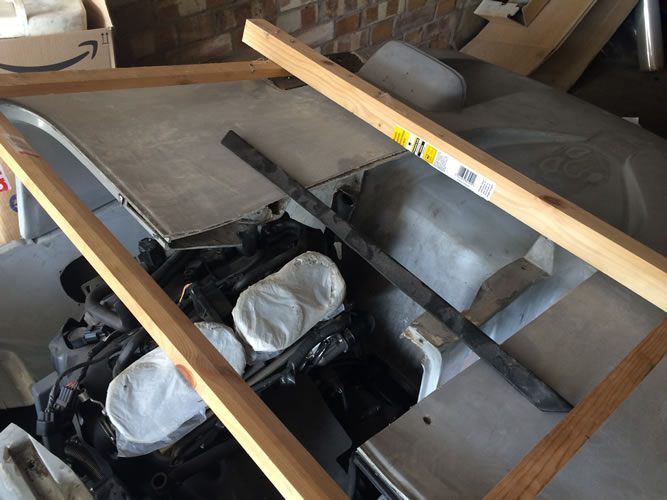 Original body work chopped out ready for new mouldings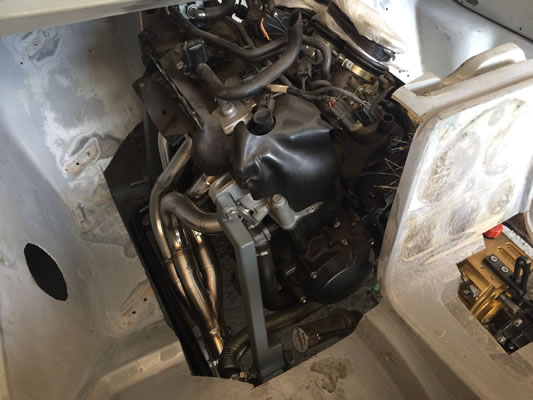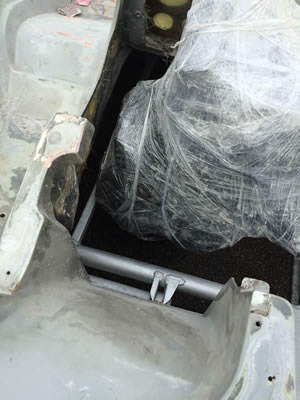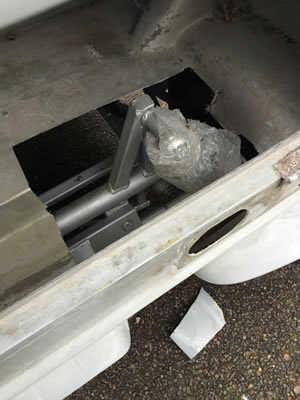 Original body work chopped out ready for new mouldings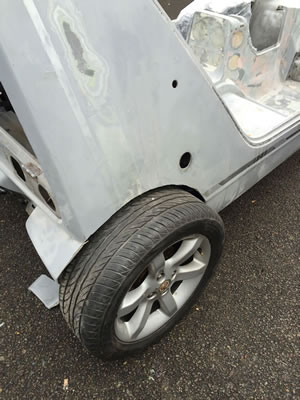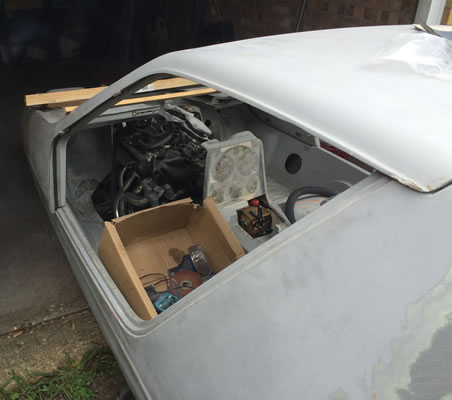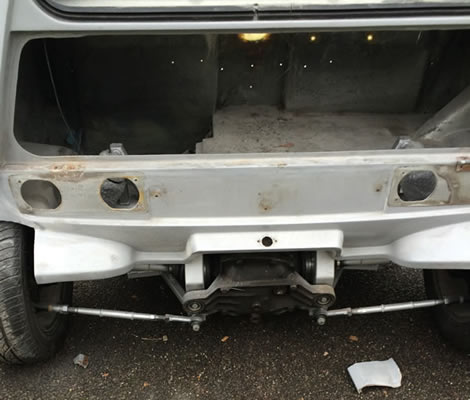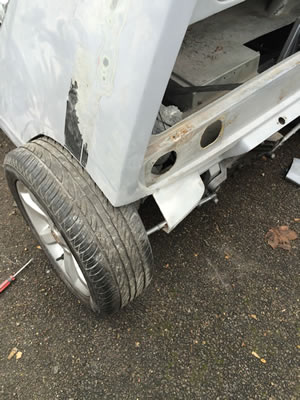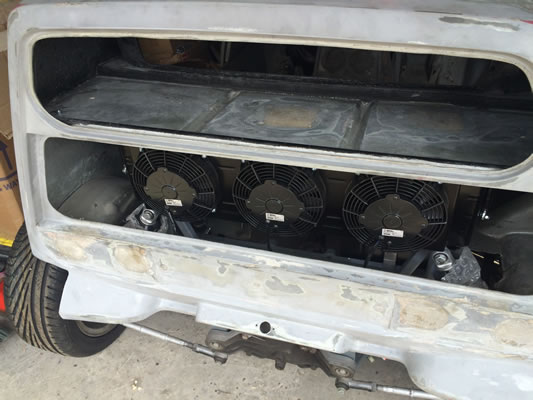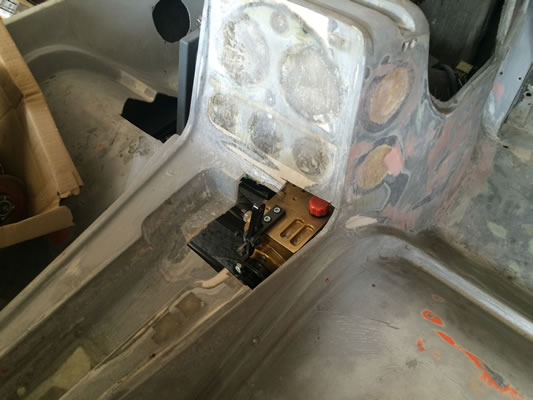 Original body work chopped out ready for new mouldings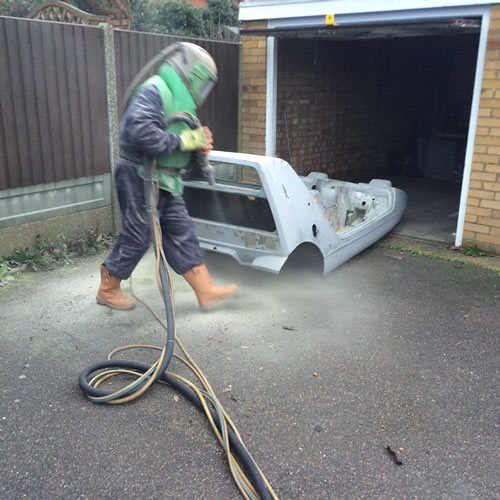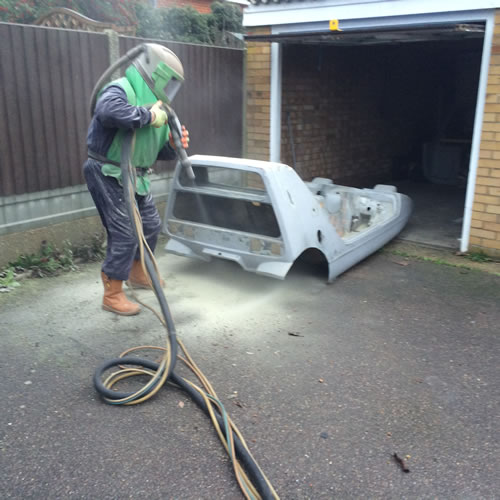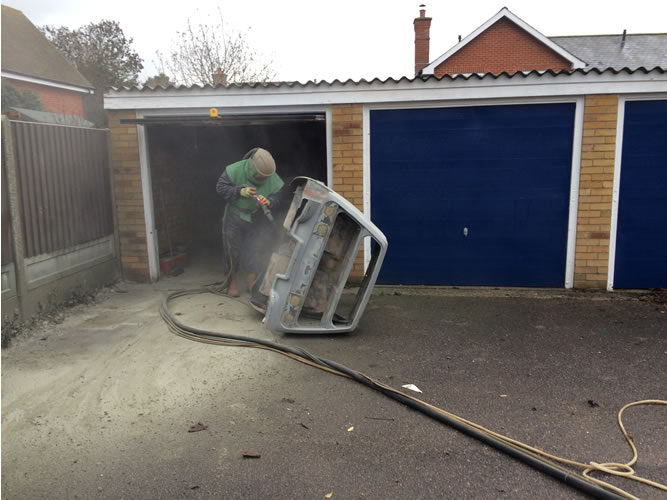 Serious soda blasting kit used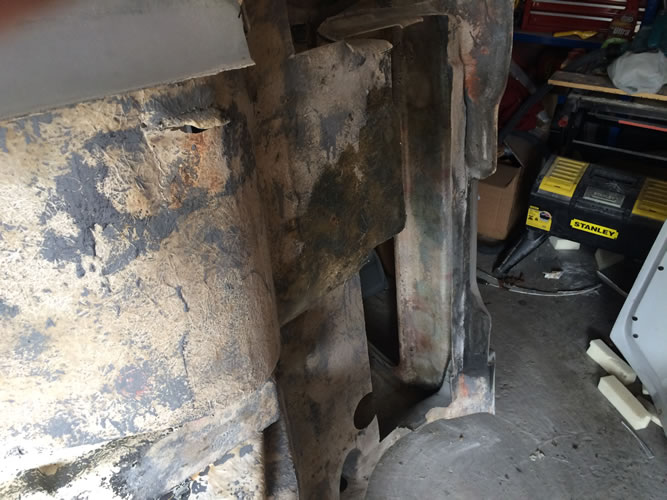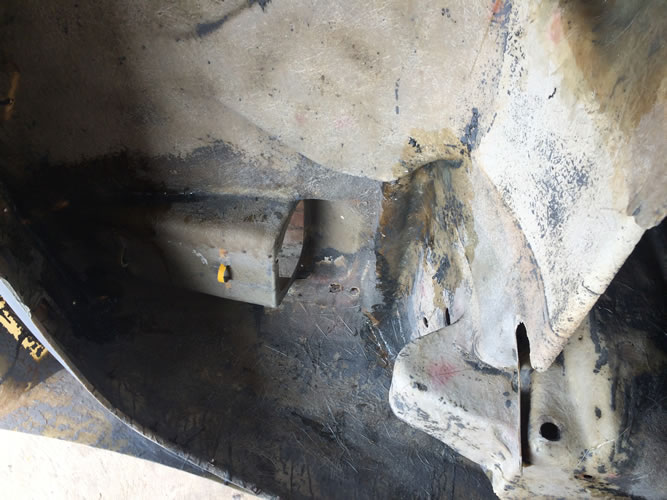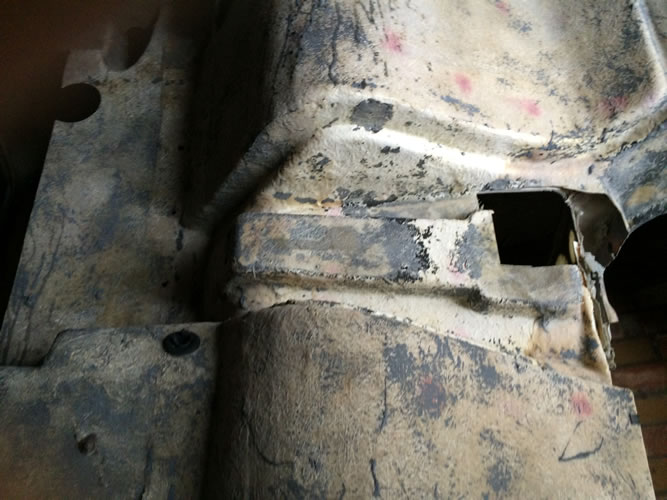 Under body has been soda blasted to remove 40 years of grime and flaking paint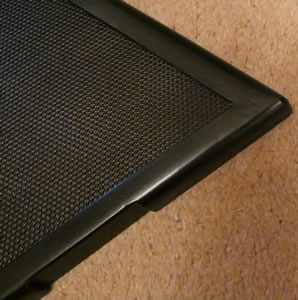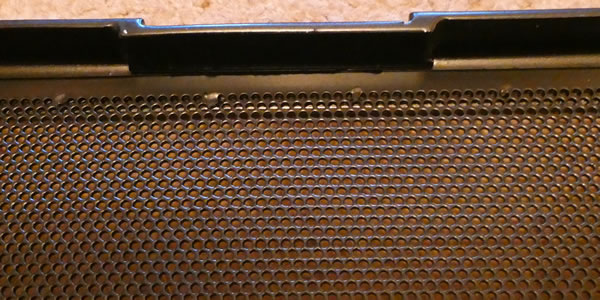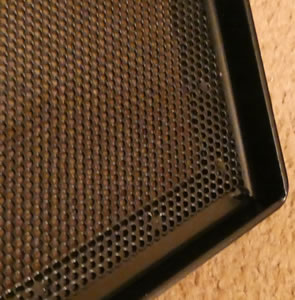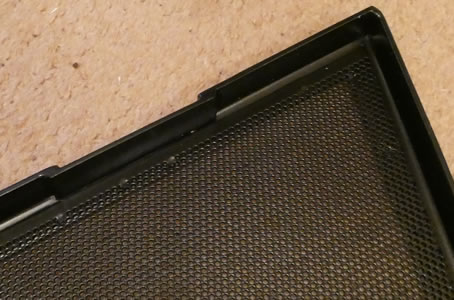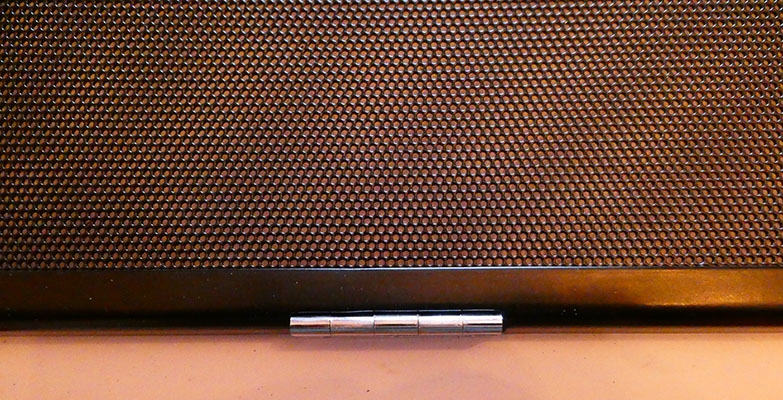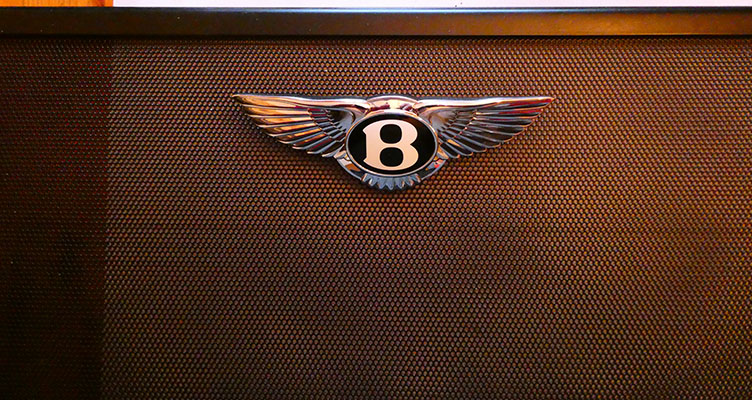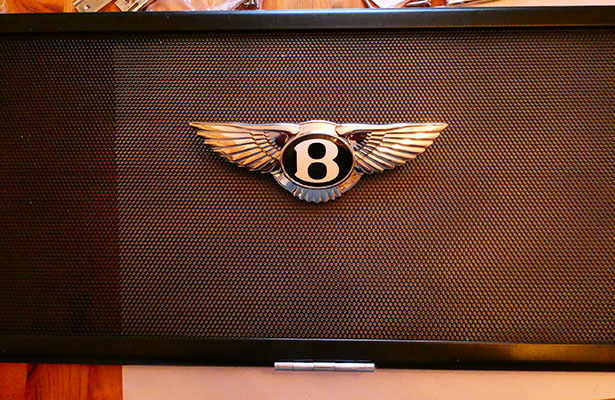 Boot badge - higher or lower ?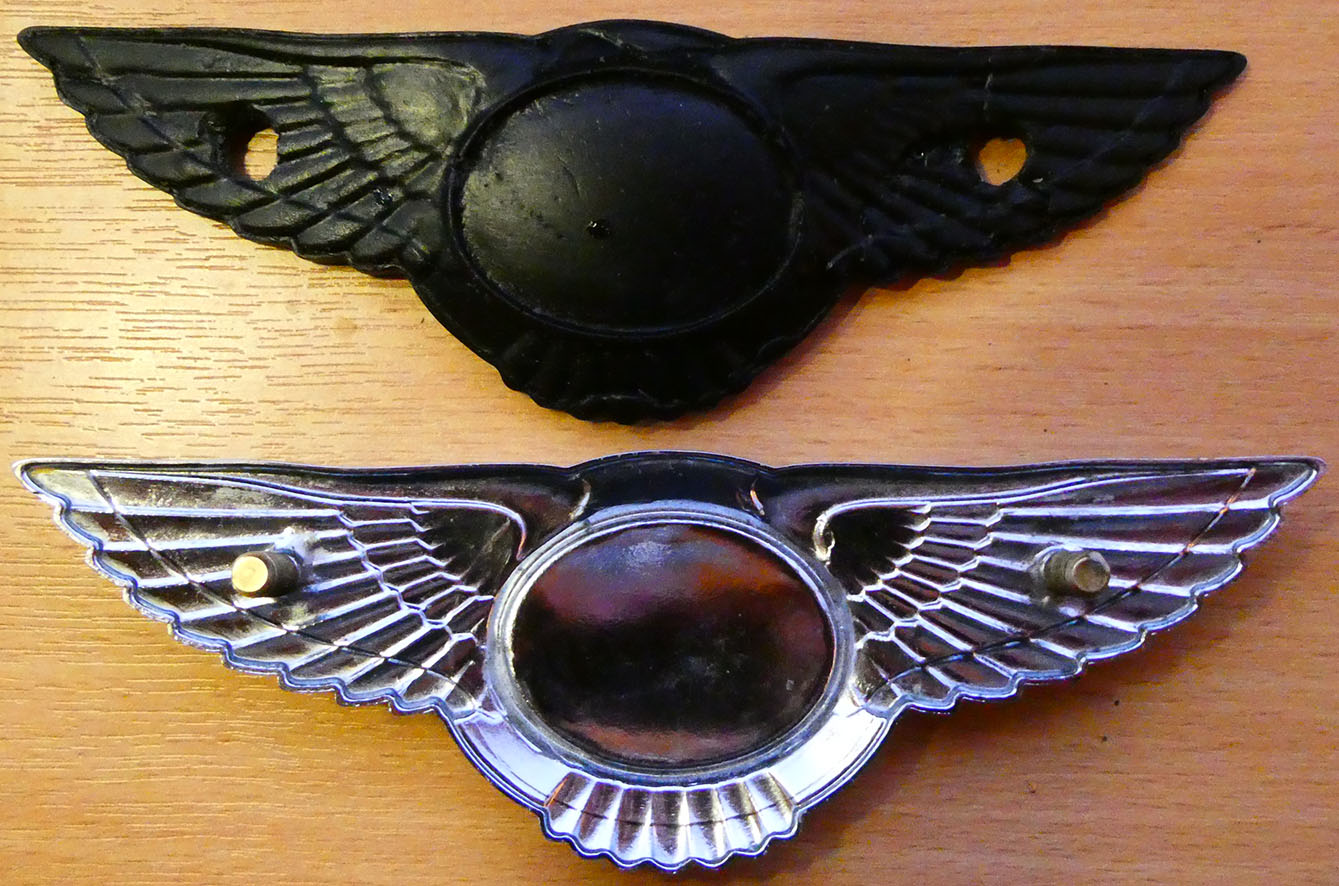 Custom made new badge backing rubber to straighten out concave badge mounting to flat boot lid.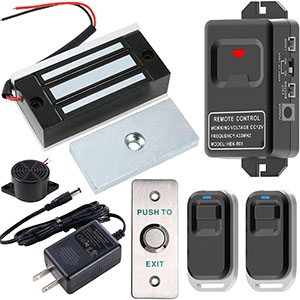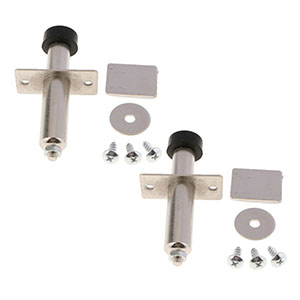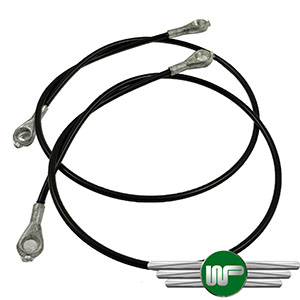 Custom made rear boot in steel with mesh insert to allow triple fan unit to expel air. Crome hinges and Bentley badge added. Boot lid is held in place with remote fob operated magnetic lock.
I have included 'door poppers' so the boot releases and the Classic Mini door straps.