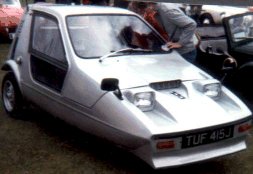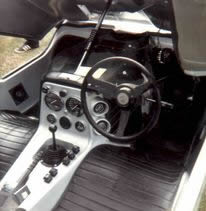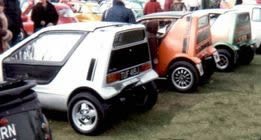 My custom Bug back in 1984 at the Burford Micro Car Rally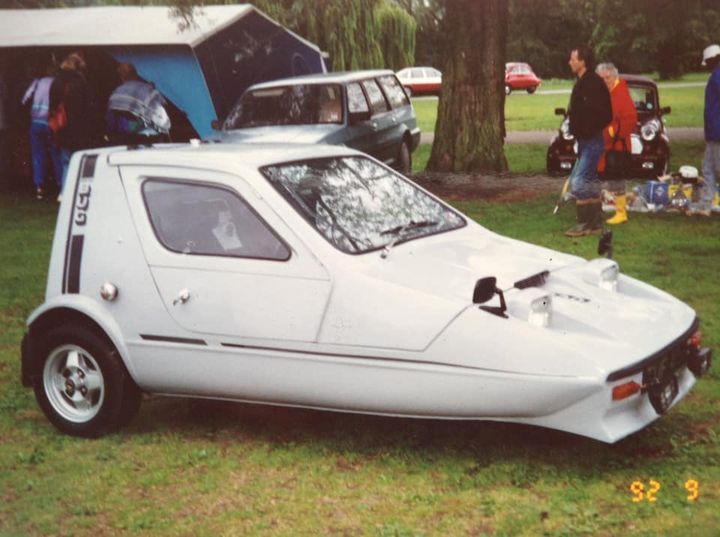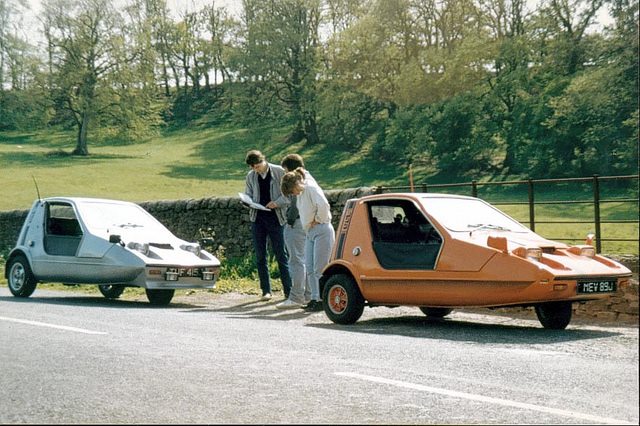 Later picture of my Bug in 1992, now sprayed light grey with added Webster solid doors and spot lights.
I have owned TUF415J since 1983 when I bought her for a princely sum of £100 back then. It was in very poor shape and I spent the whole of the next year completely restoring it from scratch.
The original engine was a 700cc Reliant alloy engine developing 28bhp. I replaced it with an over-bored 850cc Reliant engine with as many performance upgrades I could do. I had a 'Mike the Pipe' extractor manifold and exhaust made,
engine head was skimmed and gas flowed, electronic ignition, twin 28/36 weber carbs fitted etc which after a rolling road test developed 60 bhp. In 1984 I attended the Burford Micro Car rally and won 1st price for concours.
I used the 'suped' up Bug as my daily mode of transport for many years until my gearbox failed and I was in the process of converting an 850 cable operated box to the Bug hydraulic type. Kids came along and the Bug never got put back on the road.
Now I have more time on my hands and more cash to spend I decided to completely restore the Bug but this time bringing it up to more modern performance and getting experts to make most the bits.
The result is a 200bhp Kawasaki ZZR1400 engined beast, into a Quaife reversing gearbox, into a BMW 318i limited slip diff with MGTF independent rear suspension.I have added lots of specialist electronic bits, triple fan cooling with digital controlled water pump.
Baffled sump, foam filled fuel tank, electric actuator canopy lift etc.

Might be the final colour of the Bug - Bentley paint work
Updated 22/11/23
Foam filled the canopy Body work
Inner actuator boxing being glassedBody work
Dual Actuator mountings being formed into bodyBody work
Electric fuel filler fittings arrived Body work
Reinforced magnetic catch plate fitted Body work
Flush fitting fuel filler door fittedBody work
More body side and top panel detailing
New Bentley fuel filler neck made-Fuel tank
Linear actuator specs added
More side detailing work on body - grinding out star cracks
More bodywork detailing and new boot floor Body work
ABS sensor finished with air gap set at 0.7mm ABS ring
Finished design of reversing gearbox linkage
ABS sensor mount finished
New custom made canopy actuators arrived Actuator canopy lift
Reversing gearbox extension linkage mocked up in woodGearbox reversing
Twin ABS sensors fitted to new mount
Nice chrome front wheel nuts fitted
2nd ABS sensor ordered to mount on new bracket
New ABS sensor bracket madeABS ring
Both sides swage lines and spoiler detailed
Parcel shelf detailedBody work
Head light cowellings detailed
Spun the engine over for the first time - will post a video later
Finished uprated front steering A frame Steering box conversion
Front mods now finishedBody work
New front fresh air scoop fitted
Body mod pictures addedBody work
New fresh air intakes remade in fibre glassBody work
Front indicator recessed lens boxes being made
4 new light pods finished - 2 now molded in
Rear light pods being constructed Body work
Finished engine inspection covers fitted Body work
Head light and bonnet detailing Body work
Steering column recess finished Body work
Engine side access hatches finished
Engine cover recess mounting flange made - DZUS fasteners
2nd engine access cover made Body work
New engine side access cover made Body work
New heater unit being custom boxed in water proofed fiber glass Body work
Body detailing and headlights fixed Body work
More under body repairs and strengthening Body work
Sub woofer cut out finished - old speaker holes filled in
More under body work done
Sub woofer boxed finished and fiber glassed into place Body work
Body repairs and strengthening
Sub woofer box now trimmed Body work
Bonnet fitting for Bond badge support finished Body work
Under body strengthening underway
Fiber glassing sub woofer box for strengthening
Researching new amp for speaker system
New Focal 3 way speaker system arrived Wiring
Sub woofer speaker mounting hole constructed in back of seat
Sub woofer box constructed Body work
Rear spoiler now molded to body
Final rear spoiler out of the mold Body work
New rear spoiler being shaped Body work
New A arm king pin and bearings machined
New Pioneer 10 inch sub woofer arrived
Bonnet repairs finished
Under body mods completed - new bonnet badge cut out made Body work
Canopy locating mount finished Body work
Engine side covers glassed in - pedal box finished
Body off - fiber glassing underneath
Body work inner detailing Body work
Mocking up reversing gearbox lever position
Canopy locating lug finished - more pictures
Foot pedal box fiber glassed in Pedal box
Canopy rear and dash locating lug mounts finished Body work
Quaffer reversing gearbox linkage parts ordered Quaffer reversing gearbox
Inner canopy lug positioned
Air box finished - inner dash completed
New air filter box top made
Split mold completed for air box Air filter
Locating lugs being fitted into central dash board unit and canopy so they mesh exactly when canopy is closed. Body work
Custom air filter box being molded Air filter
New custom sized pedal support frame arrived. Pedal box
New custom made carbon fiber break pipes arrived
Duct box sealed Body work
Inner canopy molding finished Body work
New Air duct molded inlet customized to fit the Bentley dashboard vents
Air intake ducts now molded
Removable side engine covers being mocked up
Pedal box finished
Pedal box gel coated
Revised engine side cover extended
Revised pedal box plywood template fitted
New pedal box plywood template made - new dashboard back plate made Pedal box
Adding engine side cover top ready to take sealing rubber
Dash side now molded around steering column support - added removable side engine cover
Custom badge rubber made - posted to Body work
Added ABS sensor fittings to LSI page
V3 ABS ring finally fitted on prop shaft - time for making the Kaia ABS sensor locating mounts
ABS ring V3 posted - reduced outside diameter and drilled out locating ring
2nd attempt at an ABS ring arrived and fits perfectly over prop shaft locating ring. Pictures posted to LSD page.
Added reversing gearbox extension shaft - machine drawing being prepared for new operating lever
ABS ring back to machinist for central prop shaft location ring drilling
New magnetic lock for rear mesh boot lid arrived
Added chrome hinges and Bentley badge to rear mesh boot lid.
Bought the magnetic catch and boot 'poppers'. Added Classic Mini boot straps.
Remote master cylinders changed - added triple triton reservoirs
Dashboard fiber glassed to canopy inner
Bentley center console fitted
Dash radius wing added and glassed in
Dash now fiber glassed - Bentley grill now recessed
Dash board top being mocked up in bendy plywood
Added 3 new master cylinders and balance bar to foot pedals, chopped out more of the body work to fit new pedal box
Work had come to halt as my fiber glass expert has been ill and I have been working solid for a month.
Work will commence again on the 20th Oct.
New Master cylinder fitted to pedal box
New modified hand brake cables have arrived
New dial mounting plate fitted to steering column
Chopped out body work to fit new pedal box
New pedal box positioning - ordered new custom dial bracket
Wireless paddle and Kaia dial positions mocked up
Final positioning of steering wheel and column
Laser cut ABS new double ring made
Reversing gearbox lever extension tube positioned
Fitted new steering column support - body lowered
Handbrake cables sent off to be modified - drawings added
Body reunited with frame for more trimming
Reversed the Quaffer gearbox into correct direction
EPS-Stopp fitted in final location
Added master cylinder sizes to pedal box
Added top dash side wings - now mocked up in cardboard
Bentley center dash air ducts converted
Centre console frame and back plate made
Steering wheel and column mock up
EPS-Stopp mounting plates fitted
Rear triple fans and relays wired up
Loads more wiring update pictures posted
Air box final fitting
170amp new alternator now wired up
Added new ABS ring to 318 LSD page
New waterproof box added to protect ECU, fuses etc.
EPS-Stopp brackets and fittings being made, line drawings added
Canopy - existing lock now filled in. Roof and drainage channel detailed
Added magnetic canopy lock - housing now made
Added Bentley center console framework mounting
Added EPS-Stopp layout pictures
Canopy door hinge mounting plates finished.
Added Carter Wireless Control flippy paddles
Flat shifter and steering wheel - paddle operated gears
Canopy air spoiler now bonded to canopy
Bearings fitted to steering shaft and loosely located in position on the Bug
Kawasaki ancillary wiring extended - pictures
Loosely plugged in the Kaia wiring loom to the engine - wiring up ancillary's
Added two new potential 2 pedal brake and clutch balanced bar set ups
MGTF swinging arms and disc brakes- foot pedals
Both of old rusty canopy side tubes have been cut out and replaced
Added Engine connections tab - trying to connect up all the pipes prior to starting
New UTO-VOX V5PRO OEM Mirror Dash cam added to wiring - cables now routed through fiber glass canopy.
Fiber optic head-lining lights power unit recessed into canopy
Alternator housing is now finished - latest pictures of black anodized finish
170 amp new external alternator
Bentley dash board button printed circuit boards sent of for redesign.
Dash board - Bentley Continental GT
New steering column splined shaft conversion made. New 'Lite' custom made bearings have arrived
The links below that are active and have been uploaded
External air scoop mold made and fiber glassed for finished scoop
Scoop now taken out of mold and now glassed into final position
More shaping pictures added to internal air duct to accommodate canopy rubber seal
Test D profile canopy seal fitted
Added custom made steel boot lid with mesh insert to bodywork page
Send me a mail for comments and any tips you have to christening@interconnection
Custom triple fan cooling and fuel tank
Dash board - Bentley Continental GT
Engine extractor manifold and exhaust system
E- St opp electric hand brake - current project
Flat shifter and steering wheel - paddle operated gears
MGTF swinging arms and disc brakes- foot pedals
Quaffer to chain converter - Quaff to BMW prop shaft
170 amp new external alternator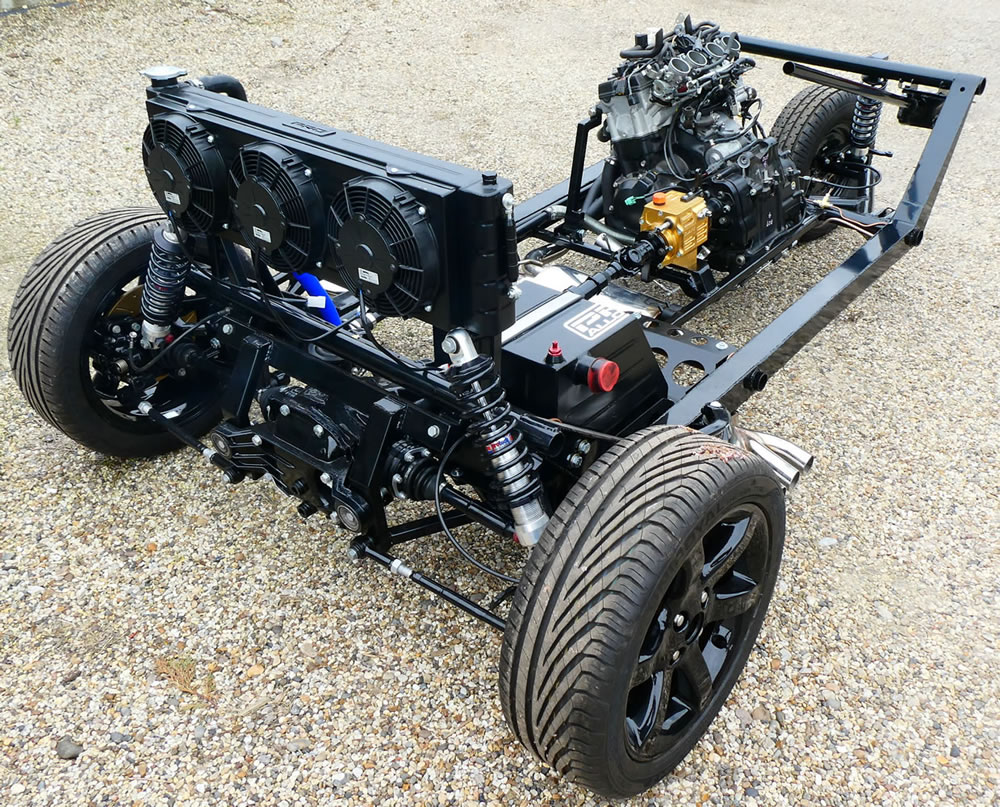 Modified to take independent rear suspension through a limited slip differential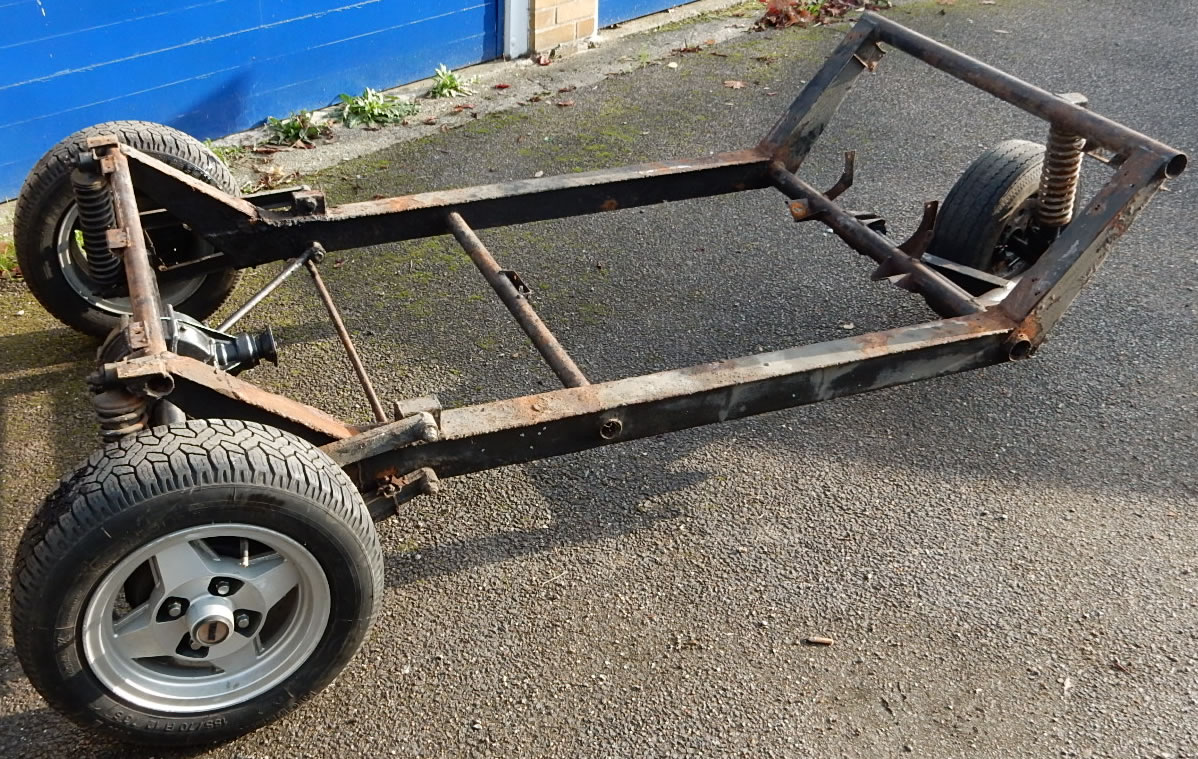 Original fixed axle and frame set up before conversion